In the original post I heated used marinade for a finishing sauce. Sence then I have changed my mind and plan to set aside marinade for a finishing sauce for health reasons as well as common sence food handling practises. I would never want to make anyone sick. Tim
Well Well Well My first London Broil! :ohmy: :unsure: I want to thank Rusty Rooster for cooking London Broils at the before party and the after party during Eggtoberfest 2009. Tom you have planted a seed and it is truly growing. Rusty Rooster aka Tom thank you for holding my hand! I also thank the others who had chimed in when I ask questions. Thank you all
This may have had something to do with it. Here is a Publix Store Premium cut London Broil.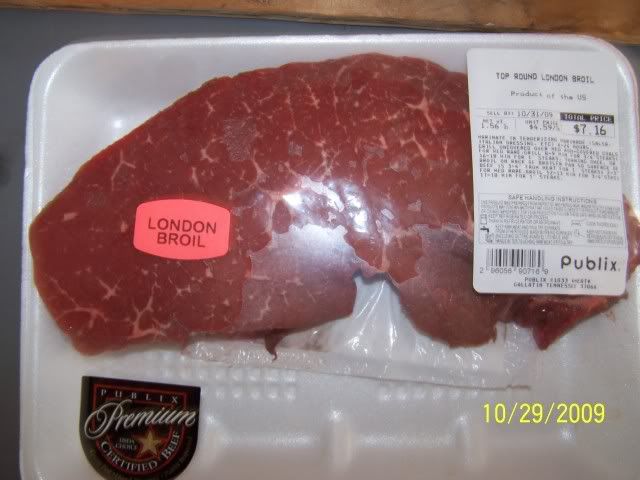 Here is some cubed up butternut squash. I did what Tom did I marinaded it. I ment to grill it yesterday but, we got in to late so, we grilled it tonight. Three days in the good stuff! I have to admit I did one more thing before I seared it. About three hours before I grilled it I used a Jaccard meat tenderizer on it.
Here is what it looked like after the 600* sear. :P
I was worried it would be tough and chewy but, it was soooo tender I was smiling from ear to ear!
I may have over done the sear because it was a little crunchy like bark on the outside. I seared 3 min fliped it 4 times like that to get the cross markes on it. I was going to take it off and finish it at 350* indirect but it was 130* after the sear so I wraped it in foil for 5 min.
Next time I plan to hold back some marinade to heat and use instead of using marinade that had meat in it.
It may be unsafe and I don't want to take that chance.