First off...Hey there. This is my first post, so, I'm buying a round of your favorite beverages.
After lurking around here, asking around, and checking out a demo of the Egg, I took the leap with my new wife, and we dropped some wedding cash on a Large with nest, wings and plate setter. I was looking for it as an accompaniment to my big gasser, and to do some real smoking. We picked our new egg up on Saturday, and gave it it's first run on Sunday. I must admit, I was extremely happy with how easy it was to get going and set a temp for smoking. I had it leveled out at 250 within a half hour and added some soaked hickory chips and barely had to do any tweeks the rest of the day.
I had a 3.5lb boneless butt laying around begging to get used, so that was our trial subject. On at 9am, off at 6pm, and it was just the way we like it. Here's some pics:
It looks so little...(don't worry a standard 9lb bone-in is next!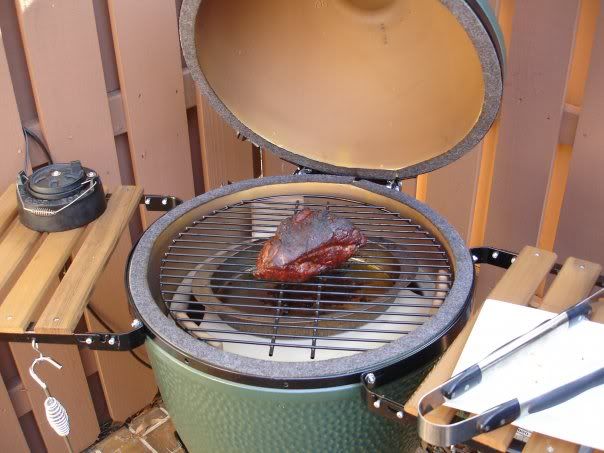 Love the true smoke ring...after taking this slice, I pulled the rest.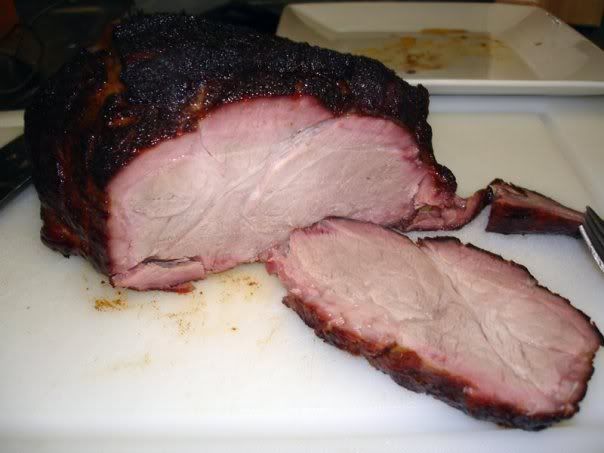 Made chicken breasts last night...just as awesome, and didn't take much longer than getting the gasser going.
I'm hooked. Already looking to get the thing to raise the grate to just below the felt line, grilling was a little awkward. Any other recommended "bolt-ons" one must have to be a true egghead?