Had a chance to do a portion of a bison brisket. I don't know anything about the structure of a bison brisket, but this one seems to be a half portion, and I'd guess from the structure that its some flat, and the point, if there is such a thing in bison. It weighed 4.4 pounds, and was between 1.5 & 2.5 inches thick before cooking.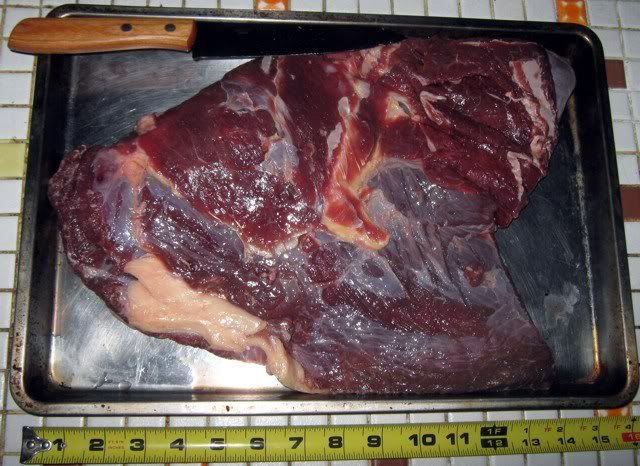 As you can see from the first 2 pics, there is no fat cap. Also, almost the entire piece is covered with silver skin. In one area, it was so thick it was like parchment. I used a hair-shaving sharp knife to remove a bunch, but it was so difficult that I ended up slashing thru a lot, and then ran a Jaquard tenderizer all over it.
In an attempt to start breaking down the connective tissue, and add some extra fat, I covered it in an oil based marinade for 1.5 hours. The spices were mostly chili powder, cumin, garlic and onion powder, and equal parts raw sugar and Kosher salt.
It was large enough that I started it draped over a V-rack in my medium. The dome was 250. The next image is at about 3 hours. It has reduced in size, and has reached the plateau. At 4 hours, there was little rise in temperature, so I bumped the dome to 280, and started mopping it. At 5.5 hours, it had reached the 170s, so I dropped the temperature back down, and continued mopping. At 6.5 hours, the "flat" portion was just out of the plateau, at 185, but the "point" was running between 200 & 205. Not wanting to dry the piece out, I decided to pull it.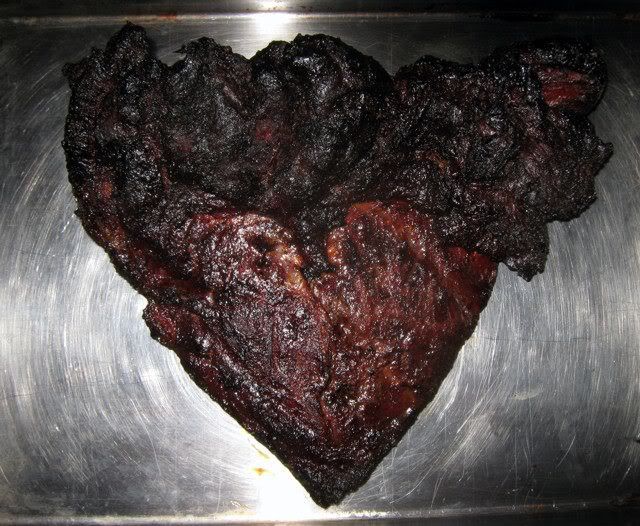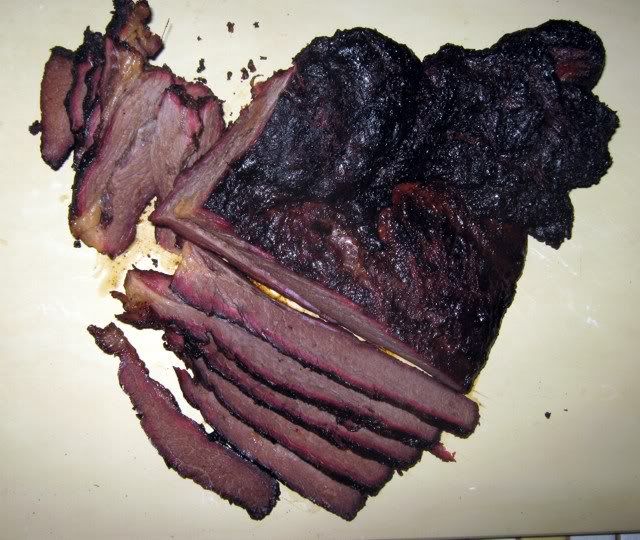 The result looked and smelled really good. It cut nicely. You can see a good smoke ring, and the glisten of moisture.
The result? My wife nailed it. The "flat" strips "were kind of like bacon, but without the fat." The point pieces "reminds me of jerky." So, great tasting near leather.
The moral of the story. Be prepared for a few hours of foiling with a bison brisket. Or, like me, be prepared to make some great chili the next day. Another 6 hours simmering will give you melt in the mouth tender meat.