well the nfl starts the playoffs today.. and i know it is sad to see football season comming to an end. but there is still time to cook something really good to eat.
i know i have been mia alot lately. and will be today mostly also.. but i still wanted to shaer a recepie that i have done several times with alot of success..
Chili, Cornbread, Pie
When I got home last night there was nothing in the fridge but some suspect hot dogs and wilted carrots.... and after searching through the kitchen for a while, things weren't looking too promising for dinner.Opening the freezer, there it was ..... a quart of chili made a couple months back... and looking through the cupboards, there was fixins for cornbread. I like cornbread with chili and having remembered seeing a recipe for combining the two, I thought I'd wing it.
1/2 chopped onion
~ 1 14 oz. can creamed corn
about 1/2 cup of milk
1 cup grated sharp cheddar cheese
dollop of mayo (no eggs and couldn't think what else to use)
about 1.5 cups of yellow cornmeal
3 tsp baking powder
1 Fill the bottom of a 12" cast iron skillet with about a quart of chili.
2 Mix well. Try to keep the mixture from getting too thick or too thin..... it should just pour out of the bowl.
3 Evenly pour over the chili and bake until brown on top.
4 Have a moment of silence for the greens, crack a PBR and eat.
Recipe Source
Author: WooDoggies
Source: BGE Forum on 2004/06/17
i have made some slight modifications.. for one when i get done adding the chili to the do.. i have been adding a pound of browned ground beef.. and some grated cheese. then after adding the cornbread. i have been putting some cubed cheese into the cornbread mixture...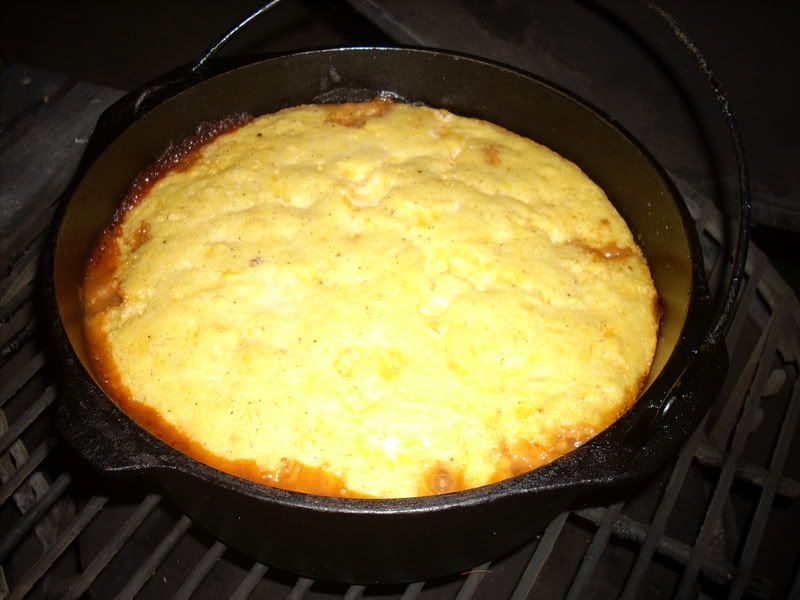 i know several eggers have tried this i brought it to a north georgia egger gathering at vadiallia1's house..
anyway i hope everyone had a safe new year.. with no dui's.. we stayed at home and i watched that guy jump his motercycle on espn.. **** clark looked bad but i am glad i got to bring in another new year with him
and yes i am making cornbread chili pie again tonight.. thanks woo
happy eggin
TB
Anderson S.C.
"Life is too short to be diplomatic. A man's friends shouldn't mind what he does or says- and those who are not his friends, well, the hell with them. They don't count."

Tyrus Raymond Cobb