these were good...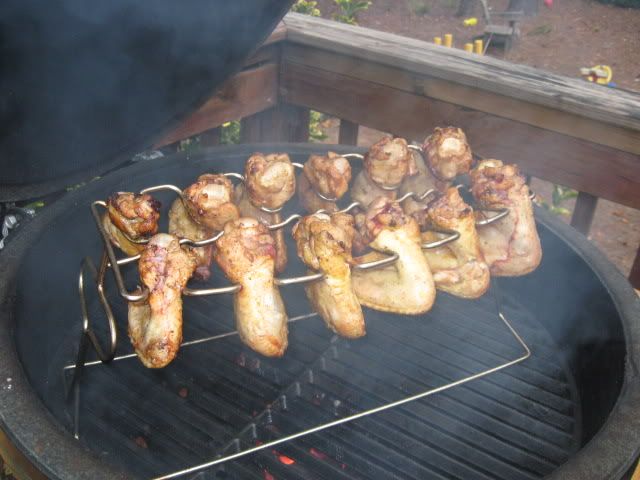 Started with the instant marinator, slashed wings 2-3 times and then dusted with chipotle and ancho chile powders, then poured over about 1/4 cup peanut oil, 2 tbs lemon juice, 2 tbs worcestershire sauce, 1/4 cup beer, and salt/pepper. Let it sit for 30 mins (I'd like to try this for 4 hrs + next time). Pic above shows them after about 15 minutes on the rack, cooking direct @ 375-400 dome. Rotated twice.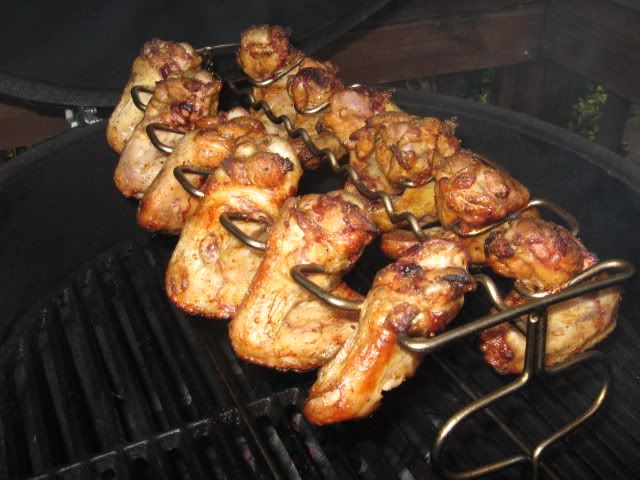 After 30 mins, these are ready to sauce and finish. Next time I'm going to put them on direct to the grate for 3-4 mins a side before saucing, as I like them really crispy and the sauce I use has honey in it.
My sauce is 1/2 stick butter melted in a pot, 1/2 bottle of Frank's wing sauce, more ancho and chipotle powders (about 1 tbs each), 1/3 cup honey and salt/pepper. I heat through to bubbling, and simmer to thicken.
The finished product - I think perfect cook time is 45-50 minutes all-in, the sauce should go on last 5 mins to prevent burning if you use sugar. I always get impatient and end up burning a bit-- but I love the char!
-Marge