While I am waiting for a gasket and some parts for my medium I have kept on with testing.
My ribs in the past have been good, in my opinion, and have been as good and better than the q' shops here.
However, I have not been able to reach the long cook times reported here on the forum for ribs.
I have a very hard time knowing when the ribs are done as you can see below by the piece that is missing.
These were done direct raised, 225°. Mustard and Cow Lick - no mop, saucing or misting.
I tasted these about 2 1/2 hrs into the cook and they were not very good. They tasted done but dry and ok flavor.
I was going to pull & toss or use the meat in something else, but decided to wait a little longer. Not really caring I didn't look at them for another hour. Took another taste and pulled.
I have no idea why or how, but the extra hour seemed to moisten them up and impart more flavor.
Very good tasting, probably one of the best rib cooks I have done.
All I can say is, I still don't have ribs down.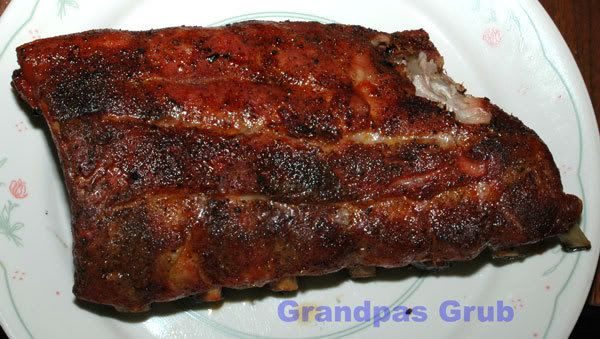 GG