Welcome to the EGGhead Forum - a great place to visit and packed with tips and EGGspert advice! You can also join the conversation and get more information and amazing kamado recipes by following Big Green Egg at:
Facebook  |  Twitter  |  Instagram  |  Pinterest  |  Youtube  |  Vimeo
Share your photos by tagging us and using the hashtag #EGGhead4Life.
In Atlanta? Come visit Big Green Egg headquarters, including our retail showroom, the History of the EGG Museum and 
Culinary Center
!  3786 DeKalb Technology Parkway, Atlanta, GA 30340.
Spatchcock Chicken - Bucky asked me if I have ever done this
So, at the Minnesota Eggfest, Bucky asked me if I have ever done a Spatchcocked Chicken. Well, before I read this forum, I really didn't know what spatch cocked chicken was, and as it turns out, I've been doing chicken this way for about 10 years in one way shape or form. So I told Bucky my super secret recipe. This past weekend, I was reading all the posts from the EggFest in Ga, and missed everyone there, so I decided to do my own little eggfest. Here is my method for Spatchcocked Chicken and super secret recipe, don't tell anyone![p]I start with Fresh Rosemary, lots of it, Strip it off the stalk so you just have the little leaves. run a knife through it to chop it up a little
Garlic - 3 cloves or more to taste
Kosher salt about 2 teaspoons maybe a little more
lemon zest from 1 whole lemon - (can be grated with micro plane, but I use a potato peeler, then mince finely
Olive oil.[p]Here is what you will need: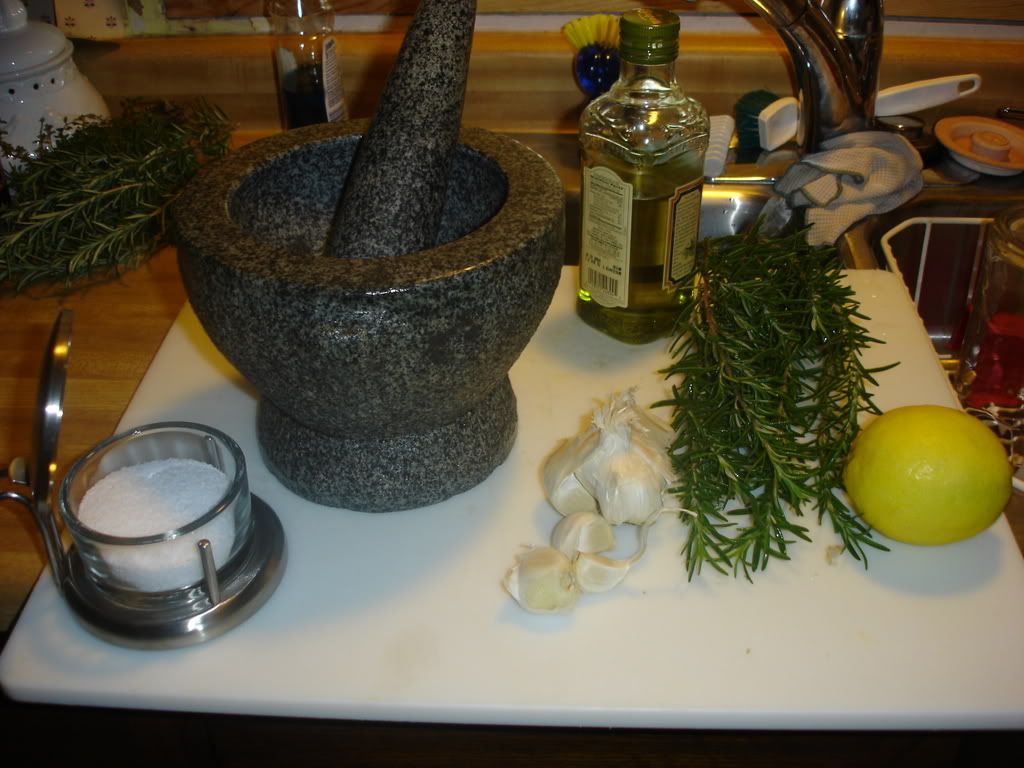 [p][p]Then grind it all up in a Morter and Pestle. till it looks like this: (the salt will act as a grinding agent)

[p][p]Then add olive oil and continue mixing, grinding it up even further, about 3-4 oz. 1/2 cup of olive oil. it will be a paste and look like this:

[p][p]You can put this in the fridge for later if you want, or use it on pork tenderloins or something like that.[p]Now time to spatchcock your chicken. should look like this when it is done: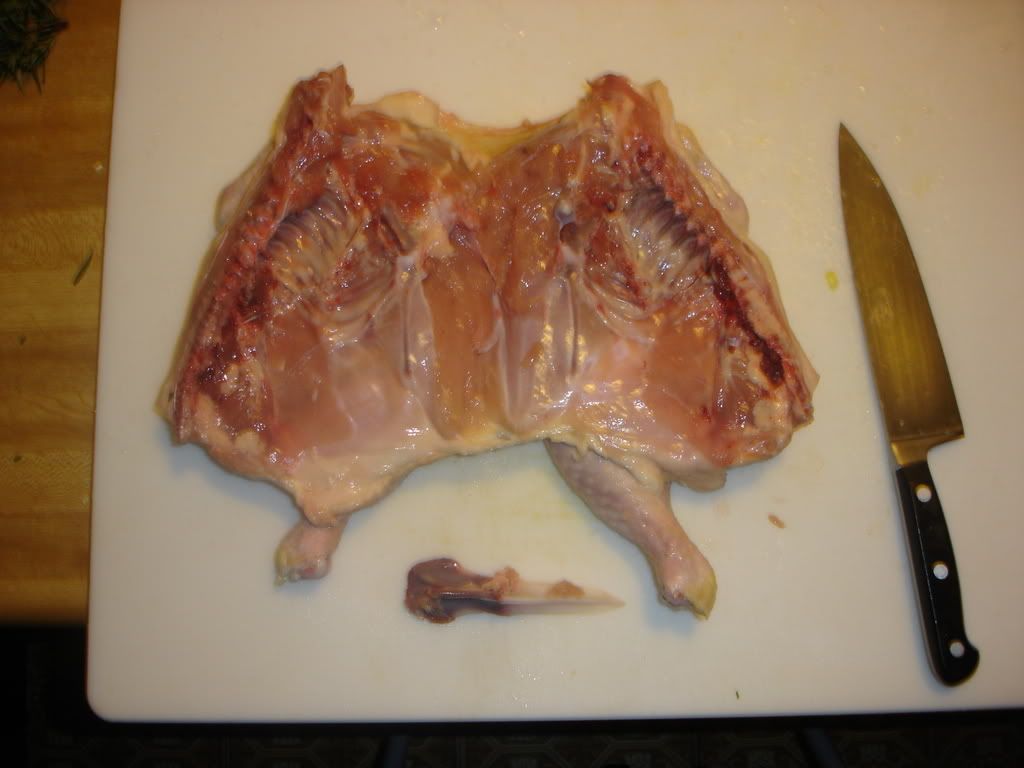 [p]
I don't bother actually cutting out the backbone. A good sharp knife with a strong backbone will let you cut right through the middle of the backbone. I just cut off the tail, and stand the chicken on its head, and zip right through. a lot less work for me than going on both sides of the backbone. ( I saw a video on YouTube of some guy doing this with a knife, and I thought he was going to whack his hand off!)[p]Pretty easy. now rub it all over with the marinade, and if you like, a few grinds of fresh pepper will be good too.
the inside: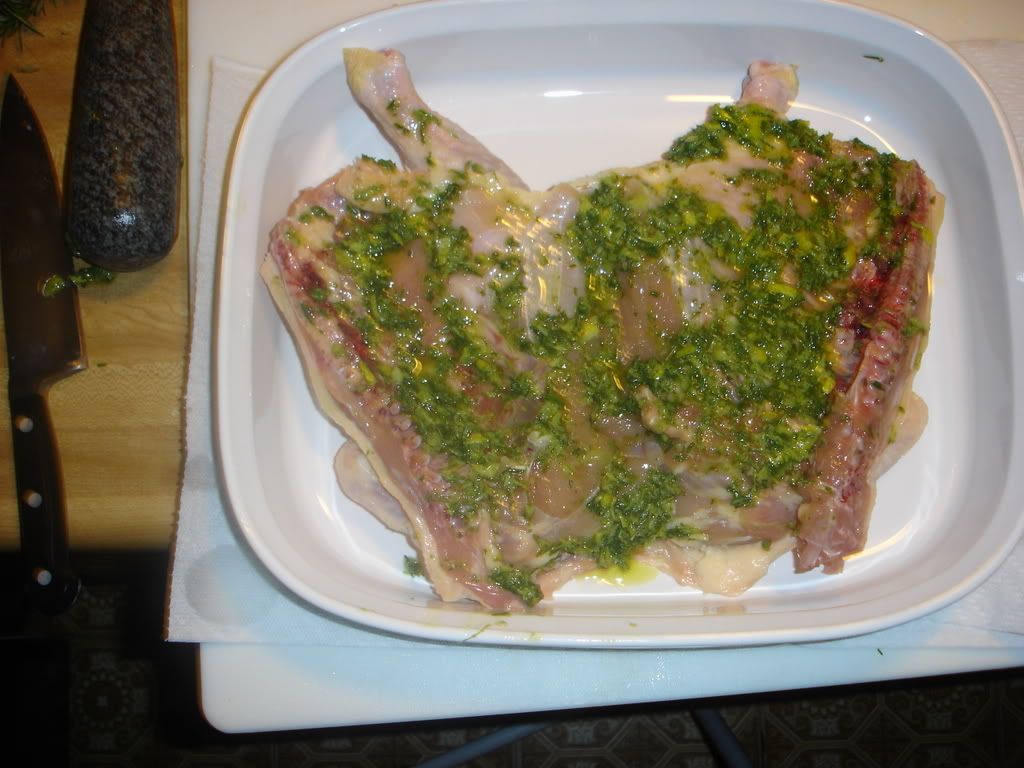 [p][p]and the outside: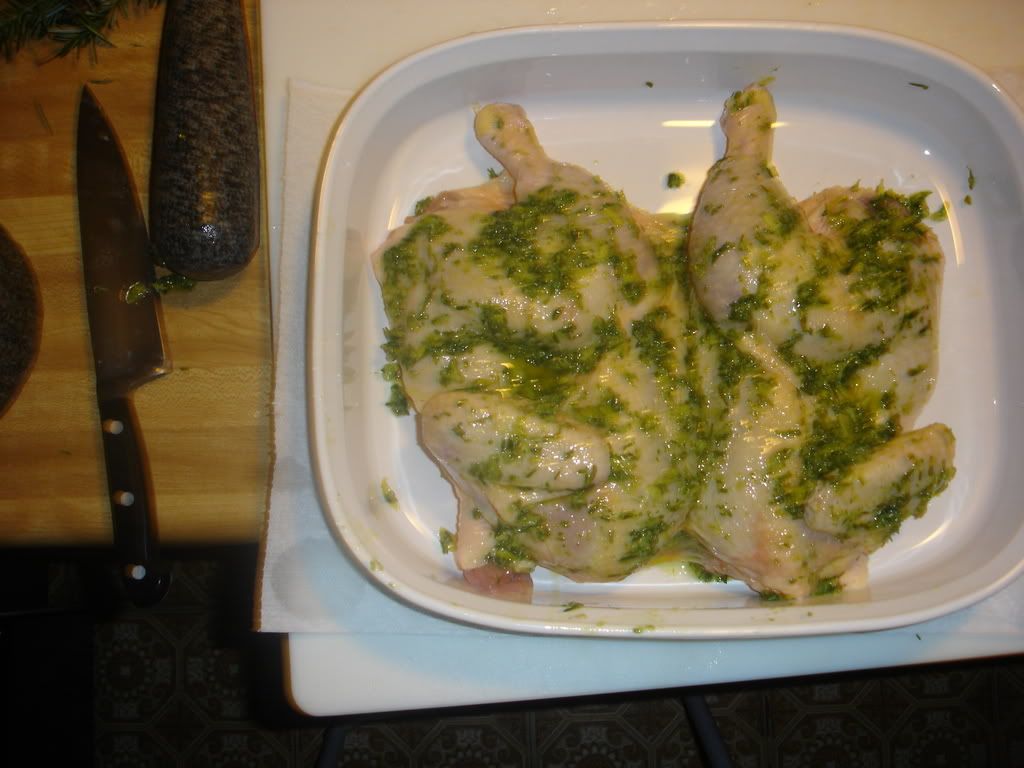 [p][p]put some plastic wrap over it and put it in the fridge for a few hours. I do this about lunch time, and then when it's dinnertime.....
start a fire and get egg up to about 350 degrees:

[p][p]using direct method, put the skin side down first.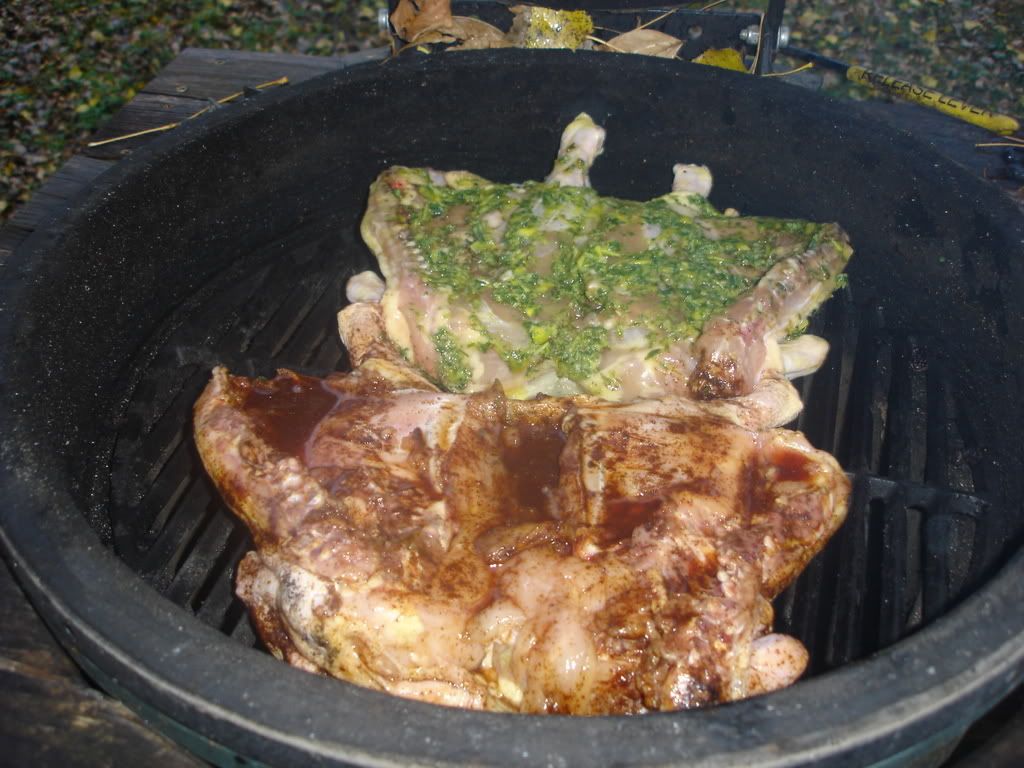 [p][p]Oh, by the way, I did two of em this day. the other one toward the bottom was a coffee chili rub.[p]Then in about 15 minutes at 350, turn it over: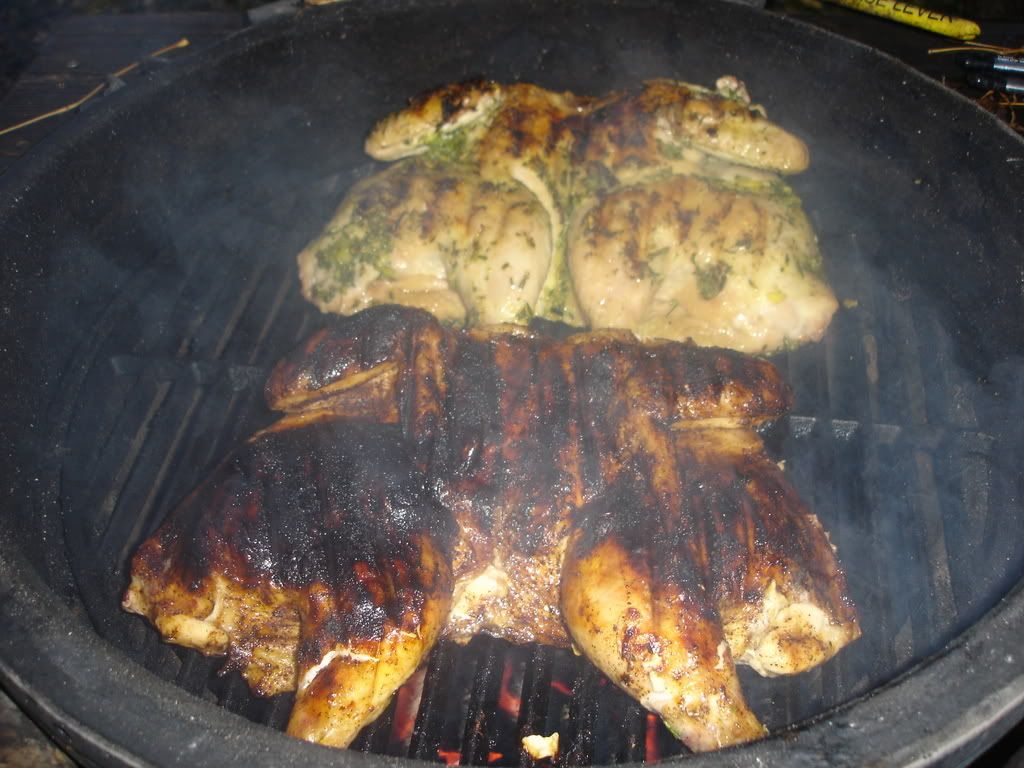 [p][p]The skin will be a little crispy now, and continue to cook for another 15 minutes, or until about 160 degrees internal[p]Now take it off. here it is done:

[p][p]now you have a choice to make....white....or ....dark. since the Mrs usually likes the dark meat, I opt for the white and I am not sorry. it is one of the of the best chickens I have done. some squash and a little wine, and a pretty good dinner with only a little fuss. Enjoy, and remember, it's a secret!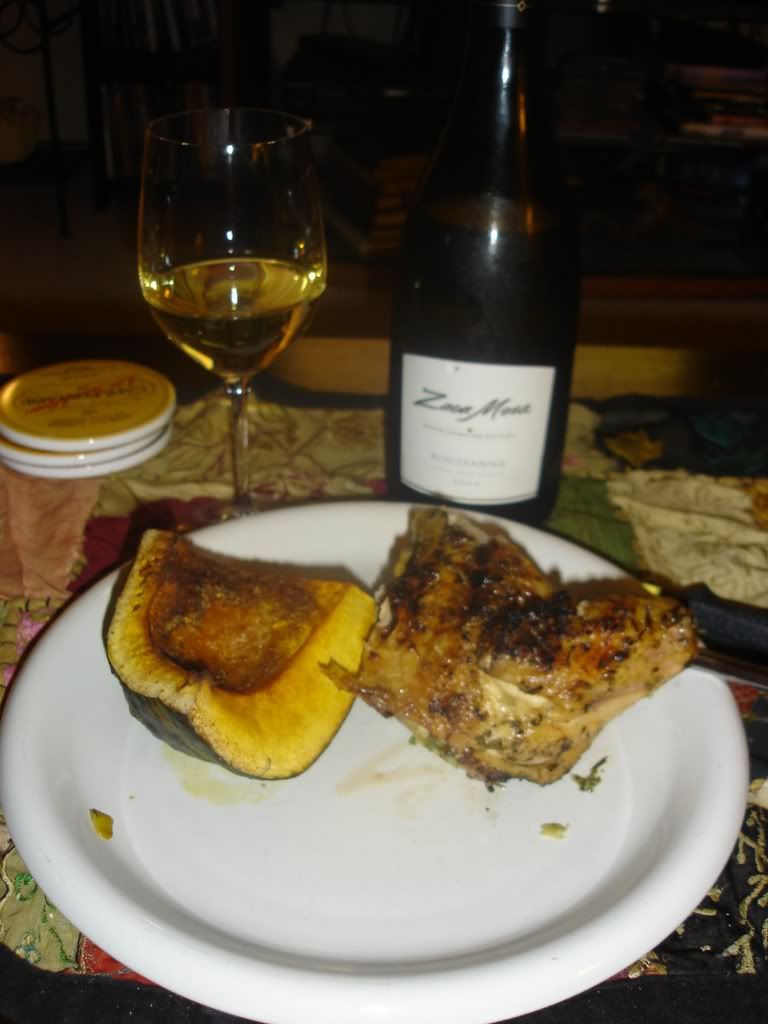 [p]