With winter in full gear, we're enjoying all the awesome photos of EGGs in the cold weather. Stay warm with some of our favorite Dutch oven recipes:
Chicken & Dumplings
,
Chili Con Carne
and
BLT Soup
.
The Big Green Egg headquarters has moved - come visit our new location and check out the museum! 3786 DeKalb Technology Parkway, Atlanta, GA 30340
Turkey - continuing my own eggfest
not too long ago, I Grampas Grub posted a swell looking turkey (insert stomach growling sounds here) he said it was a little bit dry tasting, where upon I asked him if he ever did an injected turkey.[p]Turkey was on sale this last week, and I did one on Sunday. Here is how it went.[p]Thaw your turkey in the fridge, takes about 3 days. then rinse it out, take out all the giblets and neck and other stuff you might find in there. then pull out all of the excess fat you see. Then, select your injection weapon of choice. Today, I used Cajun Injector Hot butter, about 8 oz's. (wasn't sure how hot it was, so I cut it back a bit) I normally use Creole Butter flavor, and use about 12 ozs.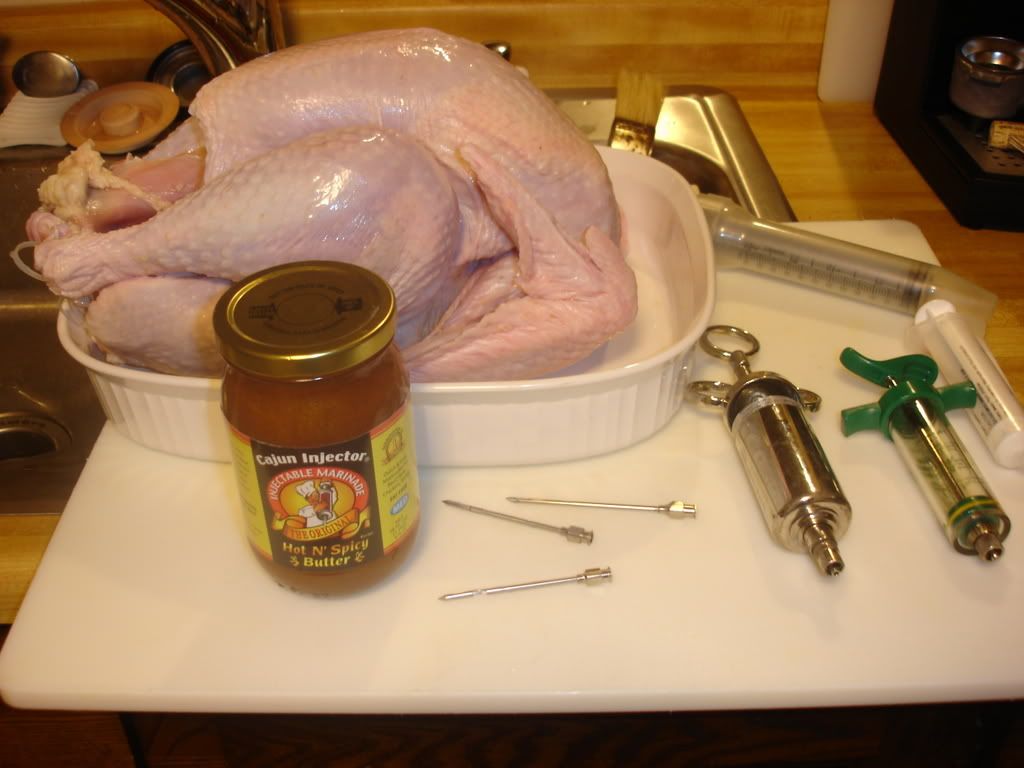 [p]then, inject about 2 oz in to each breast, thigh, about 1/2 oz into each leg, and a little into the wings. Then sprinkle some S&P or your rub of choice inside then stuff the cavity with a half an onion (cut into a couple of pieces) some sage leaves, some thyme, and a carrot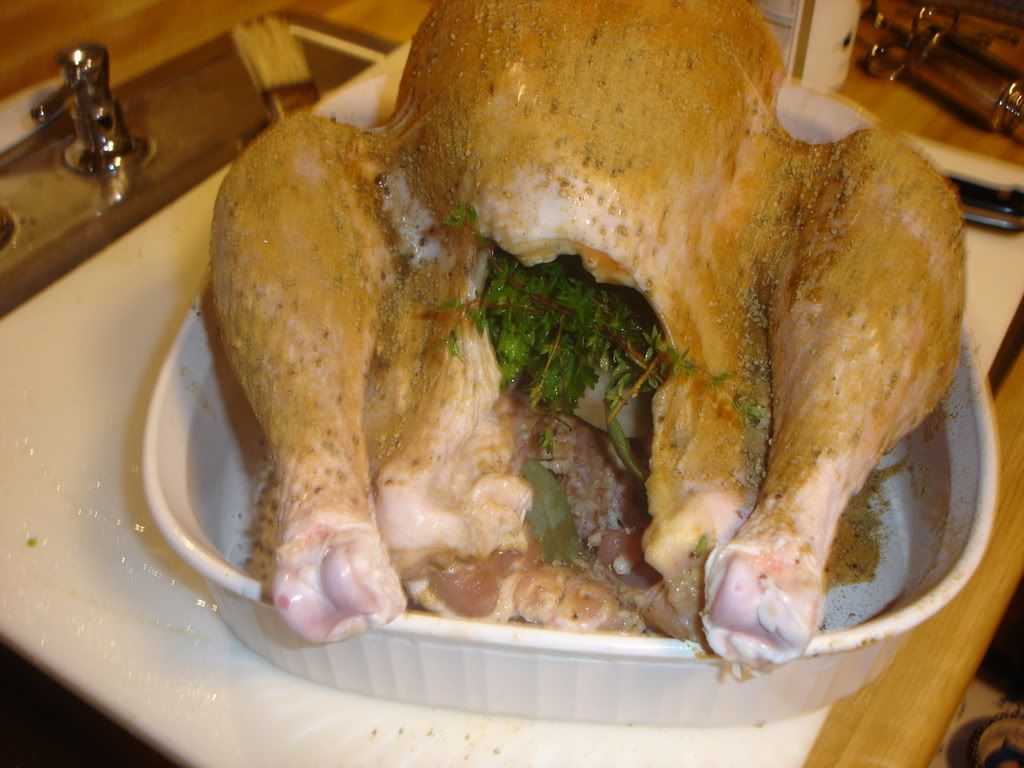 [p]Then rub all over with your favorite rub, I used Rudy's Turkey Rub. Oh, and tuck the wings under the turkey so the tips don't burn.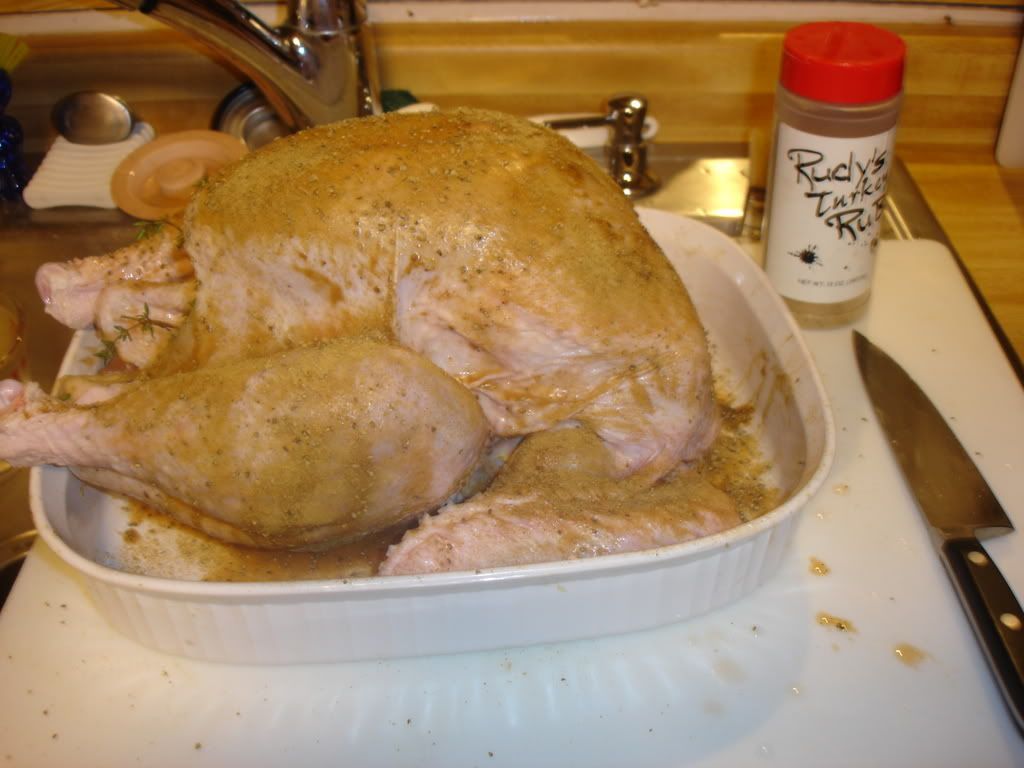 [p]Now, start your fire and get to 350 degrees dome temp.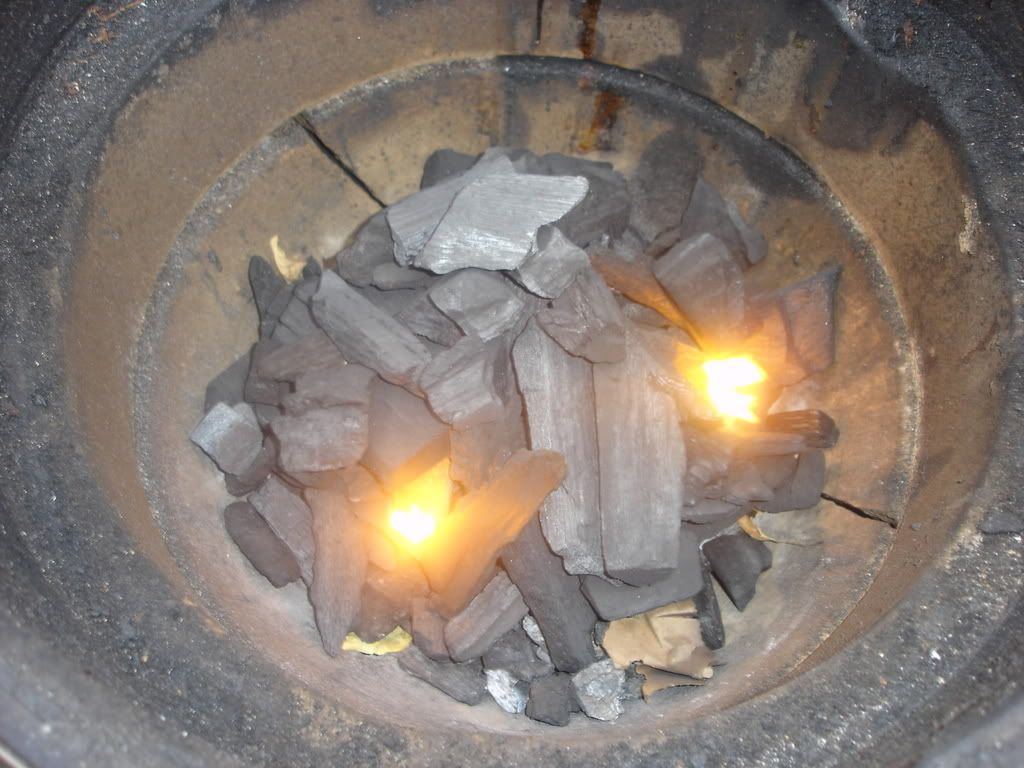 [p]I use the Rutland fire starter squares that are just like the BGE squares, break it in two. 10 mins later, I'm ready to cook. cost about 6.9 cents a light. (topic for another discussion)
Yes, my fire box is cracked. have a new one in the garage, but for now, nothin wrong with this one.[p]now select a hunk of wood ( I got a hunk of cherry here. no need to soak in water, the dome keeps flamage down and it will add some nice smoke. turns the turkey a red color. get dome to 350 degrees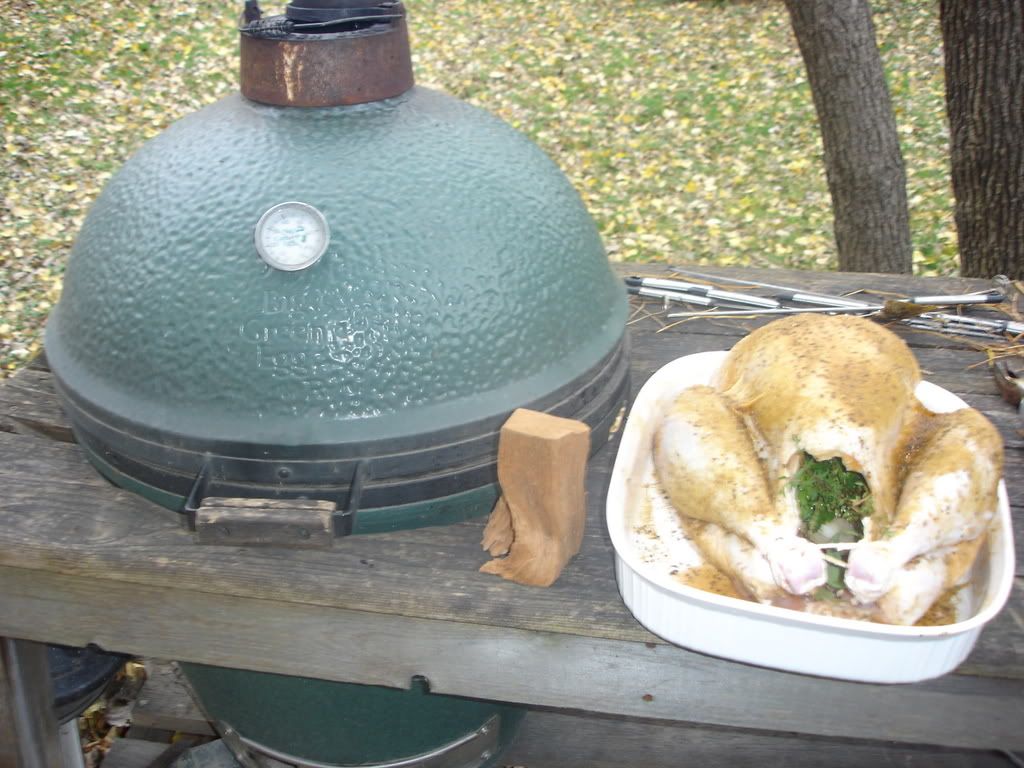 [p]Set up for indirect cook. plate setter feet up, then a drip pan, then your grate. when you get this set up, put the hunk of wood in your fire, then the turkey on the grate centered over the pan.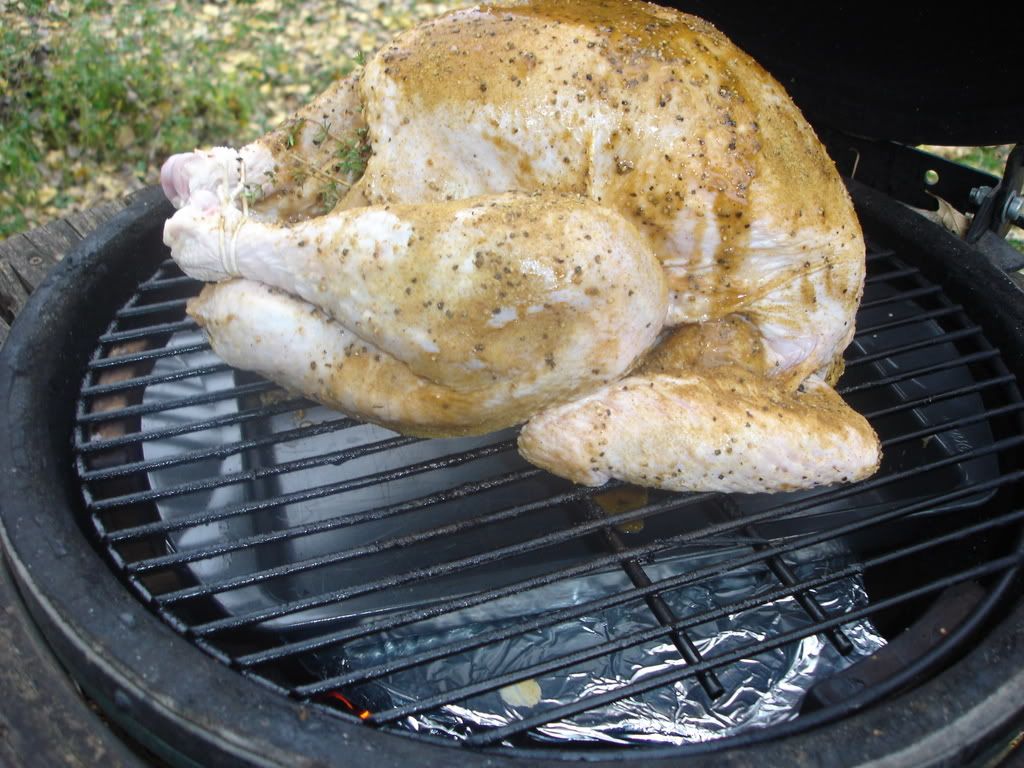 [p]now, insert your temperature probe and wait til 160 degrees. you can baste if you like, but with the dome it is not needed. also, you can put some liquid in the pan, (wine, beer, water, apple juice...it will boil away)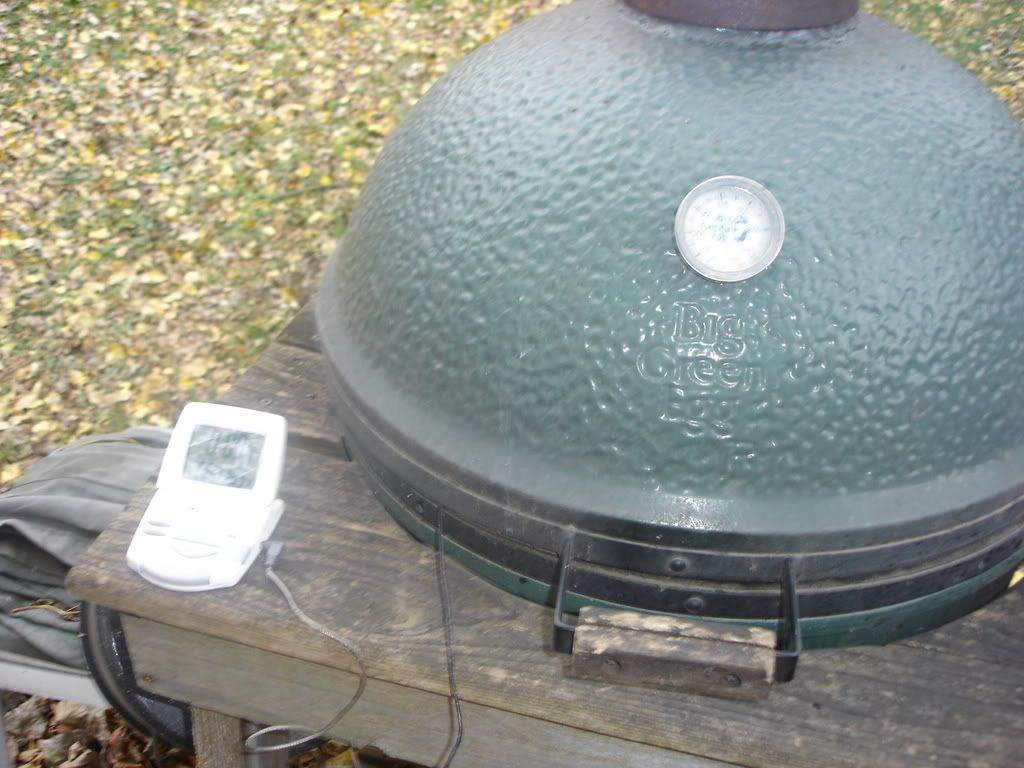 [p][p]when the temp probe reaches 160 (162 in this case) take the turkey out, tent it with foil for about 10 minutes or so, while you get the rest of the dinner ready to eat.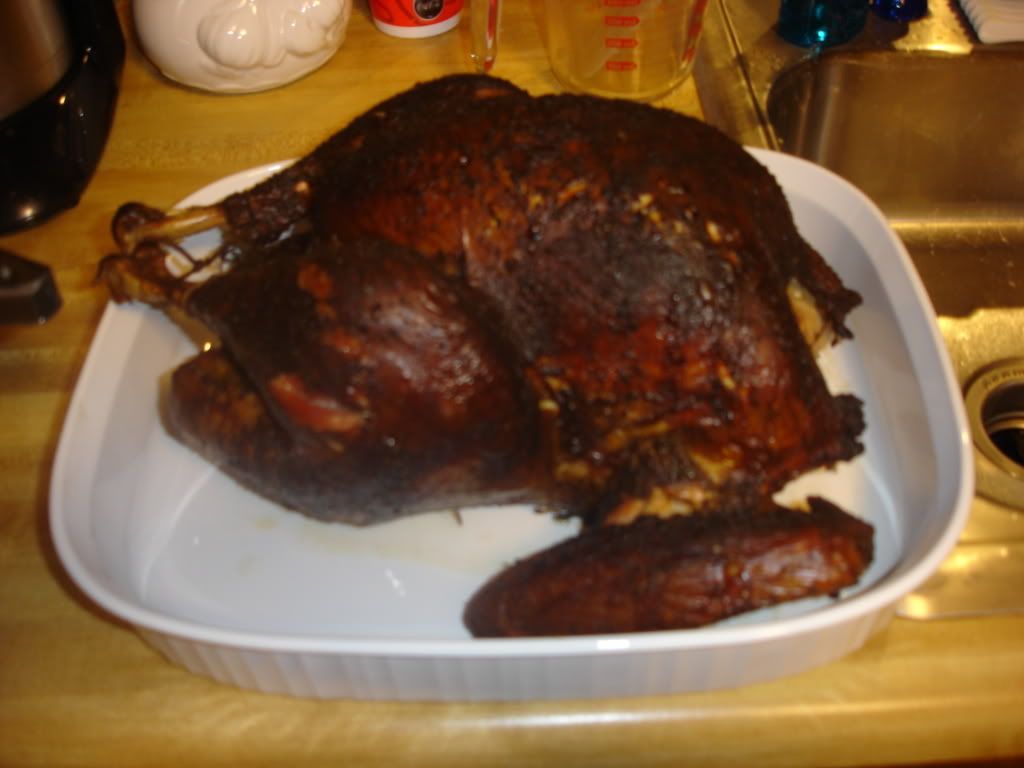 [p][p]then cut it up and enjoy![p]No secret here, just good turkey, and very moist. even better for sandwiches the next day. This was about a 13 lb turkey. I've done up to 16 lbs in the egg.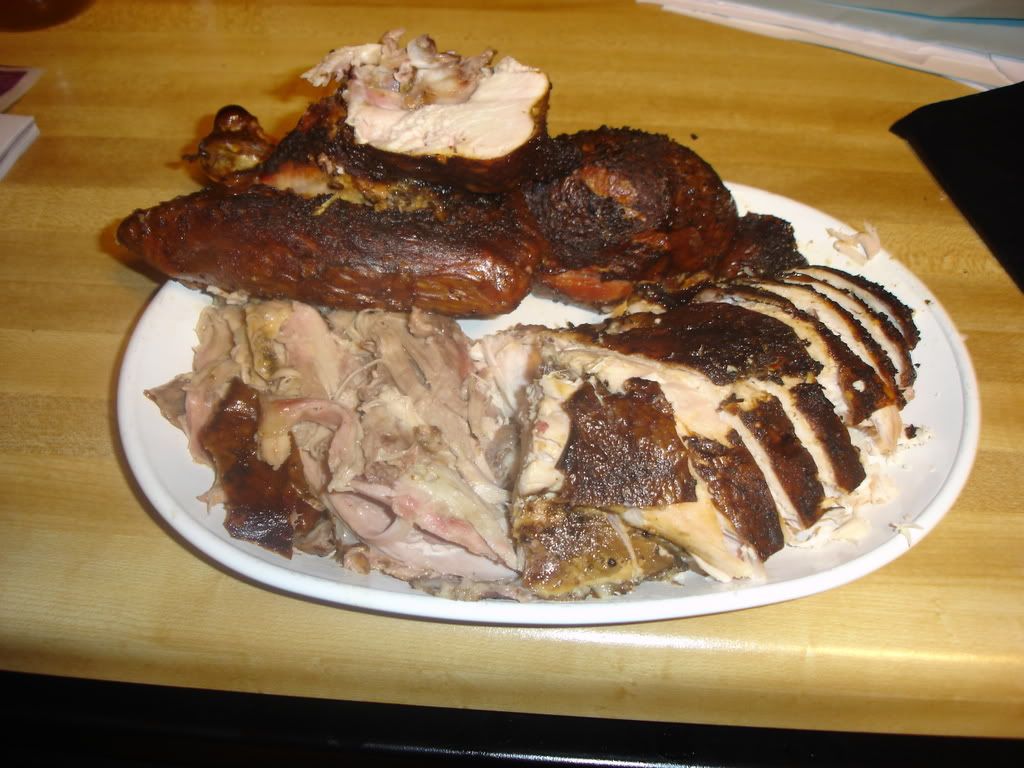 [p][p]Have fun and enjoy![p]M