Hop on down to your nearest EGG dealer this week to pick up some Easter EGGcessories! Here are a few that may be useful for Easter, the
V-rack
,
electric charcoal lighter
and
flexible skewers
! Now that Spring is in the air, it's time to think about getting out to one of the many #EGGfests around the country -
see a list here
1st Tri-Tip with pics. I think I have a new favorite cut of red meat!
Happy Friday Gang,[p]As I hunted and gathered today a ran across a manageable size package of tri-tip at Costco (2 pieces, 3.4 lbs total) I have read all of your ravings so I figured it was time to jump in the pool[p]I am sure glad I did - my mouth has not been this happy in a long time - I think it was beginners luck with this because it was one of the better red meat experiences I have had.[p]Here are the details:[p]DP Cow lick on both. HOT fire on my small. (I finally get what TRex is talking about when he mentions lava. Up until now I have never got one going quite like tonight. Tonight was also the first time I paid much attention to the way I put the lump into the firebox. It turns out that building it the way TRex and a number of you have recommended works way better than just dumping it in from the bag and stirring around. I know I am no the only one doing that and know I will not be any more - It really made a difference in the fire.)[p]Anyway, both pieces on (Dome was 700ish and the temp at the grate was 650+) for about two minutes a side. (Great char!) Then a rest until the fire came down to 400ish. Next was a few handfuls of cherry chips and the grate put back on in a raised position using the longer GrateMates.[p]The meat went about 10 minutes a side to get to 135. I left one alone during the roasting period and I coated one in the sauce in the picture. (The sauce was real good - Rick Bayless knows his flavors...) Then a 15-minute rest and it was time to eat.[p]The look, smell and taste were unbelievable. This was $5.99 meat done pretty simply and my mouth has rarely been happier.[p]If you have not tried tri-tip on the egg yet you need to find some tomorrow and work it into your egg schedule this weekend. I cannot stress enough how good this was.[p]Cheers![p][p]
[p]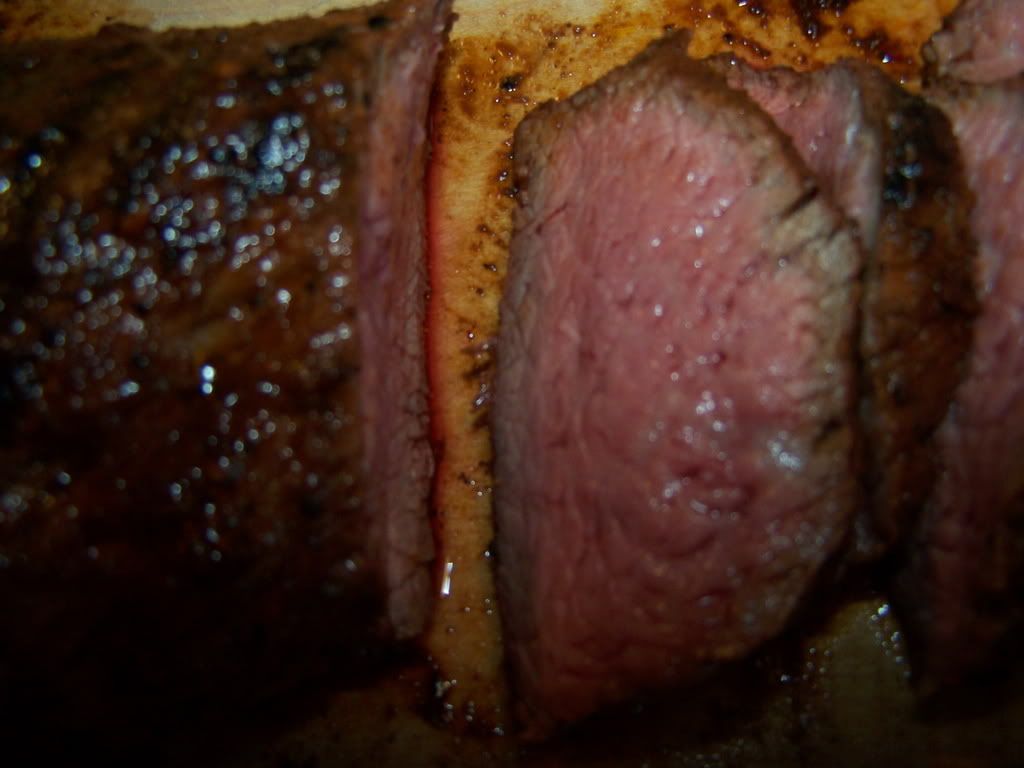 [p]