It doesn't get much hotter than the EGG cookin' in July! Make sure to keep yourself hydrated with a bit of whatever you're using for the
Beer Can Chicken
.
Ice Cream Sandwiches
are also a great way to stay cool. Looking for some great ideas for a summer cook out? Try out a
Pimento Cheeseburger
or
Dr. BBQ's Spare Rib Surprise
. Just don't be surprised if your neighbors stop by for a quick bite when they smell what you're cooking!
Big Green Egg headquarters has moved - come visit our new showroom and check out the museum and culinary center too! 3786 DeKalb Technology Parkway, Atlanta, GA 30340
Meatloaf on the Egg......mmmm.....mmmmmm.......good!
Finally did a meatloaf on the Egg tonight and it was good good good.
I decided to do it in a baking dish because that is what all our guru's and their sites said they did. I think I'd put it on one of those disposable grids if I made it this way again, it was plenty juicey and I didn't get the crispy outside I'd have liked better.[p]First the extra stuff. I was going to finely chop but the wife was helping and put the peppers in a electric chopping gizmo. Two peppers one red one green, a small onion (I did chop that by hand) a tablespoon or so of fresh from the jar garlic, a jiggle or two of worchesteshire sauce, some ketchup, one egg, a can of mushrooms that I finely chopped (by hand) and some DP RTS. [p]
[p]To all that I added one 2.25 lb package of 80/20 ground beef, formed it into a loaf, and put it in a baking dish. It has so stuff in it that it kinda reminds me of pickle loaf.[p]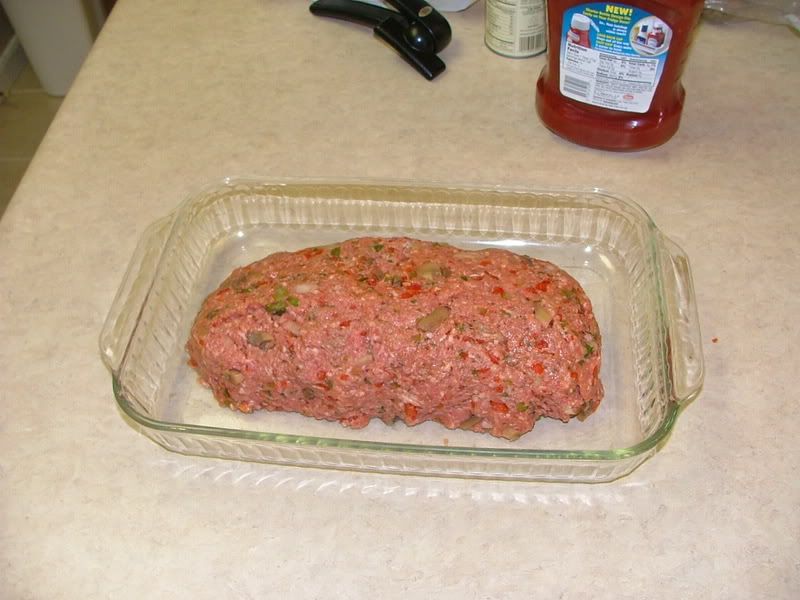 [p]I put some more RTS on top and then smeared on some more ketchup and off to the egg we went

[p]My kids must have been getting some vibes from Texas as my daughter pulled out a huge LR sized bag of tater tots from the freezer case. Using common sense and the authoritative no of father hood I said "sure honey anything you want".....not really, we got the smaller sized bag......[p]
[p]Plated with some fresh brussel sprouts and who knows how old processed chopped formed and preserved potatos. After I made the tots look like Mount Fuji in December I was able to eat them. I think this was the second time in 20+ years that I've ate those things....the last time they were doing a nacho impression, coated in cheese sauce and covered in hot peppers.[p]Bottom line. Meatloaf is awesome on the Egg. I probably went way overkill with all the stuff I put in it but it certainly was as juicey as you could want it. I think I try it with the same amount of stuff.....maybe a few other items :>) and put it on a grid indirect to see if I can't get a little burger bark action going. The inside should stay plenty moist. This puppy was swimming in juices from the veggies with just a little fat on top.