We're feeling pretty super, how about you? The big game is fast approaching, and while we love football, we love an excuse to invite people over and cook even more! You too can cook like a champion with recipes from
Dr. BBQ's NFL Gameday Cookbook
: Grilled Tuna Sandwiches from Seattle and Baked Brie from New England. Who's going to win? You'll have to cook both to find out.
The 17th Annual EGGtoberfest was amazing - here are the highlights 
Click Here
Could this be the most coveted award in history?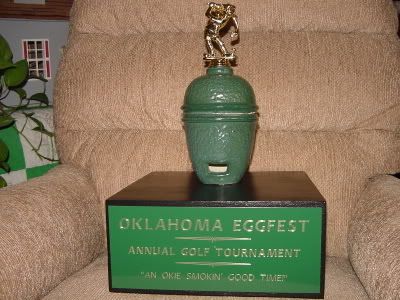 <p />
For decades, children have dreamed of winning the Super Bowl, the Stanley Cup or an Olympic Gold Medal. Now a new event has arrived on the scene which will inspire the next generation to greatness. You've heard of the "Little Brown Jug"...we call this one the "Little Green Egg".[p]Check back tomorrow to see which Egghead will reign supreme at the Oklahoma Eggfest Golf Tournament.[p]Oklahoma Eggfest starts tomorrow!!!!!!!!!!
[ul][li]
Oklahoma Eggfest
[/ul]