Get ready to turn up the heat as we dive into August. While there are only a few weeks left to perfect those tailgate recipes, summer isn't over yet! Two things we'll be making this month are
Chile Rubbed Grilled Pork Chops
and
Bell Pepper Kabobs
. Then, relax after a cookout with a cool dessert cooked on your EGG -
Ice Cream Sandwiches
! You can mix and match your favorite cookie flavors with ice cream flavors. Simple, yet delicious!
Big Green Egg headquarters has moved - come visit our new showroom and check out the museum and culinary center too! 3786 DeKalb Technology Parkway, Atlanta, GA 30340
Ribeyes last night (lots of pics)
I friend came by yesterday with 2 ribeyes from the Miramar Commissary that needed cooking. Experimenting is fun to me, so I decided to try direct and raised indirect. He's a very experienced Weber guy who always cooks with all vents fully open and indirect. He did help me get the egg so, I set the egg up to run about 400 to 425 dome like he requested. I could not sell him on the "Hot Tub" treatment, so we just left them out for 90 minutes.[p]Here's the setup. I'm thinking of getting another 18" grid and a pizza stone to cut in half so the space works out better. I like the ability to sear and remove from direct radiation from the coals. It's an old habit from when I developed my Blackened Tri Tip recipe years ago.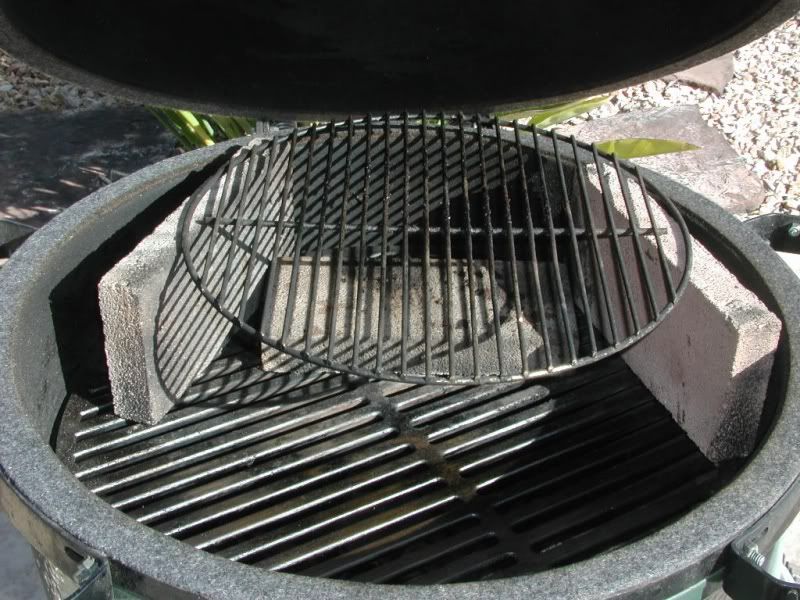 [p]Here's the direct one seasoned with salt and pepper ready to grill. I sprayed on canola oil just before putting them on.

[p]Here it is after 7 minutes per side. Should have taken these outside since the flash effected the color. The grill marks were a nice dark brown and the meat was medium rare bright red. He couldn't wait to eat, so he cut into it a little too soon. Note the amount of juice on the plate. Had this been fish or chicken, the cat in the upper right background would be sitting next to my guest watching my every move.

[p]This is the indirect one. I seasoned it with DP Cowlick and a touch of DP Red Eye Express.

[p]I got distracted after pulling the direct one, so it ended up medium. I'd say it cooked 18 to 20 minutes. Wanted to do a sear, but oh well. Note the lack of any grill marks, but the darkening near the edges. Wasn't crunchy at all. [p]I like to put a pad of butter on my steaks right after they come off the grill. Boy, that is a great mix of rub flavors. I plan on doing a full ribeye roast seasoned like this! The taste was so fatastic, I didn't care it was medium and had no crust.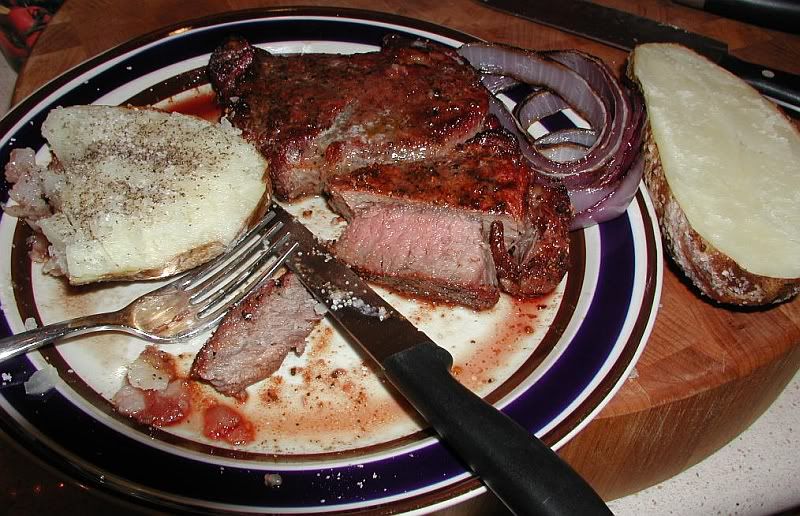 [p]Served with Italian Wedding Soup, grilled red onion, a huge baked potato and salad. I only ate 1/2 of the steak and potato, (portion control) so I have leftovers for today.[p]Happy Egging,[p]BabyBoomBBQ