We're feeling pretty super, how about you? The big game is fast approaching, and while we love football, we love an excuse to invite people over and cook even more! You too can cook like a champion with recipes from
Dr. BBQ's NFL Gameday Cookbook
: Grilled Tuna Sandwiches from Seattle and Baked Brie from New England. Who's going to win? You'll have to cook both to find out.
The 17th Annual EGGtoberfest was amazing - here are the highlights 
Click Here
Corned Beef Dinner on the ceramic
Caution: for the color phobic, this meal has been cooked on another color ceramic. But, you can do it your Big Green EGG as well.
.
.
.
.
.
.
.
.[p]I'll keep this thread updated through out the day as the cook progresses.[p]Here is a nice Mosey's 3 lb Corned Beef Flat, that I've taken the liberty of dusting with some black pepper, garlic and crushed bay leaves.

[p]I've cut up some red taters, onions and carrots (no cabbage, yecch, 'cept in Cole Slaw), rubbed with some evoo and then a very light sprinkling of sea salt

[p]I've seared the Corned Beef at 400°, direct for approx 7-8 minutes a side. A word of caution, that nasty corned beef fat STINKS when it's cooking hot
[p]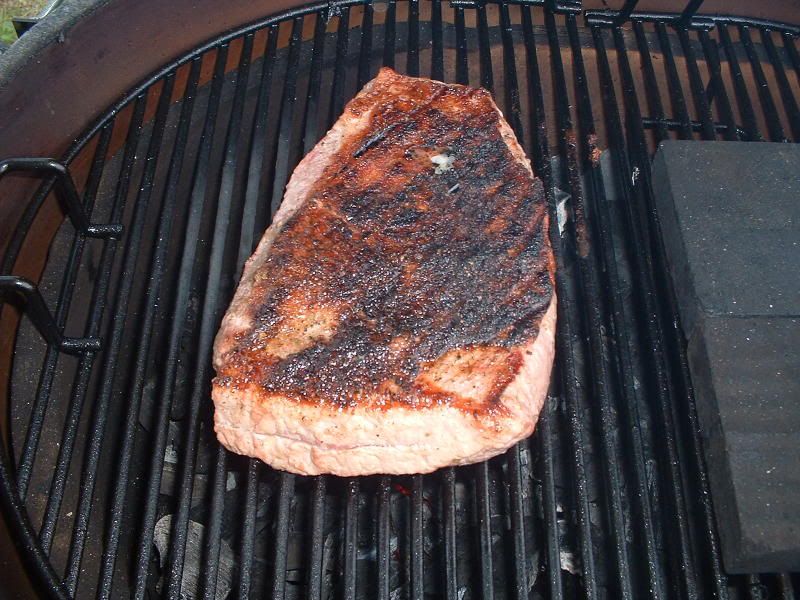 [p]As soon as I pulled the flat off, I added the vegies for a quick sear.

[p]I've lowered the heat to approx 250-275° and cooking indirect on some fire bricks. I want to keep this at a simmer most of the day and will add the veggies later. The brisket is in a mix of Sam Adams Winter Lager and water, with some extra bay leaves and garlic.[p]