Corned Beef Dinner on the ceramic
Caution: for the color phobic, this meal has been cooked on another color ceramic. But, you can do it your Big Green EGG as well.
.
.
.
.
.
.
.
.[p]I'll keep this thread updated through out the day as the cook progresses.[p]Here is a nice Mosey's 3 lb Corned Beef Flat, that I've taken the liberty of dusting with some black pepper, garlic and crushed bay leaves.

[p]I've cut up some red taters, onions and carrots (no cabbage, yecch, 'cept in Cole Slaw), rubbed with some evoo and then a very light sprinkling of sea salt

[p]I've seared the Corned Beef at 400°, direct for approx 7-8 minutes a side. A word of caution, that nasty corned beef fat STINKS when it's cooking hot
[p]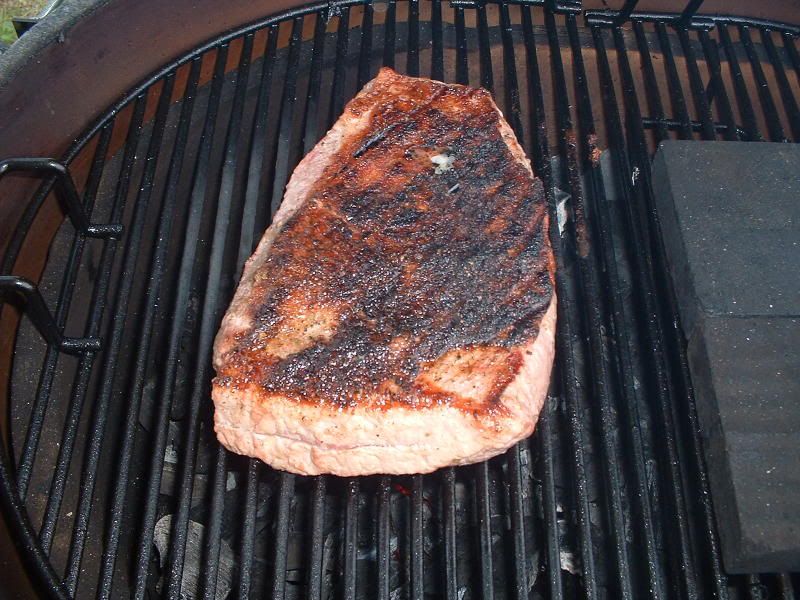 [p]As soon as I pulled the flat off, I added the vegies for a quick sear.

[p]I've lowered the heat to approx 250-275° and cooking indirect on some fire bricks. I want to keep this at a simmer most of the day and will add the veggies later. The brisket is in a mix of Sam Adams Winter Lager and water, with some extra bay leaves and garlic.[p]