It's that time of year again-time to hop on out to your backyard for an EGG hunt. If you're lucky, you'll only have to search as far as your patio! Planning on cooking Easter
Sunday
? Check out our
Easter Menu
. If you're looking for a sweet treat to enjoy with the whole family, try at least one of our sweet treats, if not both:
Grilled Peeps
&
Carrot Cupcakes
. Lastly, if you're having company, our
Pinterest
page has lots of ideas for entertaining. We hope you have an EGGstra tasty holiday!


The Big Green Egg headquarters has moved - come visit our new location and check out the museum! 3786 DeKalb Technology Parkway, Atlanta, GA 30340
Grilled Flank Steak with Chimichurri Sauce
I made some skewers of flank steak today. I had a nice Flank that I sliced about 1/4" thick and marinated in Mojo with sour orange juice, some olive oil, cumin and a lot of garlic. After marinating about 5 hours, I skewered them on bamboo skewers. I heated the Egg up to about 450 because I wanted to cook these quickly. While the egg was heating, I made up some Chimichurri which was a little different than I am used to as it only had cilantro and no other herbs. It also had olive oil, lemon juice, and red pepper flakes. I also made some pickled red onions to go on the side. I only got a couple of pics unfortunately.
Skewers on the Egg. Had to cook them in batches.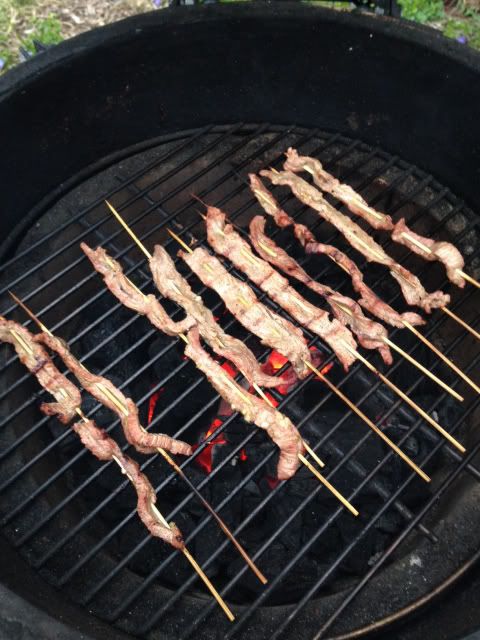 Plated with he Chimichurri and Red Onions.
It was a little bit of a pain to skewer the strips but I think the flavor was better with more meat exposed to the marinade. The combination of the marinade and the Chimchurri was outstanding and I will definitely do this one again.
Clarendon Hills, IL