It doesn't get much hotter than the EGG cookin' in July! Make sure to keep yourself hydrated with a bit of whatever you're using for the
Beer Can Chicken
.
Ice Cream Sandwiches
are also a great way to stay cool. Looking for some great ideas for a summer cook out? Try out a
Pimento Cheeseburger
or
Dr. BBQ's Spare Rib Surprise
. Just don't be surprised if your neighbors stop by for a quick bite when they smell what you're cooking!
Big Green Egg headquarters has moved - come visit our new showroom and check out the museum and culinary center too! 3786 DeKalb Technology Parkway, Atlanta, GA 30340
Feet or no feet..... that is the question.
So I looked at a lot of other peoples tables while researching to build my Egg home. I saw many eggs directly on a piece of slate or tile of some kind and decided to do the same with mine. It's rests on landscaping stone that is nice and level. When I posted in the table section I recieved lots of positive feed back but a lot of people said that I should put my egg in a table nest and I'm not sure why. I also thought about using the egg feet if I really need to get it up off the stone but BGE doesn't make them any more, why? I feel like it gets better support if the whole bottom of the egg is resting on something. Please give me some input so I can figure if I need to change this up.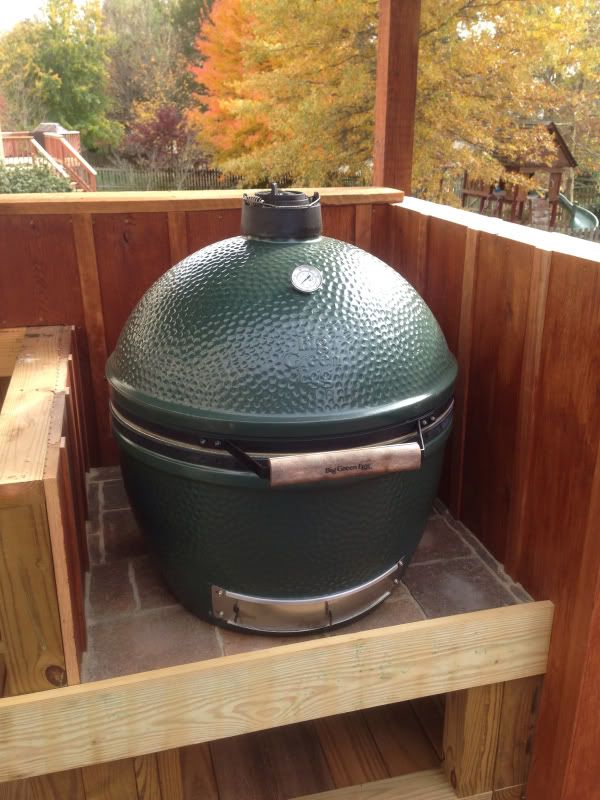 Bristow Virginia XLBGE One of the best feelings in life is watching other people enjoy the food I cooked!