Recently some friends went off shore to fish and shared some fresh king mackerel. They caught 11 between 20#'s and 50"#s. Gifted us with 10 #'s.
INGREDIENTS:
3 1/2 Lbs Fresh King Mackerel
BRINE:
1 Cup Old Bay Seasoning
2/3 Cup Favorite Seasoning
1/4 Cup Garlic Powder
3-4 Cups 11.5 Ozs. Pkg. Water
PROCEDURE:
1. Mix the seasonings and water in a sauce pan, bring to a light boil and let the salt dissolve. Take off heat and add a few ice cubes to help cool.
After brined and drying: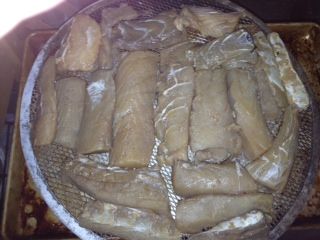 2. Place mixture and fish in a 2 gallon plastic bag and place in frig overnight turning a few times.Let air dry for an hour or so.
3. Get BGE set up for 200F indirect with a water pan and add some pecan chips.
2 hours into cook: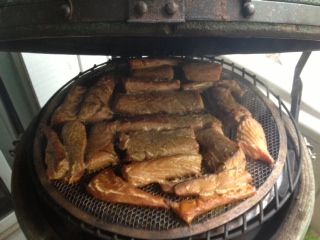 4. Cook about 2 1/2 hours until the temperature of the fish has been around 160-170F for 30 minutes or so.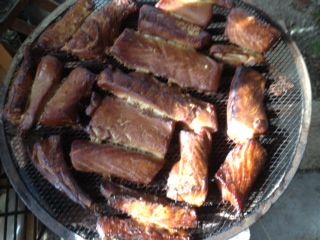 5. Remove from BGE and cool.
6. Saw some fish dip for the Army/Navy game yesterday.
***************************
Appetizer, Dip, King Mackerel, Smoked, Richard Fl.
INGREDIENTS:
1 Lb Smoked King Mackerel, Cut into small pieces
3/4 Cup Milk
3 8 Ozs Cream Cheese, Softened
1/3 Cup Garlic Chives or Scallions, Chopped fine
2-3 Tbs Horse Radish
1/2 Cup Sour Cream
2-3 Tbs Mayonaisse
2-3 Tbs Fresh ground Black Pepper
Several Drops Lemon Juice
Several Drops Favorite Hot Sauce
Some Small Capers (optional)
PROCEDURE:
1. Mix the chopped fish with the milk and set in refrigerator for 30 minutes, remove and drain, but do not rinse.
2. Mix all the other ingredients with a hand mixer and add the drained fish at the end.
Thanks for looking. Have a continued great holiday season.