Lately have been sticking to tried and true method for rib eyes—salted with kosher salt and sitting for an hour or so, some tiger sauce and Montreal steak seasoning, cook indirect on AdjRig followed by cast iron grate sear at about 600. But, always willing to branch out if something new looks really good. As I recently have switched to Adam Perry Lang recipe for my butts, I saw his Worcestershire Marinated and Glazed Rib eyes and could not resist trying this one. <?xml:namespace prefix = o ns = "urn:schemas-microsoft-com:office:office" />
His recipes are always involved, but seem to be excellent. This one was no different—involved and excellent in result. Also, different techniques—steaks are turned often and he also regularly uses a finishing sauce on the cutting board. So, here we go (and sorry for blurry photos, used button on iphone screen instead of top and did not work as well).
(Recipe is for 8 steaks, I cut all in half since I was just doing 4, but am giving you full recipe)
Marinade: 1T red pepper flakes, 1T boiling water, 1C evoo, 20 garlic cloves, peeled, germ removed, and sliced thin, ¼ c Worcestershire sauce, 2T packed dark brown sugar, 2 rosemary springs, 2 thyme sprigs. Put pepper flake in boiling water to rehydrate, and then combine all ingredients including water and flakes. Marinade in ziplock 2 to 24 hours (I used foodsaver marinade attachment for 4 hours).
Rub: 2T garlic salt, 2T lemon pepper, 2T coarse ground pepper, 2T chili powder (I substituted 1T chili powder and 1T ancho chili pepper)
Glaze: ½ c Worcestershire sauce, ½ c dark brown sugar, 4T unsalted butter melted. Combine all
Butter: ½ recipe compound butter, ½ bunch rosemary and thyme tied together (1 recipe compound butter is 4 sticks unsalted butter softened to room temp, ¼ c fine chopped flat leaf parsley, 2T fine chopped shallots, 1 grated garlic clove, zest of lemon grated on microplane, 2t ground pepper, 2t kosher salt)
Board Sauce: ½ c evoo drizzled on board, 2T chopped flat parsley, 2T chopped thyme leaves, fleur de sel, coarse ground black pepper
Directions: Marinade, then rub before cooking, then cook flipping often and brushing with compound butter, and when about done, dip in glaze each side twice and continue cooking (I decided to cut at about 450 to 500 direct on top of adjustable rig, which worked out fine).
Getting ready to marinade: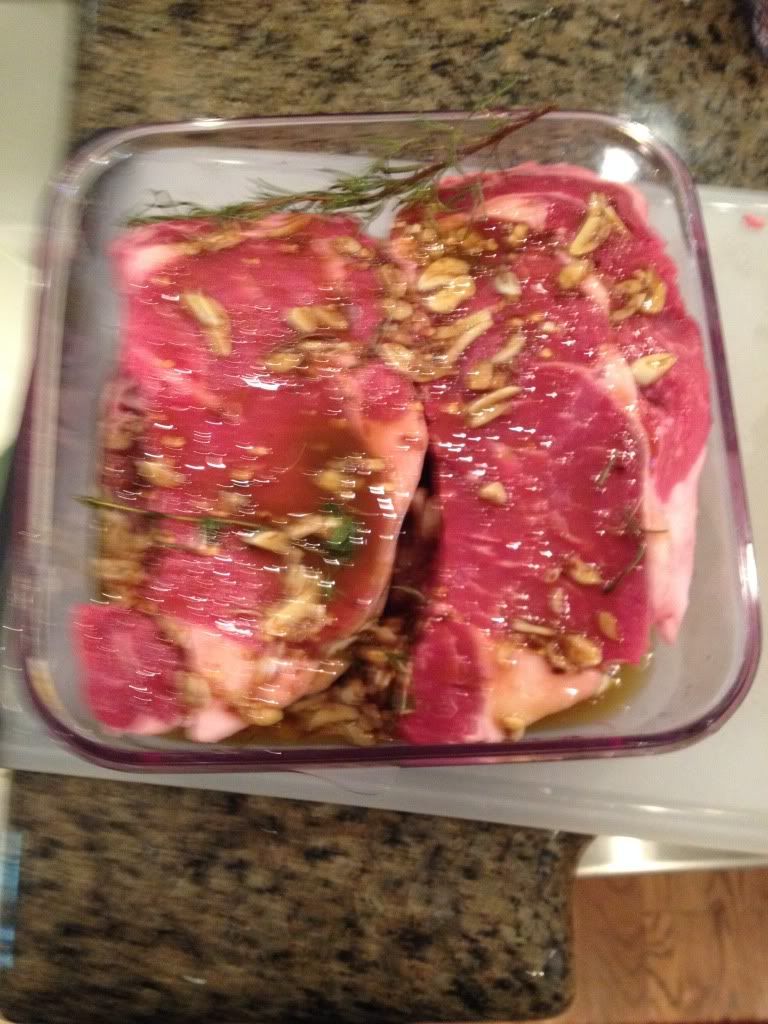 Rub: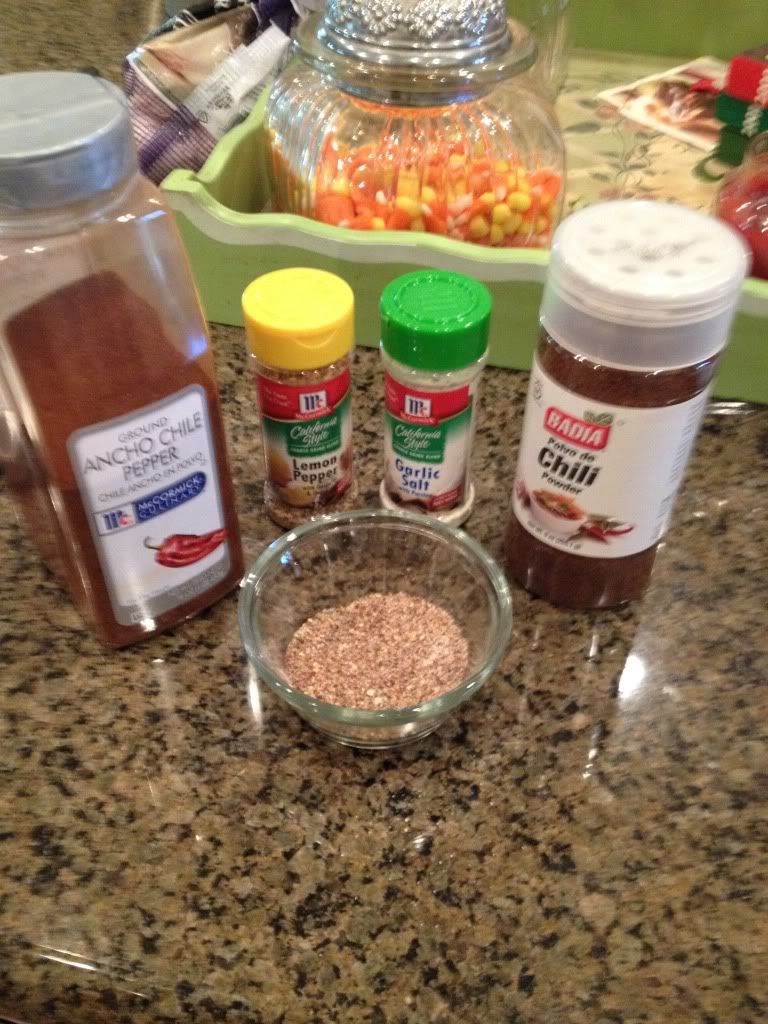 Ready to Start Cooking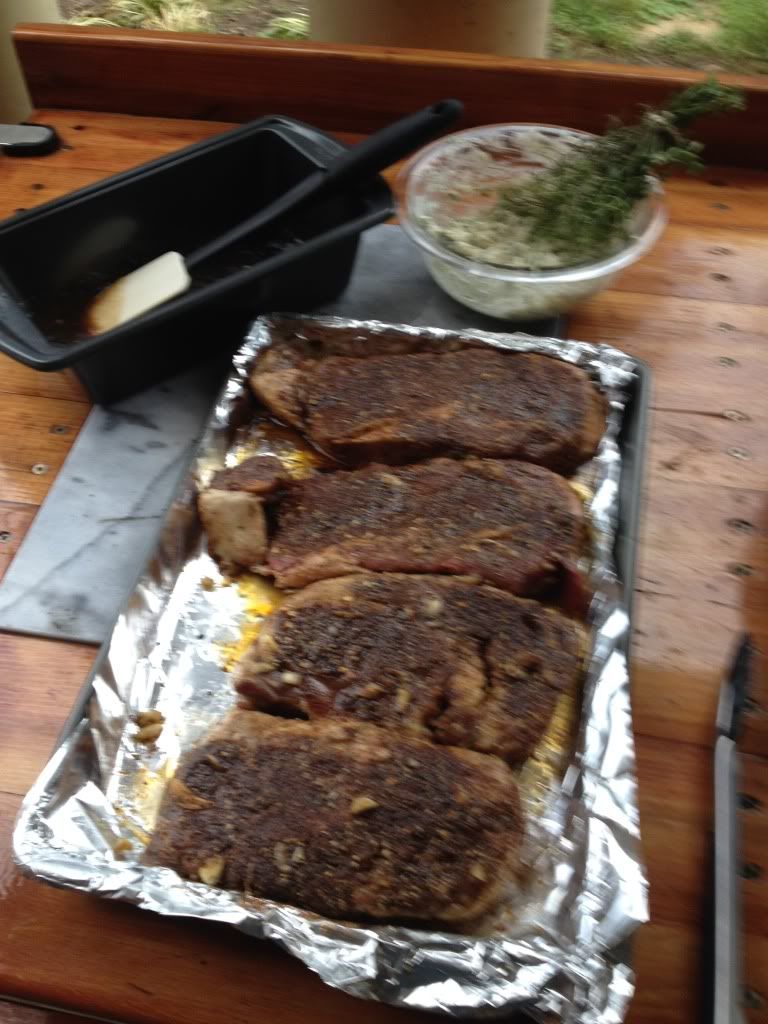 Adding butter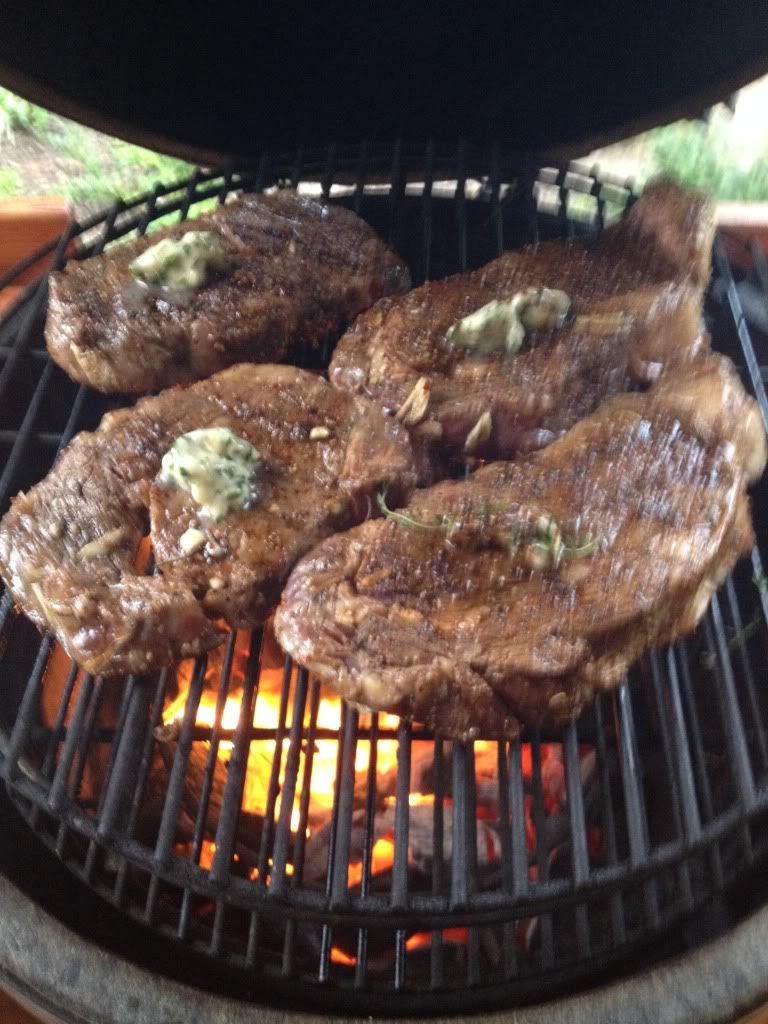 Cooking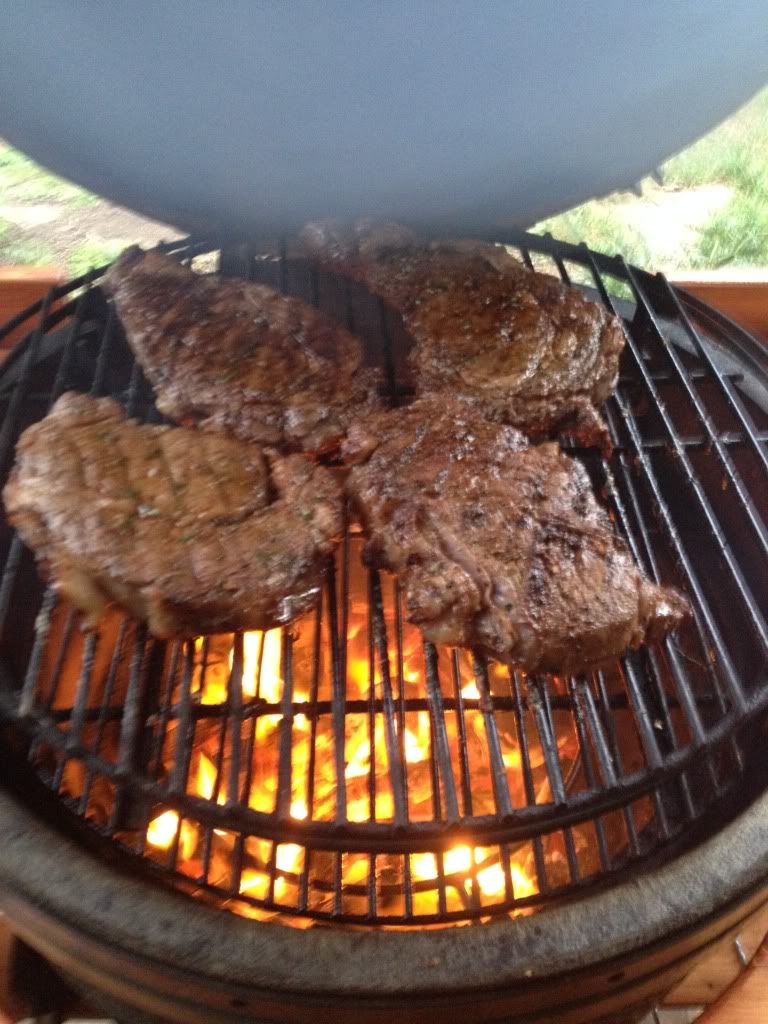 Cooking finished
On the Board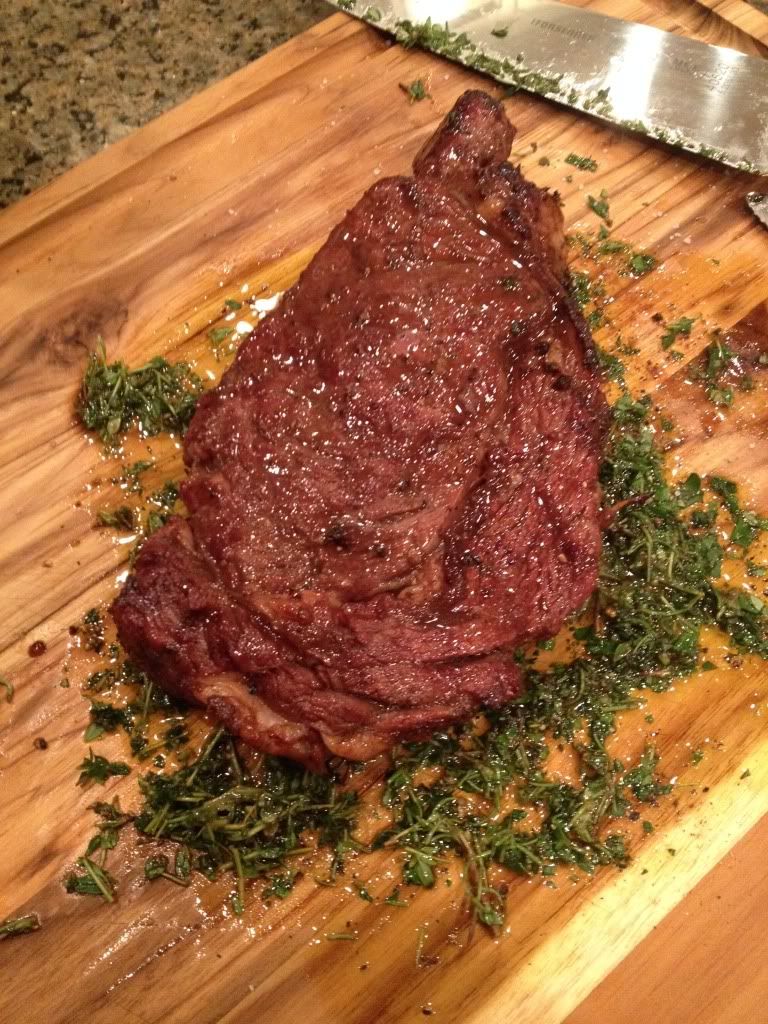 Slicing and Sharing Board Sauce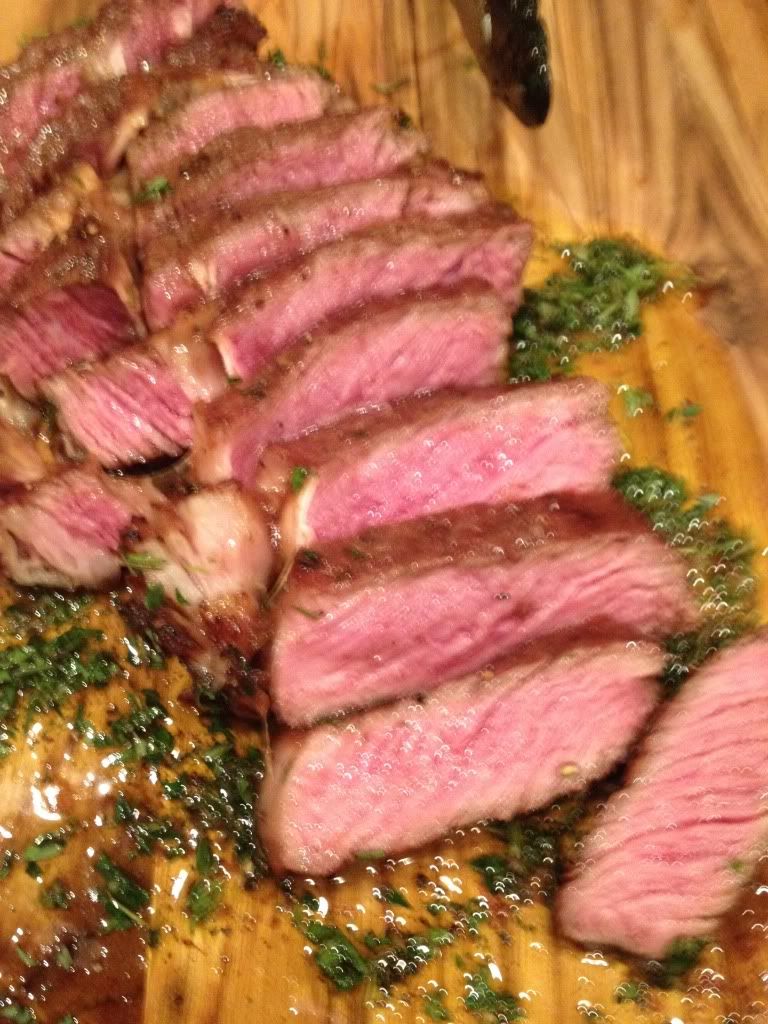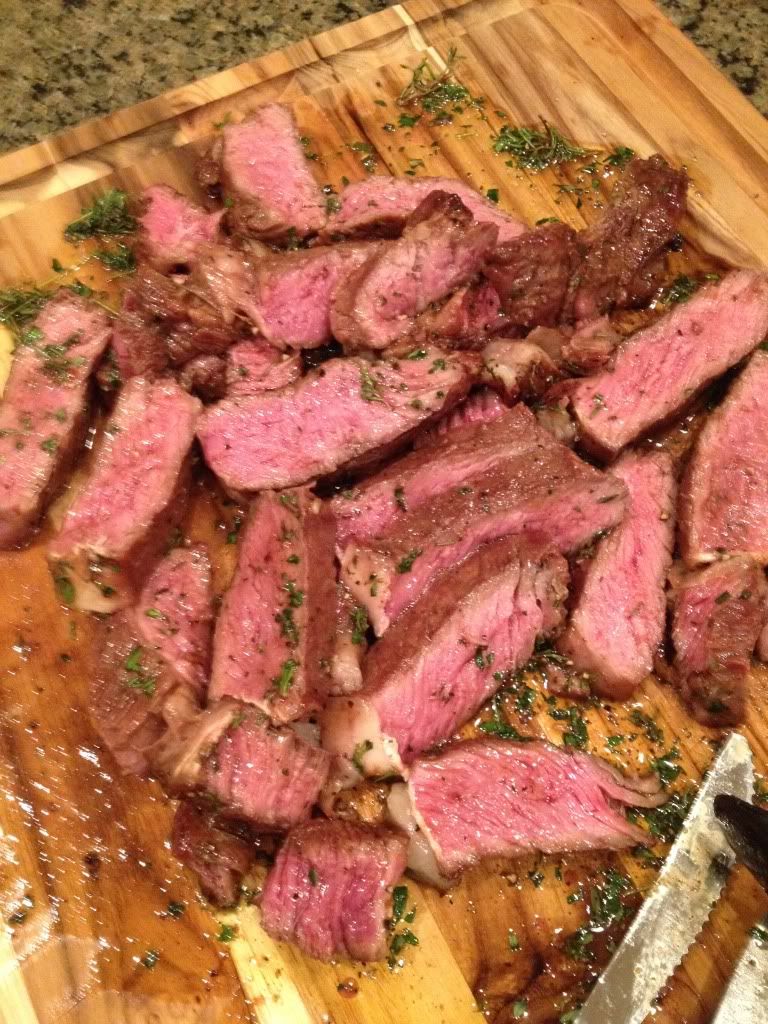 Plated with twice baked potatoes (cooks illustrated) and rest of dinner