There are two very delicious food holidays coming up that we wanted to share with you all because cheese and guac deserve to be celebrated!
Guacamole Day
is on September 16th and
Cheeseburger Day
is on September 18th. Happy cooking EGGheads! It's time to think about getting out to one of the many #EGGfests around the country -
see a list here
Brisket another try
I bought my 12 pound packer at Walmart last week and rubbed it down with Salt Lick Friday night. I woke up at 4:30 this morning to get the fire started (prepped the egg last night) and of course things aren't going exactly as planned-just enjoying the journey. I am using wood chunks (hickory) instead of the chips I had recently been using. Not for any good reason other than they were what I happened to have. I lit the fire with one firestarter in the middle of the lump. This usually works well for me for a low and slow but today it is maybe not enough or the chunks cooled off the fire too much but I have had a hard time getting the temp up to the 200 mark. I was at about 110 and figured I was on the way so I placed my plate setter legs up with aluminum balls and the water pan on that and then the grate and I anticipated the temp to drop again at that point but it has been taking long or I have been too impatient. It will happen I know (I will actually probably over shoot).
Here is a pic of the meat: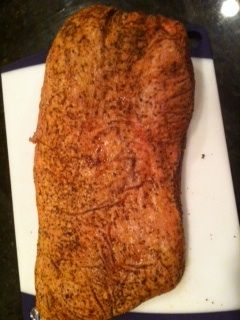 Charleston, SC