Is your Big Green Egg still cooking even though it's cold out? We hope so! We love the opportunity to cook heartier meals on the EGG during the winter. Some recipes you definitely want to try are
Double Smoked Potatoes
,
BBQ Chicken Soup
,
Monte Cristo Sandwich
and
Breakfast Quiche
. These are sure to keep your stomach warm & full! We can't wait to see what winter-inspired dishes you cook!
Big Green Egg headquarters has moved - come visit our new showroom and check out the History of the EGG Museum and the
Culinary Center
too!  3786 DeKalb Technology Parkway, Atlanta, GA 30340.
Brisket another try
I bought my 12 pound packer at Walmart last week and rubbed it down with Salt Lick Friday night. I woke up at 4:30 this morning to get the fire started (prepped the egg last night) and of course things aren't going exactly as planned-just enjoying the journey. I am using wood chunks (hickory) instead of the chips I had recently been using. Not for any good reason other than they were what I happened to have. I lit the fire with one firestarter in the middle of the lump. This usually works well for me for a low and slow but today it is maybe not enough or the chunks cooled off the fire too much but I have had a hard time getting the temp up to the 200 mark. I was at about 110 and figured I was on the way so I placed my plate setter legs up with aluminum balls and the water pan on that and then the grate and I anticipated the temp to drop again at that point but it has been taking long or I have been too impatient. It will happen I know (I will actually probably over shoot).
Here is a pic of the meat: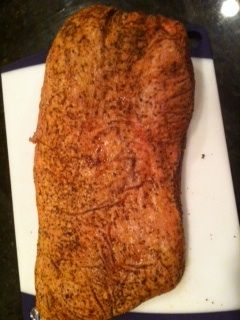 Charleston, SC