Hatch Chiles have arrived here in Dallas...or they did last week. I've never cooked with them and while I've had food with them in them, have never totally understood the whole craze over them. I think part of it has to be that it is one great marketing ploy, but I'll reserve my judgement until I play around with them a bit. So I picked up a bunch of them yesterday. $0.99 a lb ain't too shabby of a deal, IMHO. Figured a good charred salsa would be a great way to play around with them for the first time. Got all my veggies together, grabbed a cold drink and headed to sit by the Egg. I thought I had it stabilized around 500, but it shot up to 575ish. No biggie, just close it down a bit and throw on the veggies anyway.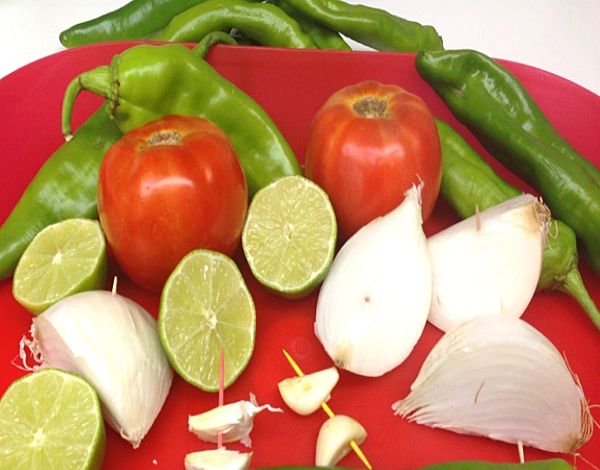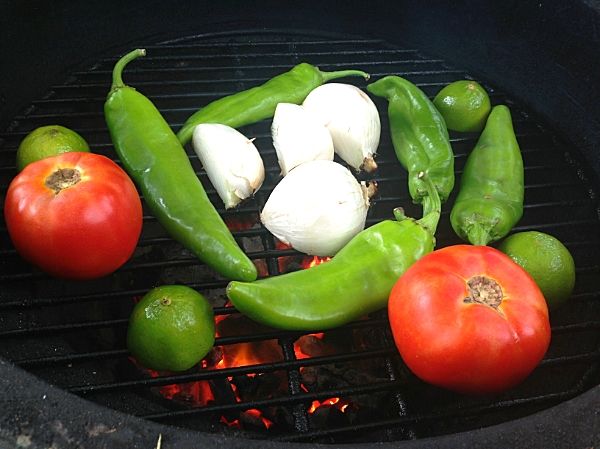 Took about 10-15 mintues to get all the veggies good and charred up
I put the chiles in a bowl and covered them with plastic wrap so the skins would sweat and fall right off. The rest of the veggies got roughly chopped and thrown in a food processor. Once the chiles had cooled a bit, I removed the skins and veins and seeds (reserving some of the seeds in case it wasn't hot enough). I started off using 3 of the chiles. I had no idea where the heat level would be, so I didn't want to use all 5. You can always add more, but you can't take out any. I also ended up only using 1.5 of the limes. In addition, I used 3 tbsp of roughly chopped cilantro and salt and pepper to taste
Came out pretty tasty. Not as hot as I usally like my salsa, so I added some extra seeds. Better. The burn from the chiles was different than I was used to. Seemed to be a front of the mouth burn, versus back or throat. And it didn't linger for very long. Quick and short. Still not sure what all the fuss is about with these chiles. I don't think salsa was the best way to evaluate them with so many other flavors, but it sure was tasty. Mrs. G goes out of town Friday and I've already got some ideas of what I am going to cook using some more of them that night.
On a totally unrelated side note (very OFF TOPIC), I went to the Doc last Friday. Just got my results back last night and I AM NO LONGER DIABETIC!! My A1C has fallen to 4.7 and my EAG was 88. Doc told me to stop taking meds IMMEDIATELY. I'm still going to continue to eat better, avoid processed foods and keep my carbs down low as I don't want it to come back, but I am so happy. And feel so much better. My goal was to beat this thing by the end of summer and I did just that. Sorry for going OT, but I had to share this with y'all.
Rowlett, Texas
Griffin's Grub or you can find me on Facebook
The Supreme Potentate, Sovereign Commander and Sultan of Wings