We're so close to Thanksgiving that we can taste it and we're ready to help you prepare the most delicious Thanksgiving feast you've ever cooked! Check out our
Turkey Cheat Sheet
for turkey tips, our
Thanksgiving page
for turkey recipes, and our
Holiday Entertaining Publication
for all other Thanksgiving needs to help you make this the best Thanksgiving yet! PS. Don't forget about
breakfast
Thanksgiving morning either!
Big Green Egg headquarters has moved - come visit our new showroom and check out the museum and culinary center too! 3786 DeKalb Technology Parkway, Atlanta, GA 30340.
Check those thermometers!
I knew after a few cooks the last coupla week that something was up. Cooks weren't quite lining up properly. I've usually got a fair idea of how long certain items should take to cook. Finally, got off my lazy butt and checked my thermometers.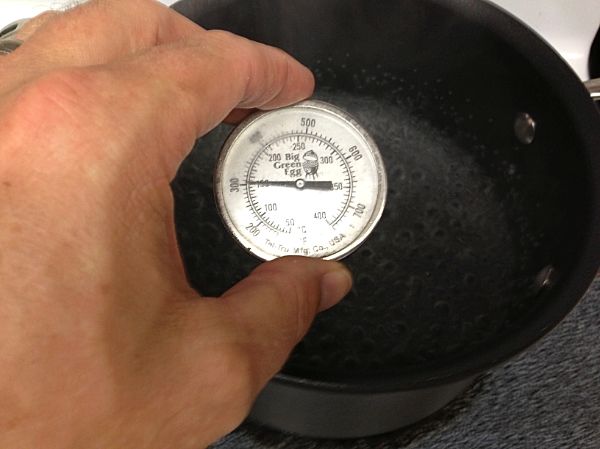 Water wasn't even boiling and we were already above 300F! That could explain why some of my cooks were taking less time than I was used to. Got it all fixed now and I can rest easy knowing that things will be back on track. Just a friendly reminder to check your thermometers occassionally.
Richardson, Texas
Griffin's Grub or you can find me on Facebook
The Supreme Potentate, Sovereign Commander and Sultan of Wings