Is your Big Green Egg still cooking even though it's cold out? We hope so! We love the opportunity to cook heartier meals on the EGG during the winter. Some recipes you definitely want to try are
Double Smoked Potatoes
,
BBQ Chicken Soup
,
Monte Cristo Sandwich
and
Breakfast Quiche
. These are sure to keep your stomach warm & full! We can't wait to see what winter-inspired dishes you cook!
Big Green Egg headquarters has moved - come visit our new showroom and check out the History of the EGG Museum and the
Culinary Center
too!  3786 DeKalb Technology Parkway, Atlanta, GA 30340.
What's in the fridge? Salmon, asparagus, and bacon.
We just had a new baby a few days ago and haven't had a chance to get to the grocery store. The ladies at church have been good about bringing meals, but there is only so much lasagna you can eat in a week ... plus, I get grouchy if I go too long without egging.
I looked in the fridge, and saw that we had a few salmon steaks, plus some asparagus and bacon.
The more mathematically inclined amongst you may notice that there is one more salmon steak in the "before" photo than in the "after" photo. Chalk that up to baby-related sleep deprivation.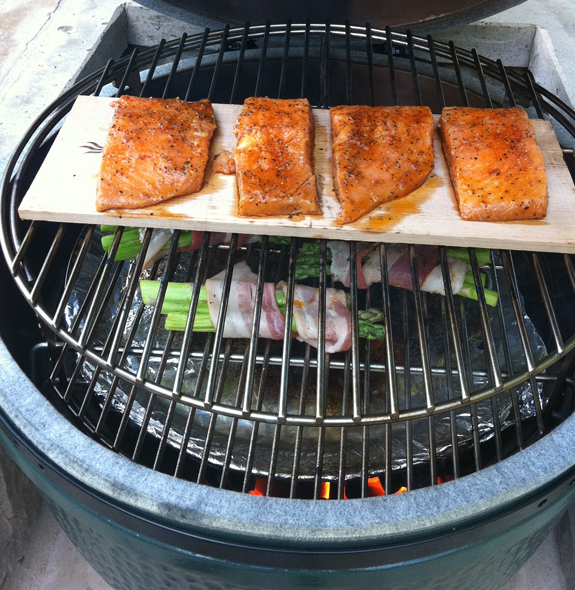 Large Big Green Egg w/ AR & Spider
Smokin' butts and taking names.