Welcome to the EGGhead Forum - a great place to visit and packed with tips and EGGspert advice! You can also join the conversation and get more information and amazing kamado recipes by following Big Green Egg at:
Facebook  |  Twitter  |  Instagram  |  Pinterest  |  Youtube  |  Vimeo
Share your photos by tagging us and using the hashtag #EGGhead4Life.
In Atlanta? Come visit Big Green Egg headquarters, including our retail showroom, the History of the EGG Museum and 
Culinary Center
!  3786 DeKalb Technology Parkway, Atlanta, GA 30340.
Pigasso's Stuffed Beef Tenderloin with Spinach, Roasted Red Bell Pepper, Basil & Pine Nuts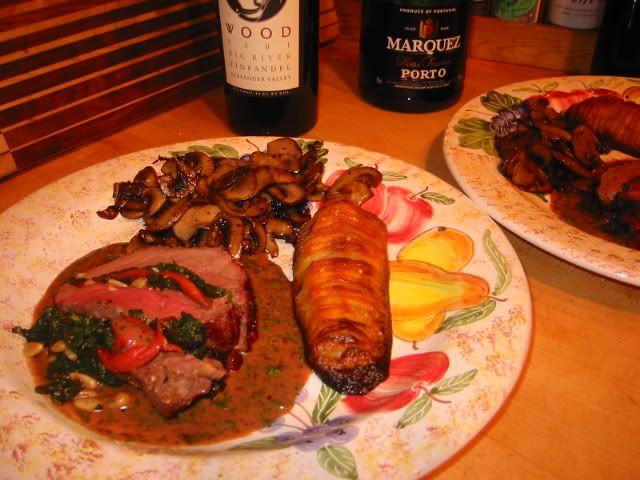 <p />
Beef Tenderloin Stuffed with Spinach, Roasted Red Peppers, Basil and Pine Nuts[p]Ingredients
1 (3 to 4-pound) beef tenderloin, center cut[p]1 large bag fresh spinach
1 tablespoon chopped fresh thyme
1 (12-ounce) jar roasted red peppers, drained - or roast your own!
Salt and freshly ground pepper
1 bunch fresh basil leaves
1oz or so pine nuts
Preheat egg to 375 using indirect set up with drip pan and V rack.
Sautee spinach in olive oil with a generous amount of garlic and a good sprinkle of crushed red pepper. Squeeze out extra moisture. Roast pine nuts but be careful not to burn them.[p]Cut the beef tenderloin by cutting the beef lengthwise into thirds - cut to within one inch of the end of the beef.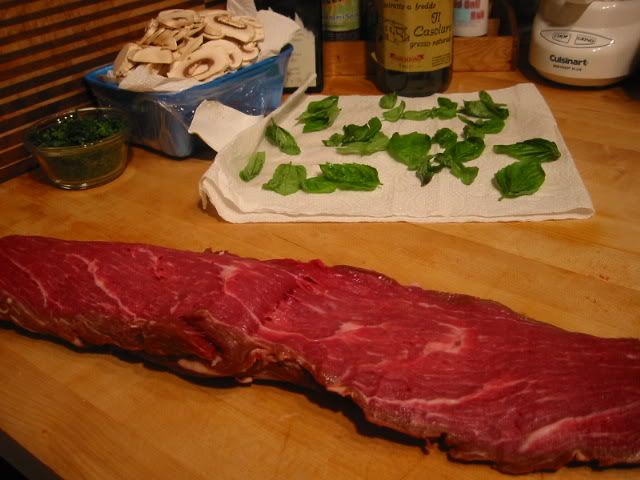 Open the beef season with salt and freshly ground pepper. Place a layer of spinach, then roasted red bell pepper, then basil and top off with a sprinkling of roasted pine nuts.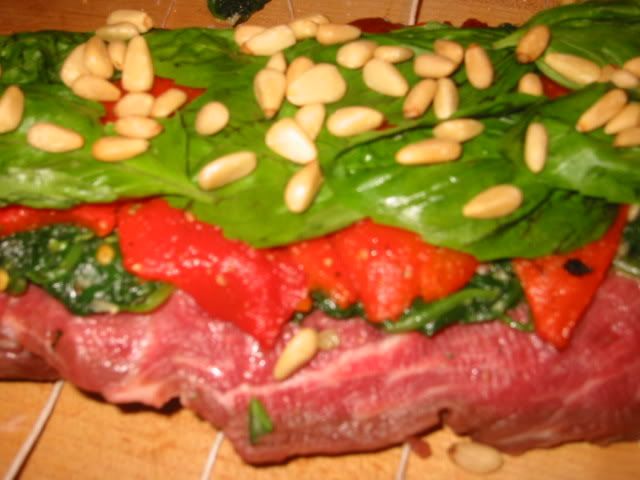 Fold the middle flap of beef over and repeat.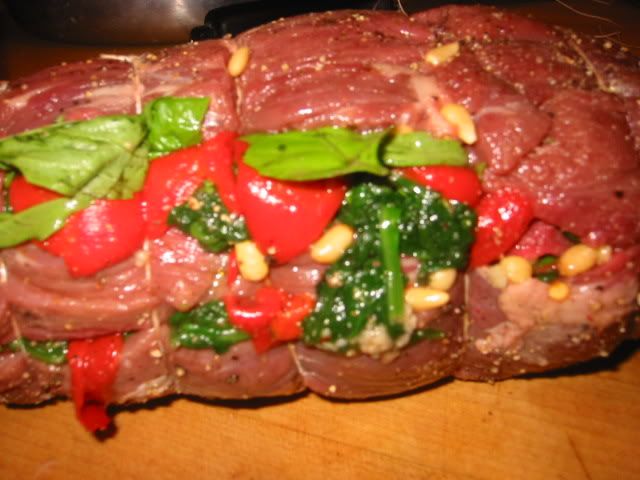 Fold top piece over and tie at 1" intervals. Season exterior of roast with salt and freshly ground pepper and sear on all sides including ends. I used the mini for this function whilst the large maintained the 375 temp.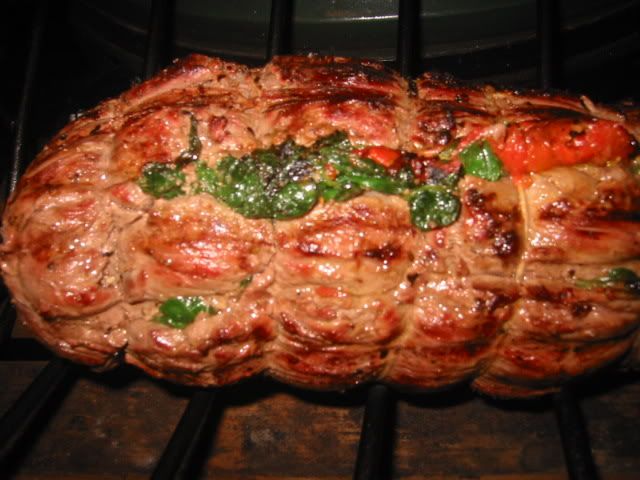 When seared, place in preheated 375 egg. I inserted my redi-check into the middle section of the roast.[p]Roast approximately 1 hour. I removed the roast when it hit 128 degrees. The meat climbed to 135 degrees in the middle section (rare) and was leaning to the medium rare/medium on the external pieces.Allow to rest 15 minutes and sliced as desired.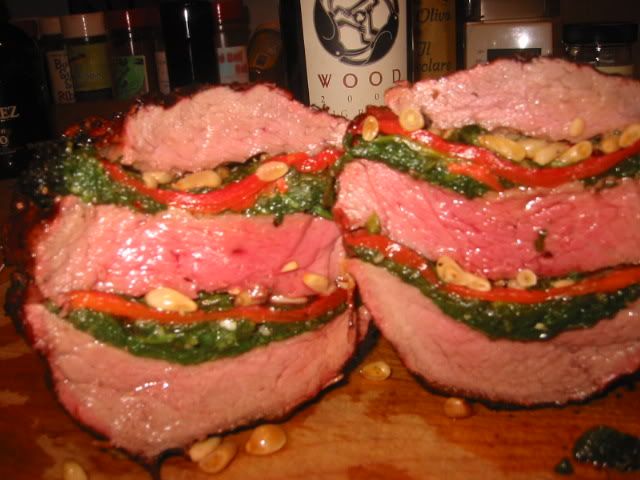 This was served with roasted fan potatoes, brandied mushrooms and a zinfandel/port reduction sauce.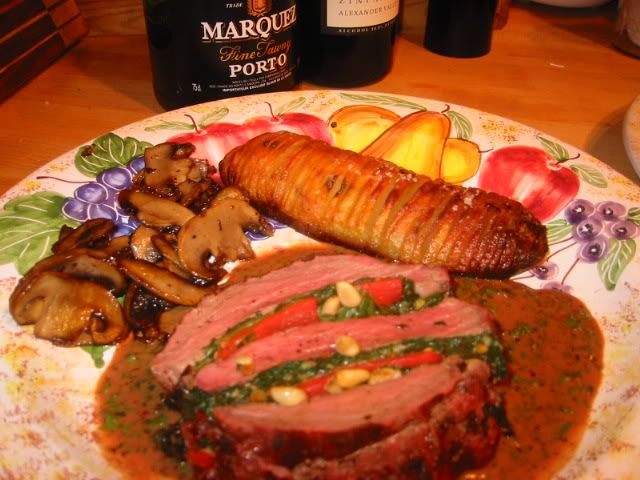 [p]I know this one is a keeper! If anyone is interested I can submit the entire menu (Mad Max and T Rex style) to the Naked Whiz.[p]Enjoy yourselves![p]Pigasso and Sue E.[p]Life is GOOD!