Cow Lickin' Chili (Large Post)
I cooked this at a couple of the fests last year and was asked to post the procedure, so here 'tis :[p]Cow Lickin' Chile[p]Ingredients :[p]Olive Oil
1.5 lb. ground Chuck
1 lb. Italian Sausage (casing removed)
2 cups Onion (chopped)
1 Green Bell Pepper (seeded and chopped)
2 Jalapeno Chiles (seeded and chopped fine)
1-2 Serrano Chiles (seeded amd chopped fine)
1 Tbs. Garlic (minced)
1 (28 oz.) can Diced Tomatoes and liquid
1 (15 oz.) can Diced Tomatoes and liquid
1 can Rotel
2 cans (15 oz. each) Pinto or Dark Kidney Beans (drained)
3 Tbs. Chili Powder
1 Tbs. Ancho Chile Powder
1.5 Tbs. ground Cumin
1 tsp. Cocoa Powder
1 tsp. ground Cinnamon
2 Bay Leaves
1 tsp. Tabasco Sauce
1 tsp. dried Oregano
3 Tbs. Dizzy Pig's Cow Lick Steak Rub
2 cups Beef Broth
1 cup Dry Red Wine
2-3 dried Chili Peppers (chipotle, ancho, etc.) to float on top
Salt and fresh ground Pepper to taste
Wood Chunks



[p]Preparation:[p]Preheat your Egg to 350° with inverted plate setter (legs up).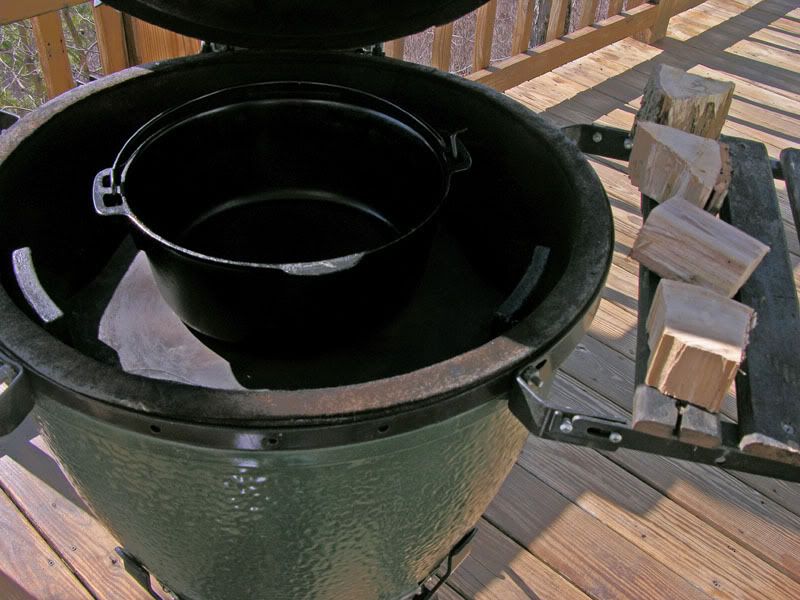 [p]Place dutch oven in the egg on the plate setter and add 2 Tbs. olive oil.
Add the ground chuck and sausage (break up into smaller pieces with a wooden spoon).
Add 2 or 3 fist-sized chunks of wood to coals.



[p]Close lid and cook for about 1 hour, stirring every 10-15 minutes.
Remove dutch oven from egg, remove meat and drain on paper towels.
Wipe dutch oven dry with paper towels.
Return dutch oven to egg, add more olive oil and saute´ onions, green pepper, jalapenos, and serrano(s) until limp. Add garlic and continue cooking for 2-3 minutes.



[p]Add remaining ingredients and cook, uncovered, for about 2 hours (add water as needed to prevent drying).



[p]Note : After the mixture starts to simmer, you can reduce the dome temperature to 300-325 degrees.
Remove bay leaves, dried chiles, correct seasoning and serve.