Nothing fancy last night, just some hanging chicken legs. Really love these rack, saves room and no need to flip the chicken. Worry free. Half were seasoned with Dizzy Pig Swamp Venom and the other half got Sucklebusters Hoochie Mama. Cooked at 375F with some cherry wood for smoke, took about 40 minutes.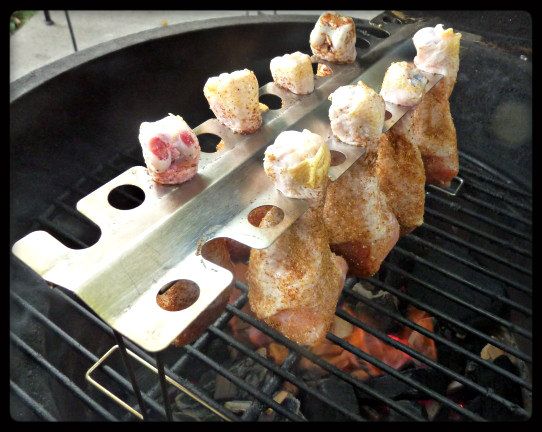 Partway through the cook, taking on a reddish hue from the cherry wood

Served up with some pasta that Mrs. G whipped up, some green beans, some Simple Dinner Rolls and Johnsonville's new fully cooked sausage.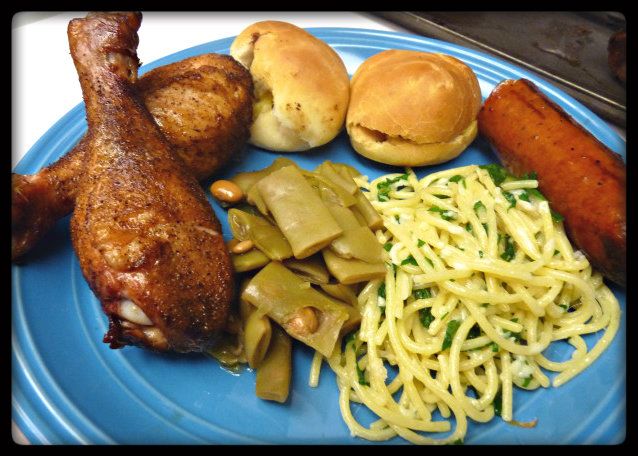 Chicken turned out fantabulous, as it always does when using the racks. I wanted to try and make the rolls on the Egg, but was a bit late getting started so they got cooked in the oven. Next time, I vow to bake them on the Egg. The new fully cooked sausage by Johnsonville.....I don't care how good a coupon you get....do NOT buy this stuff. It is not good. The texture reminded me of a hot dog and the flavor was not there. Can't remember which of the four I got, but I imagine none of them are going to be good. Won't try the other ones. Otherwise it was a great meal and I still have a leg or two for lunch.
Rowlett, Texas
Griffin's Grub or you can find me on Facebook
The Supreme Potentate, Sovereign Commander and Sultan of Wings