I saw a post encouraging the lurkers to post, so here I am! I've just finished staining/ painting the table (didn't have time to build my own, but that's a someday project), and it's all ready for the LGBE to be delivered tonight. (My apologies for the obnoxiously large pic; it seems to be showing up here much larger than its 400 x 299 size).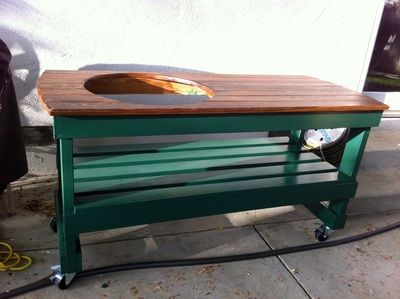 I have a wonderful local dealer who actually comes out to deliver and get you started, so I'll be up and running and trying my first spatchcock chicken for dinner.
I used to swear by the Weber kettle for grilling, then got lazy a few years ago and bought a Genesis. Convenient, but the purist in me was always left wanting. Finally decided to go with the egg to replace both the gasser and my Weber Smoky Mountain (a really good little smoker that has served me well, but I am really looking forward to smoking in the egg). I love all things food-related, and have a (neglected lately, but will be updating soon) humble food blog (www.sleeplessfoodie.com) where I hope to chronicle my egging adventures.
I want to thank you all for the wealth of information and cameraderie that this site is; I have found it tremendously useful and I look forward to being a part of the community and eventually (hopefully) contributing useful things as well!
Christina