**Disclaimer**
I am not selling anything or trying to make money in any way. What is below is intended only for my amusement and hopefully to spark some interest in Do-It-Yourself type of projects for others, and let you know that just because you don't know how to do something, doesn't mean you can't learn.
****************
I love my egg, but after my first overnight cook it became clear that if I wanted to keep my sanity while doing these cooks, I needed a better way to control and monitor temps. Obviously I looked at the bbq guru and the stoker, etc, and promptly choked on my own tongue when I saw the cost. I'm not unfamiliar with the cost of commercial temperature controllers, but I'm still a cheap skate so I balked. Being the hobbyist that I am, I decided to make a project of it and build my own controller. I'll chronicle my mishaps in here, and I encourage anyone else who has done something home grown to share in here as well.
Cliffs:
-Prices for commercially available temp controllers too expensive
-I decide to take on the hobby of microelectronics and build my own
-If anyone else has done anything similar, please share here
So with that said, I decided to build a simple controller that would only control dome temp.
Design Criteria:
-Must control from 200-300 degF, +/-5 degrees
-Must be buildable for less than $50
-Select components with future upgrades in mind (wireless, multiple probes, etc) where possible.
I don't (didn't) know any circuit design aside from basic college physics and what I have gleaned in the years since then, mostly a basic understanding of what components do. I also have a very strong background in computer programming, which definitely helps a lot. I got my parts last Monday and have spent a lot of time working on it since then (not to mention the research I put in leading up to that).
What I have now is ready for testing, and I hope to post a short video of my testing later tonight.
If anyone has questions, I'm happy to answer. Also interested in input from people who already have temp controllers to hear what you like/don't like about your units.
I spent a LOT of time trying to decide on fan specifications. I eventually settled on this blower...as soon as I opened the package my heart stopped! 40mm seemed so much larger in my head! Hope this little fan has some balls.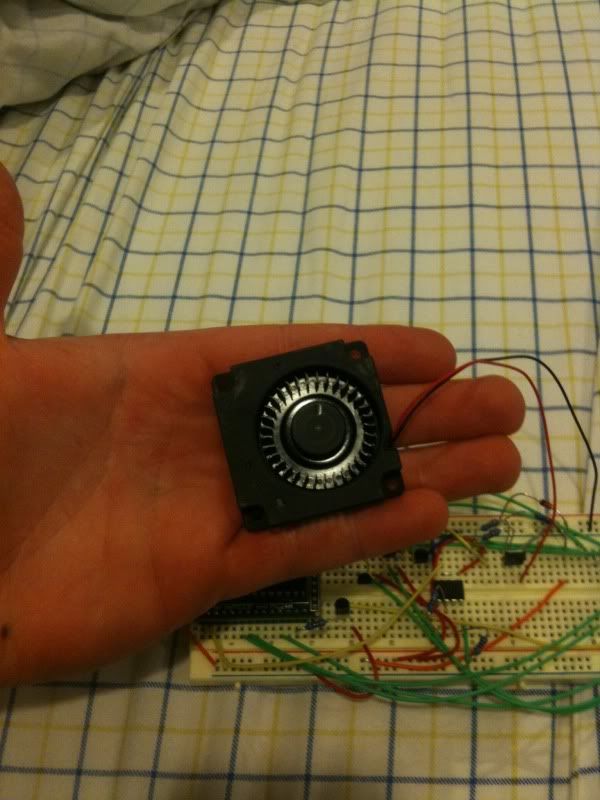 Here is the circuit on my proto board. I'll eventually have to build this on a real PC Board and put it in an enclosure. The PIC is the big thing on the left...it's mounted on a programming board so I can connect it to my laptop.