So mad! Still can't find the charger for my camera. And now the backup camera isn't working. And the backup to the backup is a piece of chit, so bear with the sorry pictures.
Was digging through the freezer Thursday night for something to eat Friday and came across a nice ribeye that I had stashed away. I'm not Catholic, I can eat beef of Friday, lol. Also found a small batch of the Kasweurst I had made up previously. Dinner is decided. At the last moment, we had a guest. She brought a chuck steak (not something I've ever had before) Steaks got some DP Raising the Steaks and sat on the counter to come up to temp while we grilled up the Kasewurst.
My fire got a bit hotter than I wanted it to, so I threw a pizza stone under my grate extender to block some of the direct heat. Not real sure why, I might have been a coupla glasses into the Wild Turkey at this point.
Let that go for a lil bit while I enjoyed a glass of Turkey, and then pulled it off when it hit 160 verified by my trusty Blazing Fast Blue Thermapen (ya know Blue is the fastest.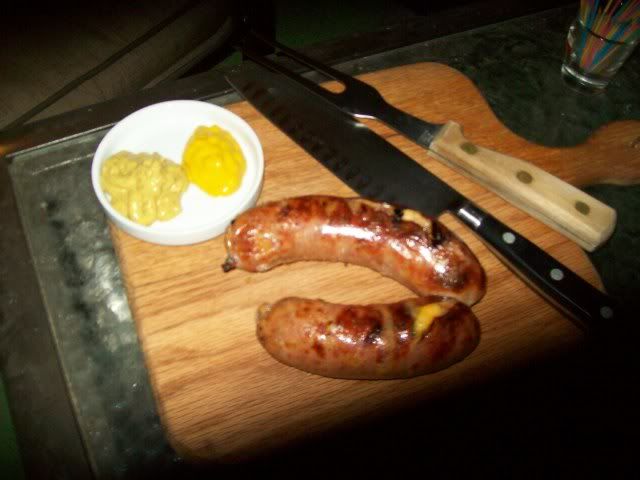 While we snacked on the 'Wurst, the steaks went on to the grill which I want to say had come up to about 600F. But who knows? The Turkey clouds my memory of the unimportant details like that.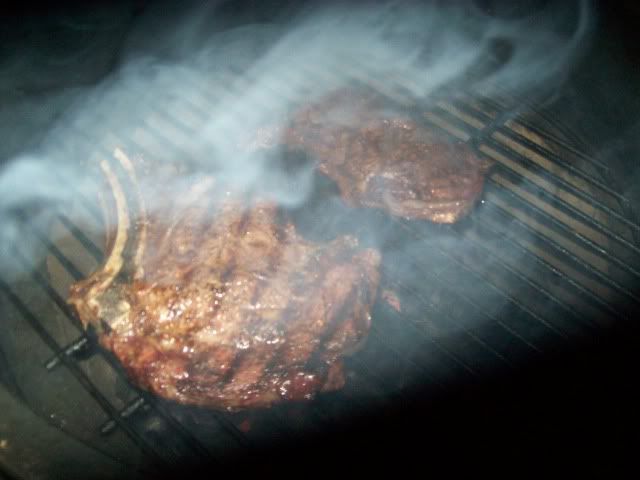 This was a pretty big steak, so the wife and I split it, we are still on a diet ya know (sorta). Served it up with half a baked tater, which had to have cheese, bacon bits and sour cream (It gets hard to stick to a diet after more Turkeys
) and some green beans.
Man, I really need to find that charger. That last pic is just horrible. Whatever, it was still a pretty darn tasty meal and I enjoyed it while thinking of all my poor Catholic friends.
)
Richardson, Texas
Griffin's Grub or you can find me on Facebook
The Supreme Potentate, Sovereign Commander and Sultan of Wings