Oh, I love Pastrami but have never made it myself. So, my wife got a Corned Beef and wanted to boil it in the juice in the bag. I said wait a minute, I am trying to watch my sodium intake so how about I take care of this one....
So, I soaked it in a big pan of water with a chopped up potato(to leech out the Sodium) and I changed the water every 12 hours for 2 days. Then I cleaned the beef up by taking the fat off one side. For a rub, I used this:
4 tablespoons freshly ground black pepper (more if you like it peppery) I do.
1 teaspoon ground coriander
1 teaspoon granulated garlic powder
1 teaspoon onion powder
2 teaspoons Canadian/Montreal Steak seasoning
1/2 teaspoon thyme, dried
1 teaspoon paprika
Combine all ingredients and mix thoroughly.
Then I put it on my egg at 240 until it hit 165 internal (which was about 4 hours), then I foiled it in fat side up with 1/4 cup beef broth in an airtight (see picture) double wrapped foil seal for another 4 hours. Then one hour plus in an ice chest still wrapped in the foil sitting next to a pot of water that had just been boiling.
Here's the result and I thought it was awesome.
The first you see is the foiled corned beef after 3 hours. I make a real tight seal to keep in the 1/4 cup of beef broth. This is my version of a pressure cooker.
Then you see it out of the bag. I used quite a bit more pepper than the recipe above.
Here are some of those delectable slices.
And here is the money shot and my most favorite sandwich in the world..... A pastrami Rueben made the traditional way with Thousand Island dressing, Swiss Cheese, Sauerkraut, Pastrami and grilled in a pan till done...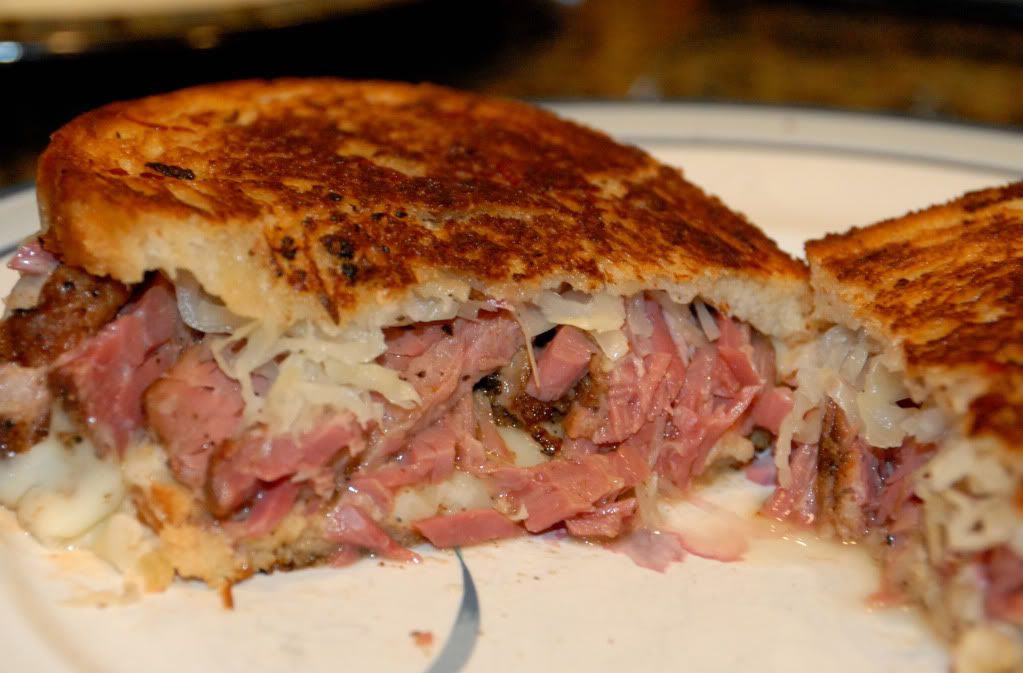 Thanks for looking and I am hungry just posting this..