We have received several emails from the random 16 people that got a lamb chop at the after party (Waldorf) a couple weeks ago (oops, 15 because we ate one). So here are the recipes and cooking instructions in more detail than you'd probably prefer ... oh, and thanks for asking because we had to cook them again tonight for pictures!
Rub and sauce recipes at the end of the post. I set up a large egg, indirect with apple wood chips. Approximately 240 degrees with a grate as high as you can get it in the dome. Sprinkle chops (Costco package, 8 chops about 1 1/4 inch thick) liberally with the lamb rub. Put them in the egg and let them absorb some smoke. About 20 minutes or until they reach 105 degrees. Pull the chops off and tent with foil if desired ... I just let them rest uncovered on a plate. Reconfigure your large as shown. Spider holding the grate from our small with a cast iron flat pan on it. Get that thing HOT. Surface temp of the CI was just over 450 in less than ten minutes. Put a splash of oil on the CI and throw the chops on it. I did two minutes per side then pulled. Should be crusted but not burned. Let rest for at least 5 minutes, internal will be about 128. We've learned that we would like ours a little more rare, so shorter time on the CI if you like them red.
At Waldorf we just did about 4 min per side direct on a the Mini that Meat let us borrow.
Drizzle the magical mint sauce over them as liberal as you'd like (save extra for the table for those that really like it saucy). Then Serve!
Sauce:
Juice and zest of one lemon, approx 1/4 cup olive oil, approx 1/4 finely chopped mint, salt and pepper to taste. All measurements are to taste.
Lamb rub:
1/3 C Salt
!/3 C fresh ground pepper
1/3 C whole coffee beans
1 tsp cocoa powder
1/2 tsp jalapeno powder
1 tsp rosemary powder
1 TBLSP garlic powder
1/8 tsp cayenne powder
Grind into a medium course powder.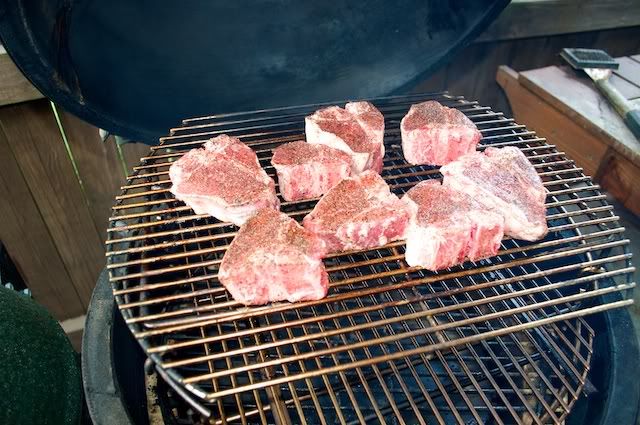 Smoking about 240 deg with apple wood.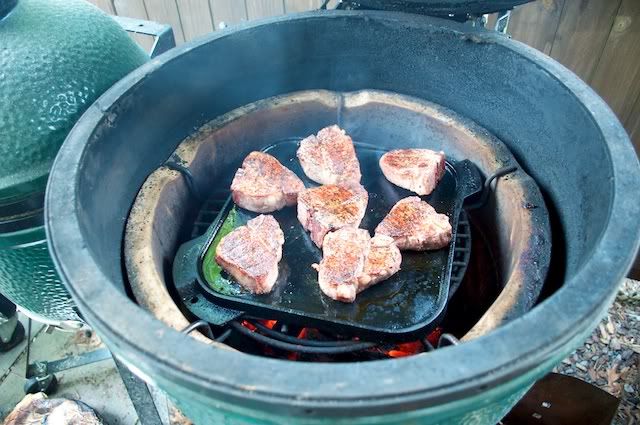 Set up with the spider, small grate, and CI pan. Another option would be to have another egg ready to go with the CI hot.
Sear approximately 2 min per side to get a good crust. Final temp after resting between 125 - 130 deg.
A good crust on the chops, drizzled with the magical mint sauce.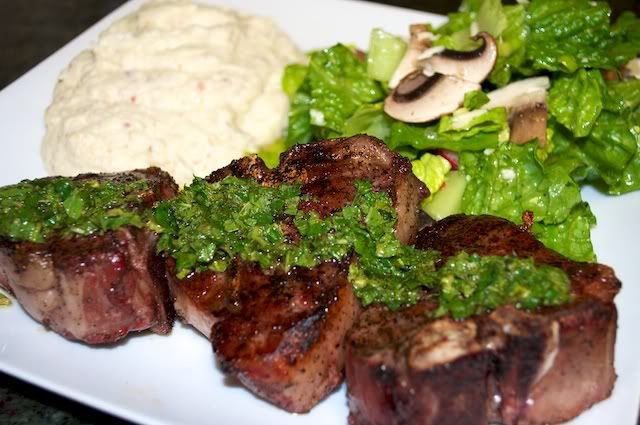 Plated with a side salad and Erin's amazing blended cauliflower with creamy cheddar, bacon, and mushroom infused oil.