The Husband will play!! Due to Stacie's situation, she decided to take some of her free time and go down to Corpus Christi to see her family. She doesn't get to see them as much as she would like to. That leaves me all alone for a whole week to see what kind of trouble I can get into and experiment on the grill
I saw this a long time ago and never got around to cooking it. Figured the wife would turn her nose up at it and would not approve, especially since it is in no way healthy.....bacon wrapped tater tots!!
The way I did them was to slice bacon into three pieces. Then wrap the tater tots and secure with a toothpick. The tater tots need to thaw about 30 minutes so that the tooth pick will slide through. Careful, if they thaw too much they will crumble. Next sprinkle a rub on them. I went half with Salt Lick and half with Dizzy Pig Raging River. Then place on a 350 grill indirect for 30 minutes turning halfway through. The last 5 minutes I basted with some Stubb's BBQ Sauce.
Along with that I cooked some kielbasa sausage from Nathans and some green beans. I didn't take a lot of pictures, but here is what I have. Somehow I lost the prep pics. Oops.
Plated up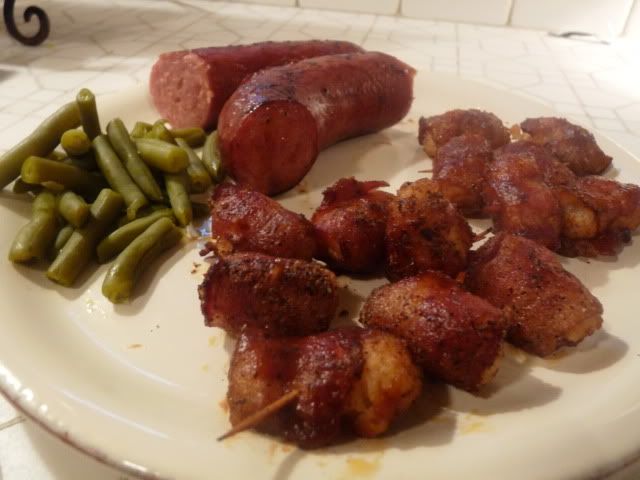 What I learned from this experiment:
1. It is no way healthy and I could feel it. Gonna have to have an extra long bike ride today to work it off.
2. The original recipe I saw called for maple flavored bacon. I used regular just because it was what I had on hand. I think the maple would have been better.
3. The Salt Lick rubbed taters were a complete failure. Way too salty. The Raging River ones were good. The sweetness of the rub complimented the saltiness of the bacon nicely.
4. Wrap the place setter in foil, or shape a foil pan out of it to catch the bacon drippings. You can see the mess the grease left on the place setter.
5. Nathan's might make a ok hot dog, but their sausage absolutely, positively blows. I will never buy it again even if it does go on sale buy one get one free. Nasty.
Will I ever make them again? Maybe. If so, it would be when I have people over, to kind of wow them and surprise them, but just as an appetizer, maybe two to three a person. That's all anybody really needs.