I can hardly believe my good fortune. I was the lucky winner of the raffle for Clay's Arts & Crafts style BBQ egg table. It truly is a piece of art. I felt as if I were taking a victory lap when I hopped and danced up to claim my prize.
It was only afterwards that I realized there was a problem. A big problem. How was I going to get my new table home since I had flown in for the fest? It was then that Clay and Diana offered, or rather, insisted on making a detour on their way back to Wisconsin to deliver and set up the table.
Diana and Clay pulled in to Dayton late Weds afternoon. They unpacked the Potato Wagon and we proceeded to take in springtime in Dayton, OH.
Then, the work began. Clay showed me how to assemble the table. There are no nails or screws i(except the recessed screws to secure the wheels) in this beauty. In 10 minutes the table was assembled. It even came with a coated hammer for assembly.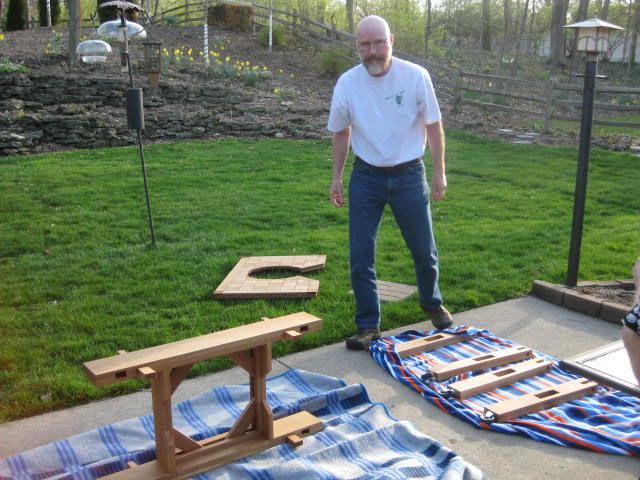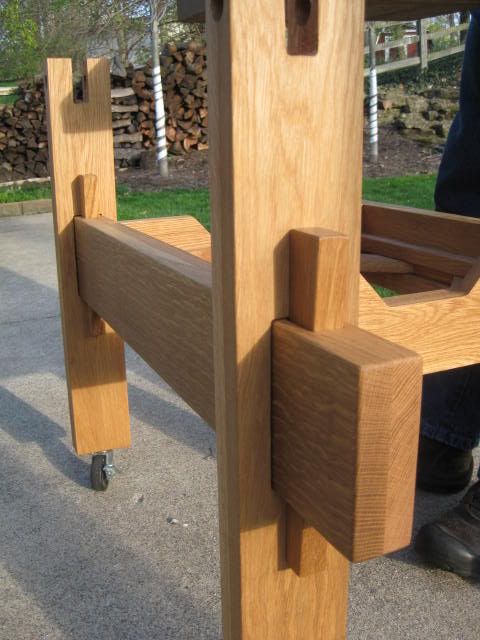 Quite simply, it is truly a work of art. It is Arts & Craft style. Beautiful, yet utilitarian.
I am now the proud owner of a signed piece of art by Clay.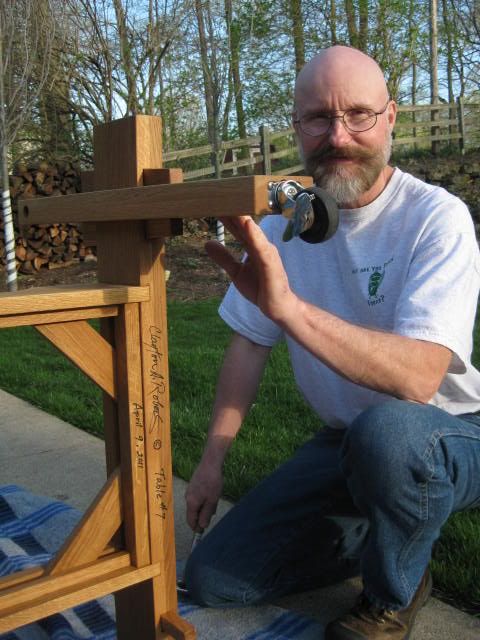 You would not believe the detail that went into the design and construction of this table. Each piece matches perfectly. A wonderful piece of engineering and design.
That evening we had a lovely dinner. Dennis, dhuffjr, was able to leave work for a bit and join us. We started with grilled lobster tails, coated with a compound butter of basil, parley, and oregano as a primo course served with a buttery chardonnay.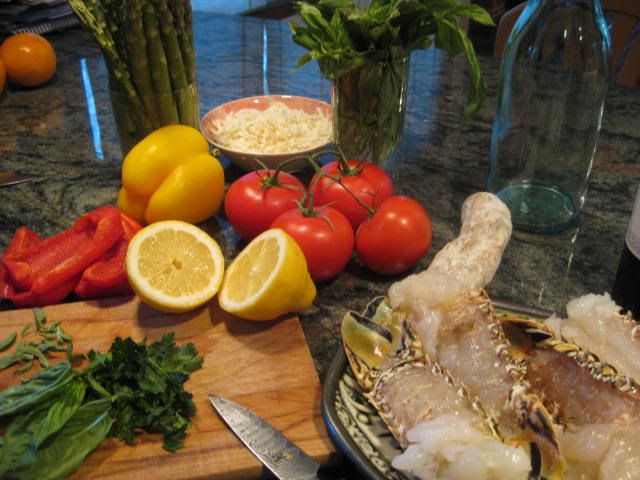 Clay started with a Scottish ale, Dennis was not allowed to imbibe as he was just on a break from work.. Clay (with the interference of both Dennis and myself) than began to prepare the secondo. He egged two 2 inch thick prime New York Strip Steaks and a 3 inch thick prime porterhouse. He applied Dizzy Piggy Raising the Steaks and Cowlick on the strips. The porterhouse was left naked.
After the porterhouse was egged, I drizzled it with some very special EVOO and sea salt and ground pepper, for a Florentine steak. Clay cut it into thick slices for
serving.
I fixed a contorno of potato, tomato, onion with fresh basil, oregano, and parsley topped with fresh mozzarella and a salad of mixed greens with arugula, tomatoes, yellow peppers, and a garlic vinaigrette.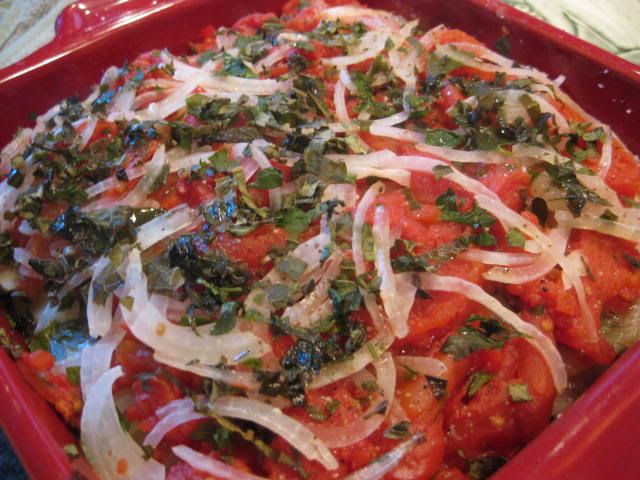 We eventually sat down to dinner with a cabernet sauvignon.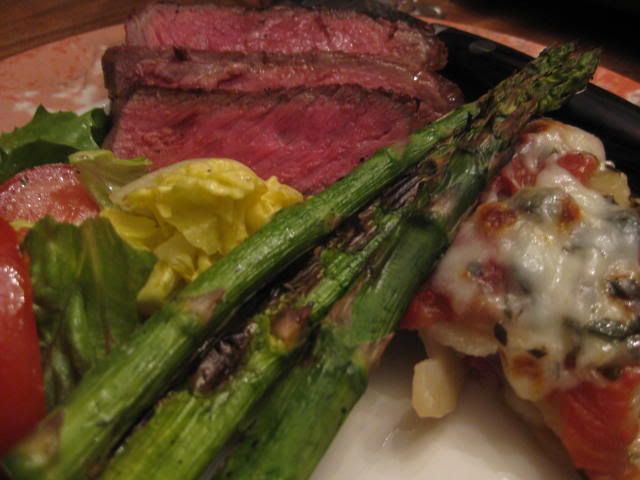 We finished with a selection of a creamy gorgonzola, rosemary asiago, and parmigian-Reggiano cheese and a dolce of strawberries drizzled with an aged blaslamic vinegar.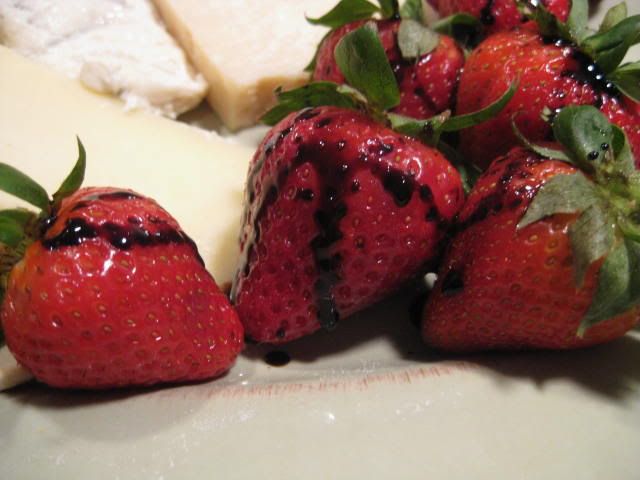 It was quite a nice way to celebrate my new egg table with the artist and his wife and fellow egger Dennis.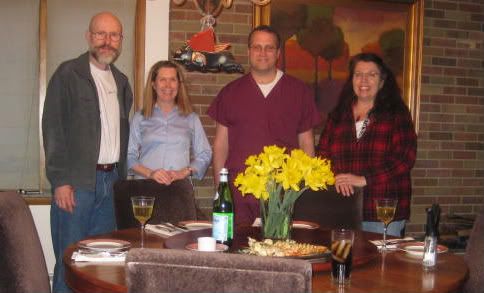 Thank you Clay!
I can not even begin to convey the design, engineering, quality wood, artistry, and workmanship that comprise this table. Now you need to check out Clay's web site www.claysbbqislands.com and you will see some of the behind the scene construction of my table and other tables.
Oooops, one last pic. I caught the artist designing his new prototype table while he was waiting for breakfast.