Wanted to go healthy tonight and fish sounded like just the way to go. So I stopped by Whole Foods and picked up some salmon and some veggeis to skewer up. I lightly coated the salmon with some oil and sprinkled on some Dizzy Pig Raging River. Got this for Christmas and have been wanting to try it out so bad. The veggies got some oil, italian dressing and some John Henry Pecan Rub Seasoning.
Salmon ready to go
Veggies
Salmon and veggies on the egg, raised grate to get it to the felt level and goin strong @ 400 with some cherry wood for smoke ( All I had on hand was mesquite or cherry and I figured mesquite would be too strong).
Pulled off after about 15minutes
My plate with a little caesar salad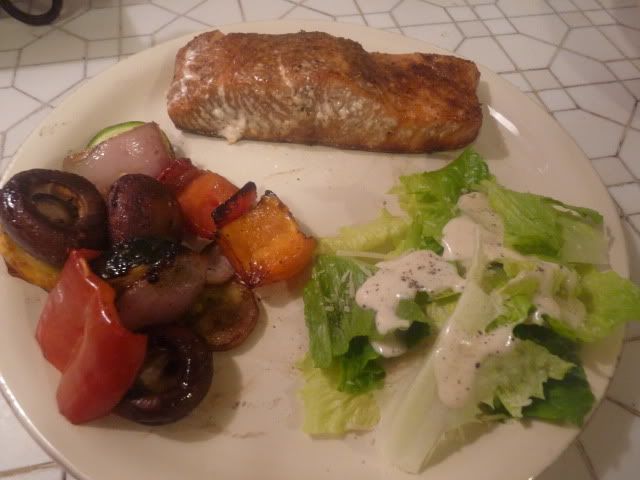 And if you clean your plate around here, you can have some dessert! :woohoo:
It all came out wonderful. I am now a huge fan on Dizzy Dust Ragin' River! Can't wait to try it on other things.
Richardson, Texas
Griffin's Grub or you can find me on Facebook
The Supreme Potentate, Sovereign Commander and Sultan of Wings