Man it's been a while since I've done one of these.
One doughball out of the fridge, made with about 25% semolina, the rest AP flour, yeast, oil, salt, butter and water (about 47% hydration- I put the concoction at the end of this post)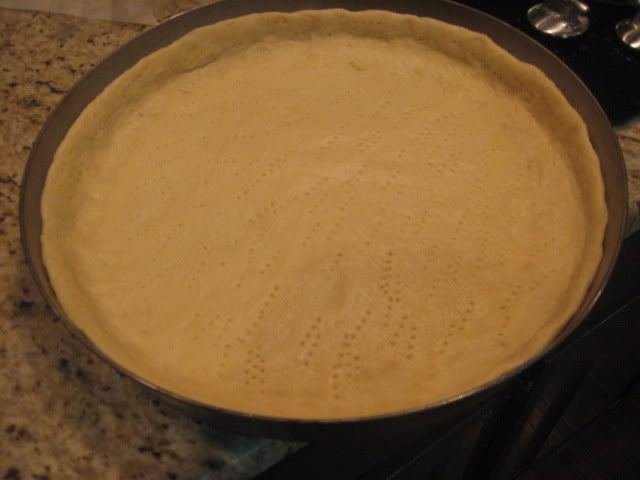 After coming to room temp this dough presses out perfectly into a 14" pan. Poked holes to keep it thin
The perils of waiting during pre-heating...this was a full bowl and I had a full bag of chips...now gone. OT-avocado lovers need to try this btw- mash a ripe avocado with cilantro and bottled green salsa. Heaven! Back to the show...
I like to pre-bake the crust for 4 mins at 475-500 dome, then return it for toppings
A full block of mozz cheese tiled all over...
Gotta leave one wedge for the boy who only eats cheese (freak)
Sauced w/ parm to finish. I used
6 in 1 tomatoes from Escalon
, I had heard these are what many Chicago pizzerias use and have to say it tastes darned like what I had growing up in the 'burbs of Chicago! Seasoned with a little oregano, salt, garlic powder, and drained excess liquid before I seasoned. Beastly good!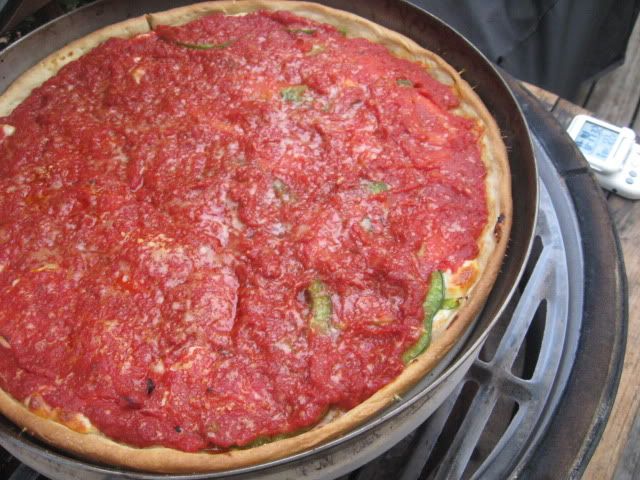 After 26 minutes @ 450-475, ready to pull (note how nicely the crust pulls away from the pan!)
Had to feed the kids first so I thought I'd stare...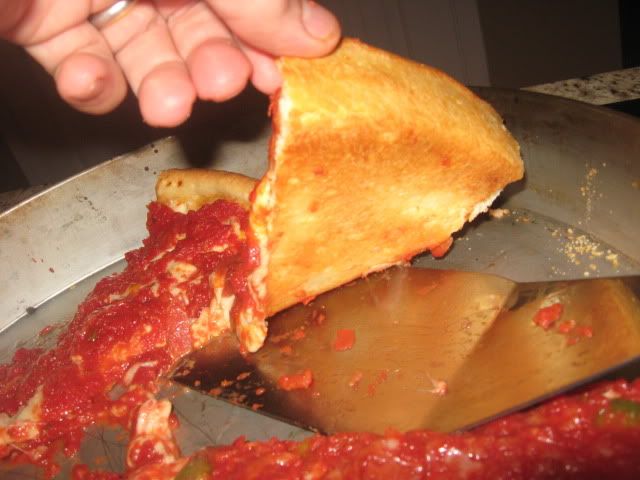 Color and crunch definitely on the money. Taste? Well, I have to say
This cook back in 2008
was more authentic Lou Malnati's flavor (I used cornmeal instead of semolina), but who can complain with this! So full...
The dough for the curious:
Flour (100%) King Arthur All Purpose
Water (47% of flour weight including semolina)
Active Dry Yeast (0.5%, about 1/2 tsp)
Kosher Salt (pinch)
Olive Oil / Canola Oil blend 1/4 cup
Melted Butter 1tbsp
Semolina (25% of flour weight)
Used 345g flour and 86g semolina and this made one perfect doughball to fit a 14" pie pan. Mixed 75% of the the flour and all semolina together then the yeast and water, mixed 2min by hand then rested 20min to hydrate. Folded in oils, butter, salt and remaining flour and kneaded 10 min by hand, then shaped into a ball and refrigerated for 2 days.