This one's for the Poolman…and anyone out there who doesn't have a mixer or wants to try an easy, hand-mixed pizza dough. I'm using basic, unbleached all-purpose flour to show that a good pizza can be made without getting fancy with different flours. I'm using a couple of tricks courtesy of Peter Reinhart ("Artisan Breads Every Day" or check out "American Pie"- both great if you're interested), but for the most part this is about as easy as you can get without buying a pre-made dough somewhere. Off we go:
Makes three 330g pizza crusts:
4 cups plus 2 tablespoons AP flour (613g)
13 oz. water (just over 1.5 cups, 368g), room temp or slightly warmed (up to 95C)
½ tsp Instant Yeast (1.5g) try the bread machine yeast in the jar
1.5 tsp kosher salt (8g)
Doughball:
Add all ingredients to a large mixing bowl, you can dissolve the yeast in the water first or you can mix it in dry (warmer water gives the yeast a chance to wake up but not too hot). Mix with a long wooden spoon about 1 min…you may need to pull wet dough off the spoon during this process to make sure all water incorporates into the dough. Dust your hands with flour or a few drops of oil and hand-knead an additional minute to make sure everything is mixed. The dough will be slightly sticky, enough to incorporate the dry flour on the sides of the bowl (use a rubber spatula to get excess flour on the sides of the bowl incorporated). Cover with plastic wrap and let the doughball rest 15-20 minutes to hydrate (this is one of the more important steps so don't skip it!). After hydrating, mix with the spoon an additional 2-3 minutes. The ball will be more pliable, but fairly firm so "stab" the spoon and imitate a dough hook pulling and turning the ball as best you can to help the gluten form. Next, lightly oil a marble surface and pour out the dough ball. Do a "stretch and fold" by rubbing your hands with a touch of oil, then reach under the front end of the dough, stretching it out, then folding it back onto the top of the dough. Do this from the back end and then from each side, then flip the dough over and tuck it into a ball. Cover and rest 10 minutes, then do another "stretch and fold". Why we do it: Stretching out the dough and then folding it over itself helps organize the gluten network in much the same way as mixing does. One stretch and fold is like mixing for a minute, yet takes only a few seconds. As you stretch and fold, you should feel the dough strengthen, becoming a soft, supple ball. Don't worry if your doughball is still sticky- this is preferred to one that is too dry.
the "raws"...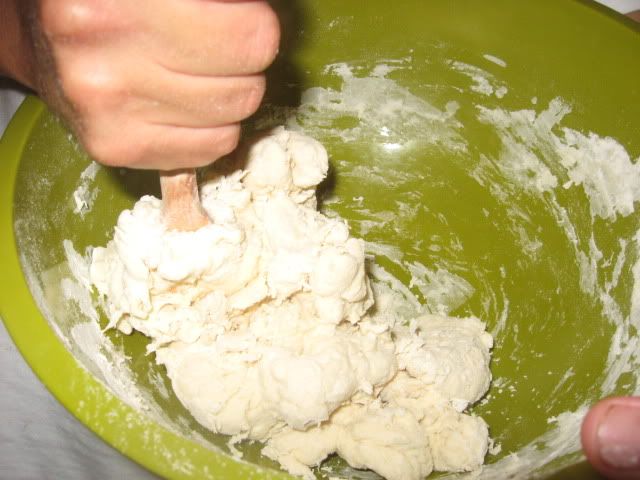 it feels dry when you first start mixing but let it hydrate...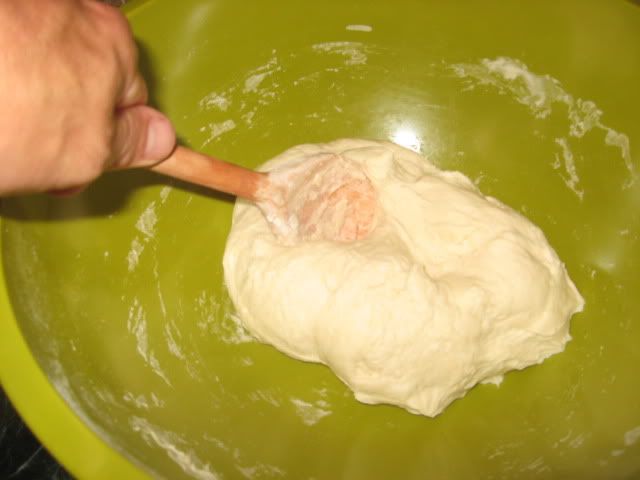 ...after 15 minutes its much easier to knead...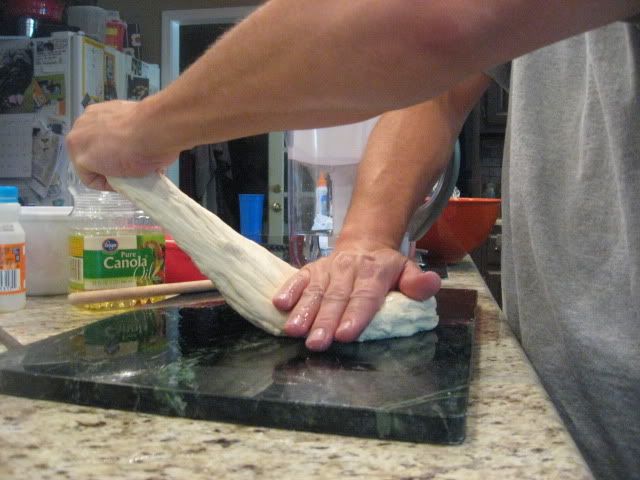 ...and do the stretch and fold (I did it twice, letting it rest 10mins in between)
Divide the dough into three equal parts (if you weigh it it should come out to about 330g per ball), shape into a ball and then place each ball into its own (very lightly oiled-wipe with a napkin so just a film is left) container or sandwich-sized freezer bag misted with spray oil. Seal and refrigerate overnight or up to 4 days, or in the freezer for several months. Why we refrigerate: This retards the fermentation process, giving the enzymes and microorganisms ample time to work on the molecules in the dough and develop the flavor. The yeast will begin fermenting the dough as it cools down, and then in the fridge the yeast will go dormant while the starch enzymes continue working, transforming the flavor. A bit scientific (and paraphrased from Reinhart so you closet food engineers please critique him not me!), but to summarize, using the fridge and doing this "cold rise" will get you enough rise but more importantly you'll add a more complex flavor to your crust than simply mixing, rising, then baking flour the same day. Try this and you'll throw away all the recipes that call for using warm water, sugar or honey to feed the yeast, double-rising the dough and immediately baking. A little patience will go a long way!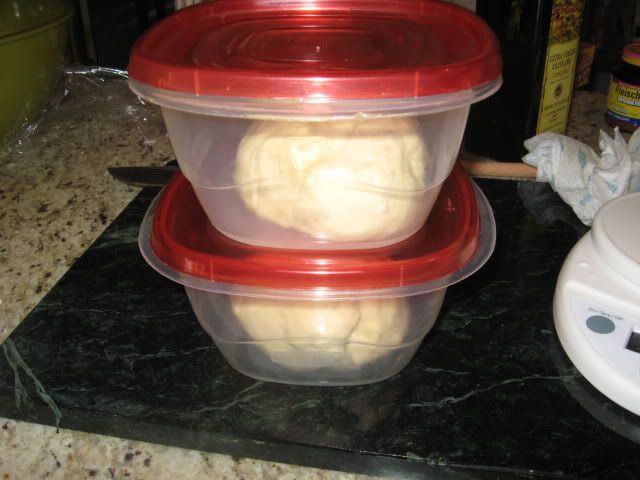 ready to go in the fridge...mine sat for 2 days
Setup:
(Note all my temps mentioned are pizza stone temps…your dome temp needs to be slightly hotter so be patient and preheat!) On baking day, take out the dough about an hour before using, about the time it will take to get your pizza stone to approx. 550 degrees (I use an infrared thermometer, but preheat at a hotter temp if you don't have one, say 550-600, let at least an hour total time pass from the moment you light your coals to the peak of 600 dome and let it preheat the full hour so your stone is sure to be above 500 degrees). One tip- stabilize your fire (i.e. get the dome temp to a steady 300-400) before setting up indirect so you can get to higher temps more quickly. I use plate setter, legs down, grid with extender and pizza stone up top to get the pie higher in the dome during the cook. Another setup variation is to go legs down, and use BGE feet or something similar to raise your stone slightly above the platesetter. I've also just put the stone on top of the platesetter and had fine results. At 550-600 stone temp your average baking time will be around 5 minutes. If you use higher protein flour (bread or a mix with 00 flour, etc) you can go hotter, but baking time will be more like 3-4mins as your stone goes beyond 600+. Commercial pizza ovens are 700-900+. There are lots of posts on this site about going nuclear and shooting for these higher temp levels, it's fun to experiment (I've had decent success at stone temps of 700-730 with a 00 flour crust, but at 800+ the crust nukes too fast, less than 2 mins!)—if you want consistency then bake at 550-650* stone temps and save your lump.
Shape:
Pour out a doughball onto a lightly floured marble surface. Using your fingers and pressing outward, press the dough out so it retains a circle shape. Try to keep an initial ridge (1/2 - 1 inch) you make with your fingers as you work the dough into a 9-12 in. circle. Leaving the ridge at the beginning forms the "cornicione" or wonderful, rising crust edge. By setting it and leaving it alone while you stretch the rest of the pie you're allowing "oven spring", or larger air bubbles to form a rising edge while it bakes. If you form a thinner ridge (or none at all) you'll be left with a flatter pie (desired by the super-thin crust crowd) By refrigerating, this should have relaxed the ball nicely and you'll find if the ball was hydrated enough going into the fridge, that you can practically shape it by hand without picking it up or tossing it. The idea is to stretch the dough without tearing the middle. A method I like is to forget the toss, just pick up the dough and rest it on both sets of knuckles, fingers curled under- let it hang from your knuckles as you rotate it quickly to let the dough stretch slightly with each rotation. Stretching and shaping shouldn't take more than a minute or so with a properly hydrated, relaxed ball. Sometimes though your dough will snap back in the early pressing and be tough to shape. Let it sit for a minute or so between these first presses and it will relax more. The main thing you can do wrong here is overdo it-- overworking the dough can tear it, or overstretch the middle (making the tip soggy when you lift an individual slice).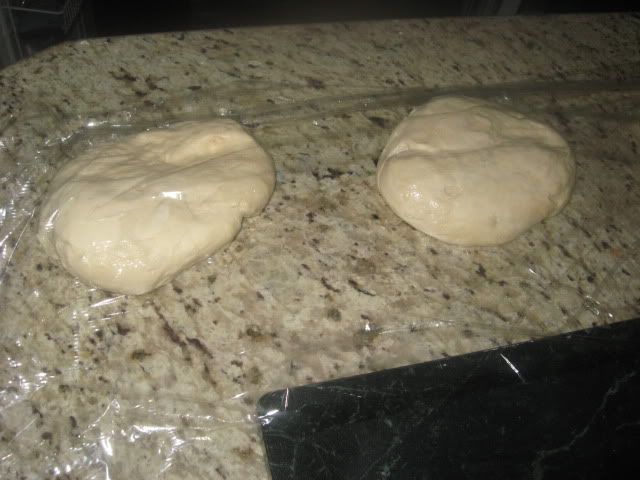 Here they are coming to room temp, I use a little spray oil and plastic wrap while the BGE preheats
Sauce (highly contentious topic but here's what I use):
Use one or two cans (35oz.) of Italian peeled tomatoes, I like Cento San Marzano brand but most anything will do. The key is to use a fresh sauce – don't precook it! It will cook just fine on the dough in your egg and taste fantastic. Quick steps: (1) Pour out into a large bowl and remove basil leaf and anything you don't want (I'll typically cut or pop off the stem tops of the tomatoes). (2) crush the tomatoes, using your hands, utensils, or you can get fancy and use an immersion mixer which really makes a smooth sauce- just a few pulses here and there. (3) Rinse the tomatoes (if at the beginning they taste "tinny" from the can—here's how: use a fine mesh strainer and pour your crushed tomatoes into the strainer over a bowl. Watch the liquid that pours out. If it's very red, pour it back on and do this again (normally up to 2 times is all you need) so the liquid that leaks out is more clear. Discard this liquid (if you taste it you'll note how bitter and acidic the water is), and you'll mostly have fresh red tomato solids left to cook with. (4) Season to your liking. I use a pinch up to a tablespoon of dried oregano (and usually crush it in a mortar a bit to release the oils), and an equal amount of kosher salt (don't overdo it! Taste and taste again), and sometimes I grate some cheese (try romano instead of parmesan). You can also add crushed garlic, a pinch of sugar, a splash of lemon juice, parsley flakes, basil, etc. It's your sauce- experiment and it will all taste great- as long as you cook it fresh on the pie – but don't pre-cook it! You can also make this sauce well in advance and refrigerate, but let it come to room temp before using.
A fresh sauce is the only way to go!
Bake:
Once I have a properly shaped pie I flour my peel—I use enough flour to coat the peel, and then work it into the peel, removing any residue but ensuring the peel is still covered. Residual flour will burn on the stone and leave a bitter crust taste. Think for your peel: you want an ice rink without any snow! Some will use cornmeal here which works great but this too can burn on the stone at higher temps. Still others will forget this step and lightly flour or spray-oil a piece of parchment paper cut with a small margin around the pie for carrying and pulling. This last method works great but I'm a purist-I like my peel! Get the hang of shaking or jiggling quickly back and forth so it slides without sticking or misshaping your pie. Try this before topping the crust. Quickly pull the newly shaped pie onto the floured peel, give it a few quick shakes so it moves a little back and forth (if it won't you need more flour), then top as you see fit. I like to start either with sauce or a light layer of shredded cheese, then the sauce. Be frugal here as wet sauce sogs the crust. Use more toward the crust edge (but stay ½ inch or so away from the edge formation or the sauce can inhibit the rise), and spoon (don't pour) a bit of sauce here and there. I avoid the middle of the pie as I hate when it sags! Shake it again and make sure it will still slide, then complete your toppings. At these higher temps we're using try cubes, or torn whole pieces (1/2 in to 1 in high) of fresh mozzarella to make "splotches", or the deli counter can slice you thick, full-fat mozz that works well—try "tiling" slices of mozz with tiles of white cheddar and you'll get that local pizza pub's tangy and salty cheese. Bags of shredded cheese work great at lower stone temps but at 550*+ the cheese will brown too quickly in my opinion. Work with tiles or cubes and you'll have better success. Slide the completed pie on the stone using any of the above methods (if you use parchment you can remove the sheet halfway through the bake but I like to leave the dome closed for at least 4 mins to ensure the top will bake fully). Use a peel or a pizza pan/screen to retrieve the fully baked pie and you can cut slices right on it (but wait a minute or two for the hot cheese to set). Enjoy!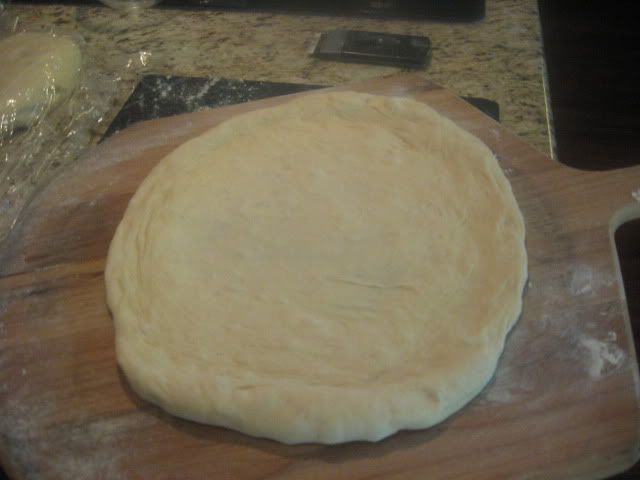 Here's a hand-pressed crust leaving a big, puffy crust for my kids- they love it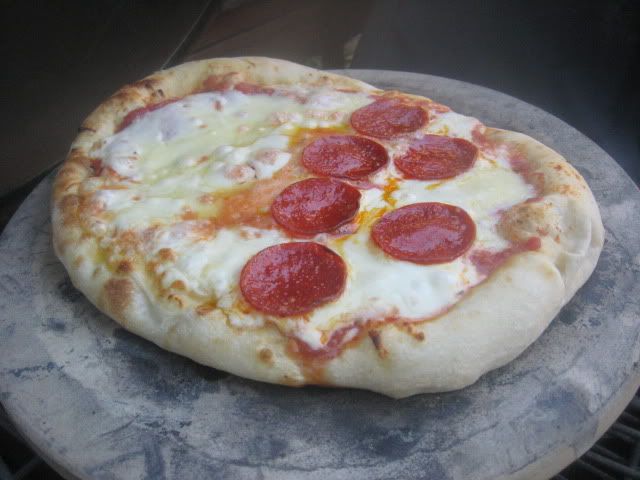 The finished "thin" crust with the huge edge!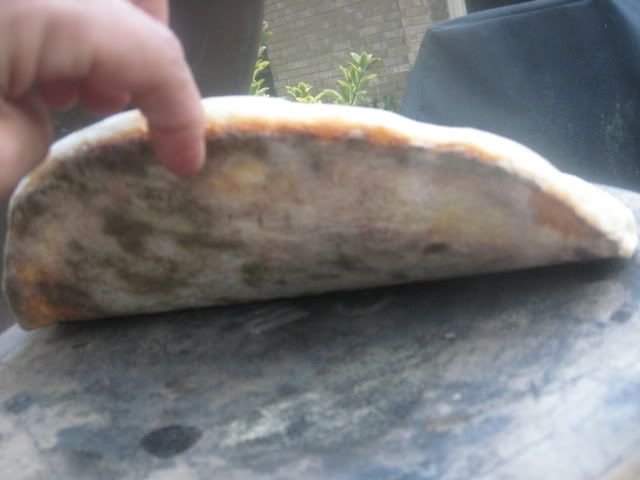 puffy crust but crunchy underneath- 550 stone gets you there...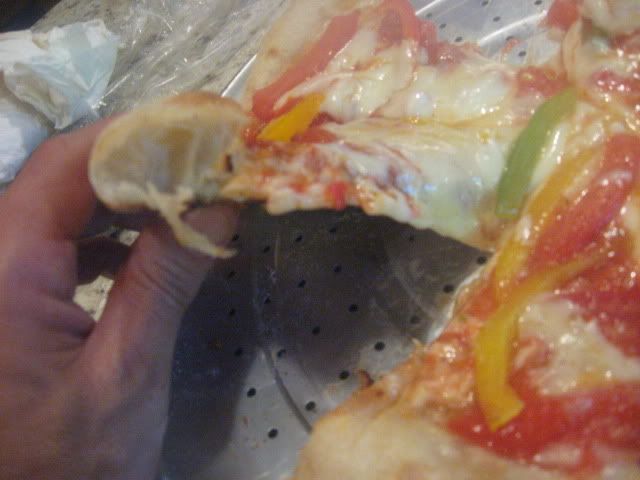 This was the 2nd pie, a veggie (snore) but check out the oven spring in the crust edge- nice rise
The 3rd pie was a no-edge pizza pressed thin all the way (I didn't have to toss or stretch this, it pressed out nicely on its own). Note I cut away a little dough to keep it under 12in as it pressed really thin...
I ran out of cheese tiles so I broke into the shredded bag along with the remaining mozz and cheddar...came out good!
this super-thin was my favorite...and the taste of the crust was outstanding.
Baker's percents for the dough in case you want to size up or down (ingredients are calculated as a % of the flour weight):
Flour (100%) Water (60%) Instant Dry Yeast (.25%) Kosher Salt (1.25%)
Total (161.5%)