Welcome to the EGGhead Forum - a great place to visit and packed with tips and EGGspert advice! You can also join the conversation and get more information and amazing kamado recipes by following Big Green Egg at:
Facebook  |  Twitter  |  Instagram  |  Pinterest  |  Youtube  |  Vimeo
Share your photos by tagging us and using the hashtag #EGGhead4Life.
In Atlanta? Come visit Big Green Egg headquarters, including our retail showroom, the History of the EGG Museum and 
Culinary Center
!  3786 DeKalb Technology Parkway, Atlanta, GA 30340.
A TALE OF PRIME RIB w/ lots of pics
the tale begins with a phone call at 8:00 saturday morning from buddy brett (the virginian) across the street. . ."so max, i'm heading downtown (washington d.c.) to union meats to buy a brisket. wanna come?" . . ."sure" i says. . .so off to the old eastern market we go. . .as brett is talking brisket with the butcher, i'm perusing the case. .. i notice some nice looking rib roasts, some which are obviously choice and some which are obviously prime, and for laughs i ask the the butcher how much for prime (i'm expecting to hear $24.00 plus given how it looked). .. "bone in prime, i've got a special. . .$12.99 a pound" he says. . .well, after i picked myself up the floor, i had him wrap me up a nice 2 bone in prime rib roast to take home. .. [p]when i got it home and unwrapped it, i realized the nice job the butcher had done. .. .he had cut off the fat cap in a nice even slice, and then tied it back on to the roast. .. here is a picture of the roast after i untied it and laid open the fat. . .[p]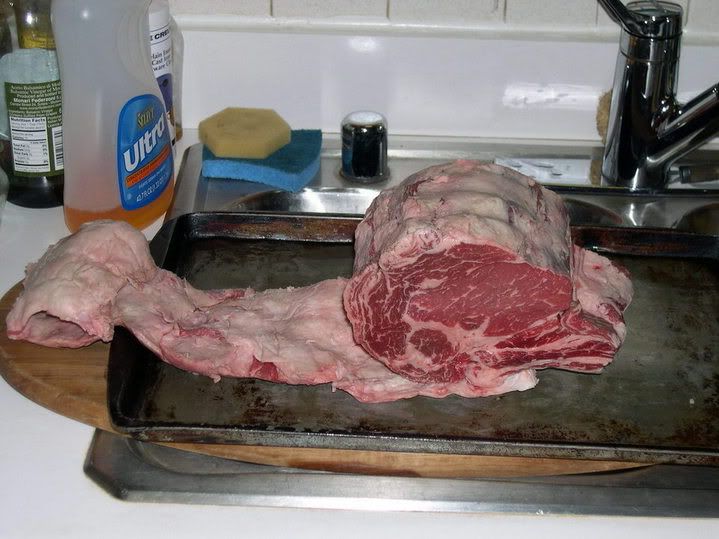 [p]i then proceeded to lay on some sprigs of fresh rosemary from my herb garden, and salt and pepper. . .[p]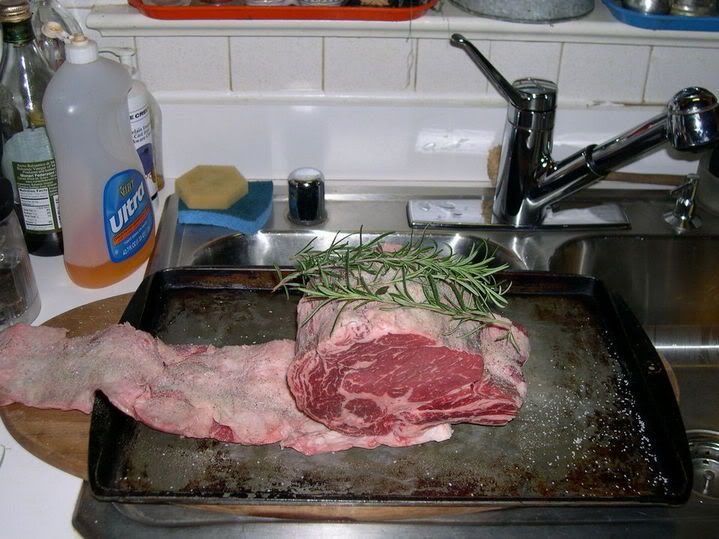 [p]then i rolled the fat back on, tied it with butcher spring, rubbed it good with more kosher salt and herbs de provence . .. [p]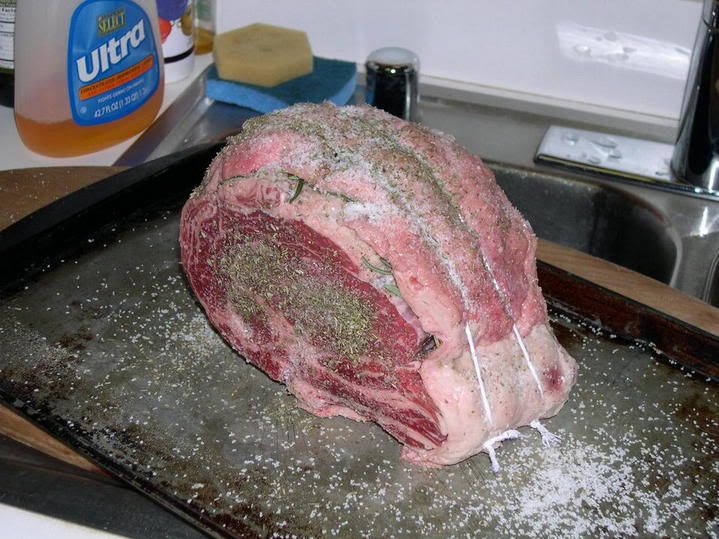 [p]i set up the egg at 500 degrees, grid over inverted plate setter, with some jack daniels chips. . .as soon as i put the roast in the 500 degree egg, i shut the vents down to get to 325 degrees (the time spent going from 500 to 325 gives a nice sear to the roast). . .roasted it at 325 till it was 125 internal. . .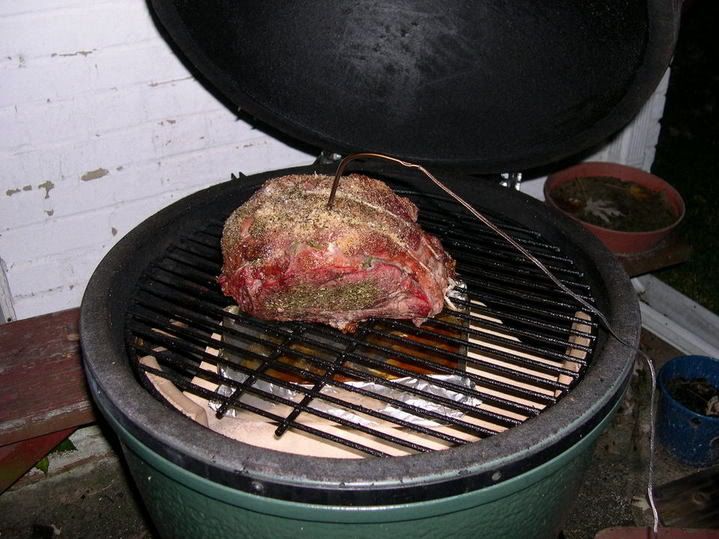 [p]as i said, i pulled it at 125 internal, let it rest under aluminum foil tent for about 15 minutes. .. [p]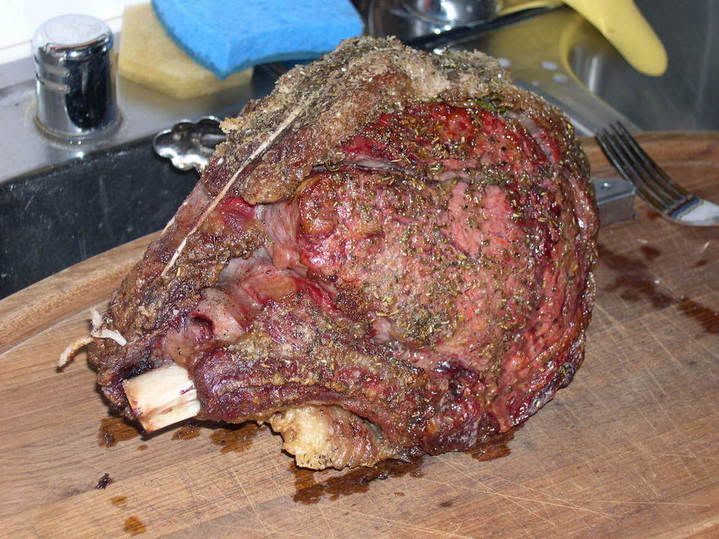 [p]here it is, strings cut, fat cap removed, and bones removed, with first slice carved. . .came out perfect. . .[p]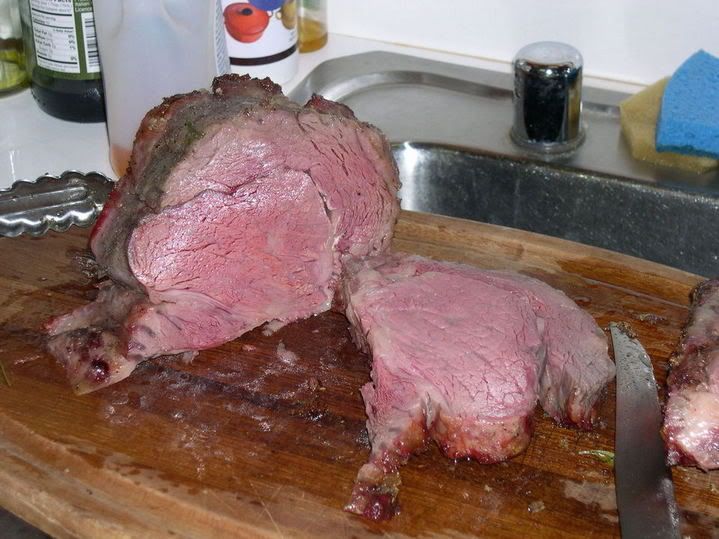 [p]and on the dinner plate. . .served with baby red potatoes, coated with olive oil, kosher salt, and lots of fresh rosemary, roasted at 425 degrees for about 45 minutes. . .and fresh string beans (also from eastern market) blanched for about 5 minutes, then sauted with some sliced up bacon and lightly salted). . .unbelievable meal. . [p]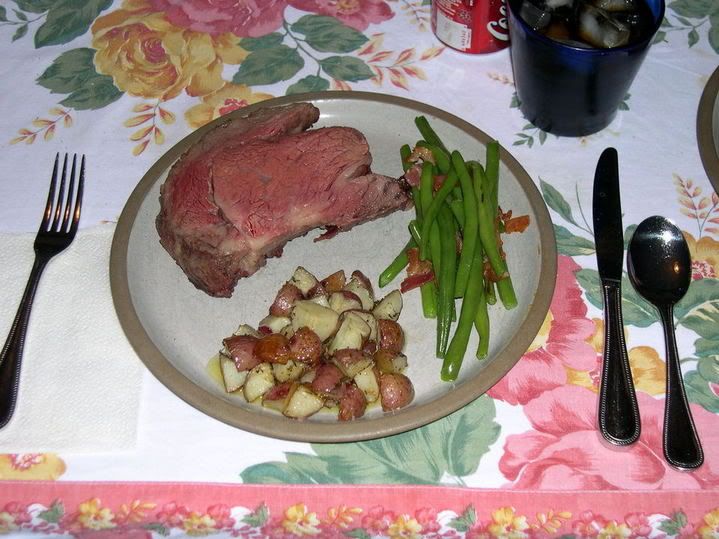 [p]i do a lot of 'prime' ribs, but its usually with choice or certified angus beef, and i have to say that using real PRIME meat was such a difference in flavor. . .it had a 'rich' flavor to it that was just fantastic. . . [p]me thinks more trips to union meats are in order. . ..