Just returned from the Indy Eggfest, what a great bunch of eggers! Dave and I were there with our new
table
, and met a lot of really great folks. In particular, Cheff JJ's and Sullivan's Hardware really worked hard to make sure all the bases were covered!
If you are in the Indy area, check out
Cheff JJ's
for some elegant, custom dining options! The Chef and his wife really put on a great party, and create some spectacular dishes, all cooked on the Big Green Egg, for which they are local dealers. They have a great selection of accessories as well.
Speaking of great accessories, we found (and purchased,) a fantastic product called the SavorRest Meat Resting Blanket. You can find out more at
their website
.
These are great blankets for steaks, pork butts, briskets or turkeys, and the product is a real quality blanket made in the USA! Sally was a pleasure to meet and great to work with.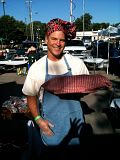 If you missed it this year, it is an annual event, so maybe we will see you there next year!
Happy Egging,
John