There have been a few posts recently about baking pizza at 700*, or otherwise "nuclear". I've been responding that ideal pizza stone temps are somewhere between 550 and 600*, although with a dough made with "00" flour you can go hotter. "00" flour is desired by Neapolitan pizza fans as it is used in Naples to make authentic "DOC" certified pies, and can be found in more and more specialty pizza shops these days. Besides the popularity, it's extremely light and easy to work the dough. My doughballs were 80% Antimo Caputo "00", and 20% bread flour (and was at about 65% hydration, also used a wild yeast starter, approx 18% of flour weight, 2.5% kosher salt). Today was a stone temp test day:
I'm using a Raytek MT6 infrared thermometer for all my stone measurements (dome temps are from a basic calibrated BGE thermometer). First I was curious how long it takes to get the pizza stone preheated, clearly there are lots of variables in setup but mine got the stone just over 500* in 30 minutes (highest dome temp was 560); and stone got to 580* in 40 minutes (highest dome temp was 570). My setup was indirect, platesetter legs down, grid and grid extender, stone on the extender so it was high into the dome.
My first pie went on at this last measured stone temp, about 580* (dome 560*) and I didn't take any pics (frankly I was so hungry I wolfed it down!) :silly: But the crust wasn't anything to write home about. It was good but not fully browned on the top and no visible char. I baked this one for just over 5 minutes, I probably could have gone closer to 7 and achieved something better than I got. But clearly it needed more heat.
Pie # 2 – plain pepperoni, bake time 4.5 min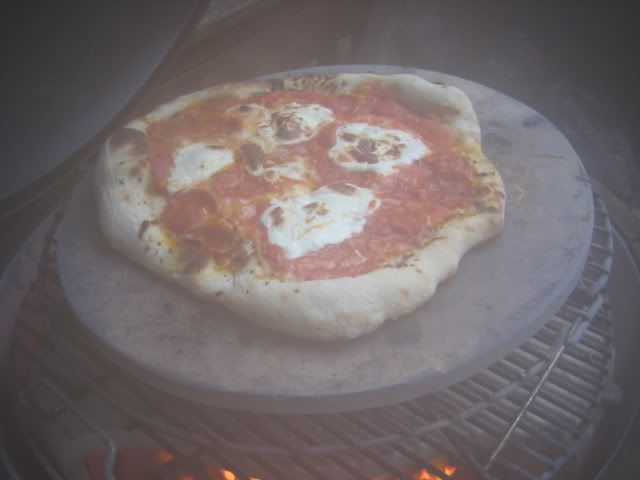 Dome temp was stabilized at 600*, stone temp was 580-600*. This was a great pizza – not as fully browned with char as I'd like, but still plenty of "snap" to the crust and cooked through.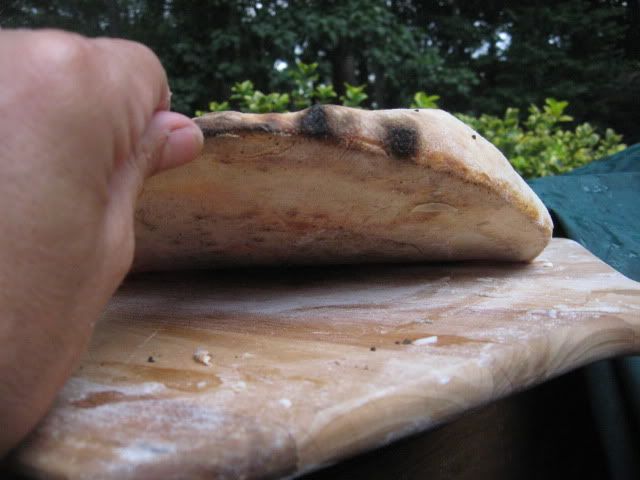 not a bad crust at this temp!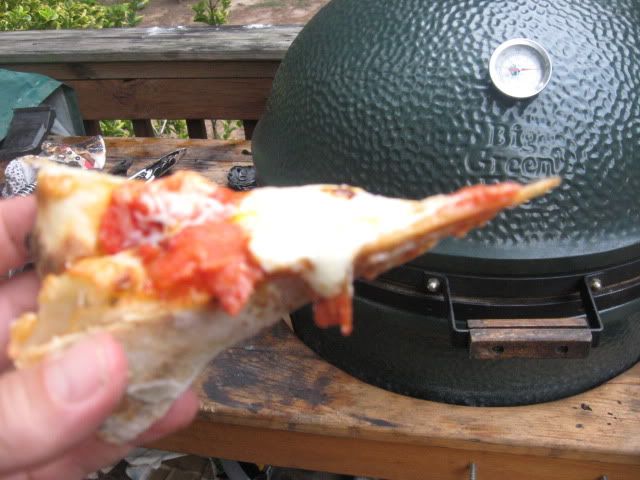 example of "snap"- can you fold it and not destroy the slice?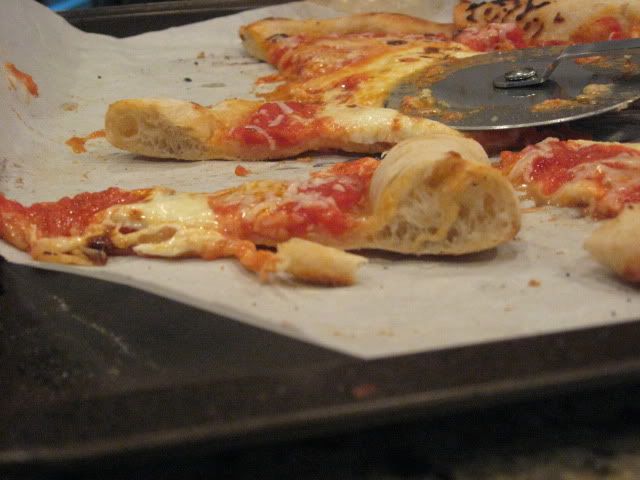 nice rise in the "cornicione", or edge
Pie # 3 – baby bella mushroom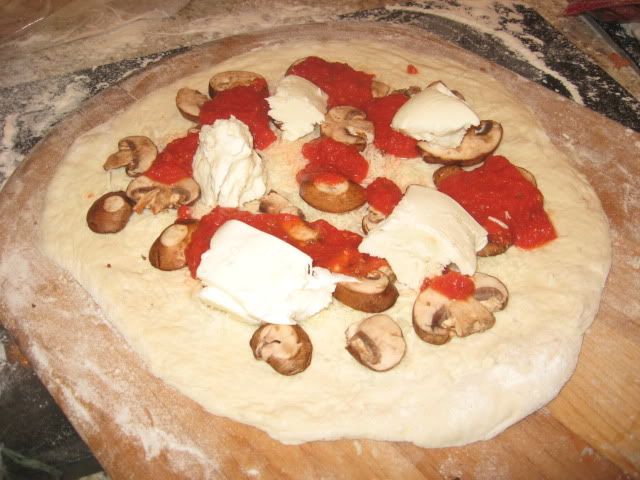 Dome temp is now at 650*, stone was about 730* (I note many commercial pizza ovens bake at 700). This was my favorite pie! It baked in only 3.5 minutes, I got ample browning throughout, and some nicely charred spots without blackening the crust: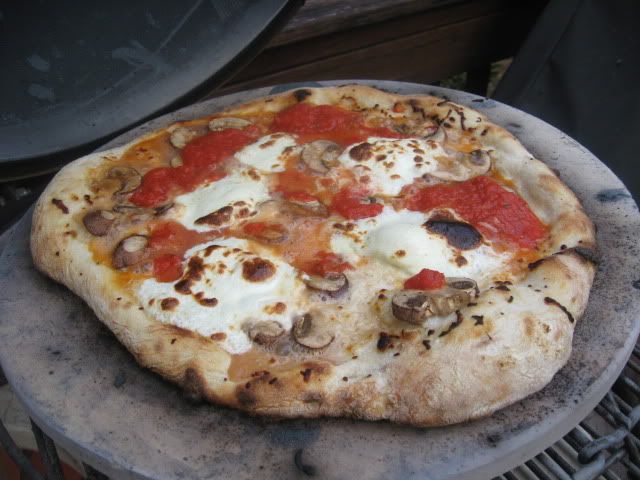 THIS is what I'm shooting for - in only 3.5 minutes the browning/char around the edge is great without burning (although you see one cheese spot that got nuked...maybe next time I try lower like 700 instead of 730 stone!)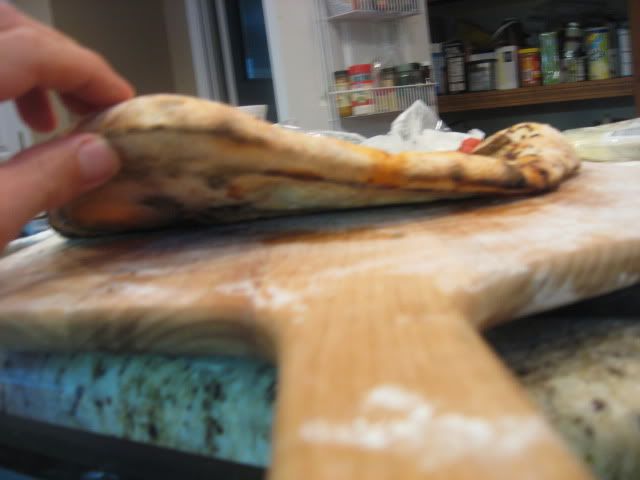 nicely browned bottom with a little char here and there
Pie # 4 – veggie disaster!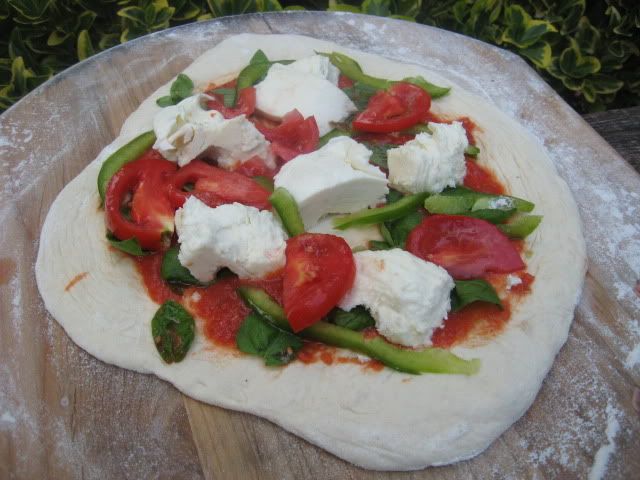 I decided to go for broke and let the stone get over 800- I think one spot read 830* and the dome was reading 670*. This pie cooked in only 2.5 minutes but look at the bottom—I smoked it!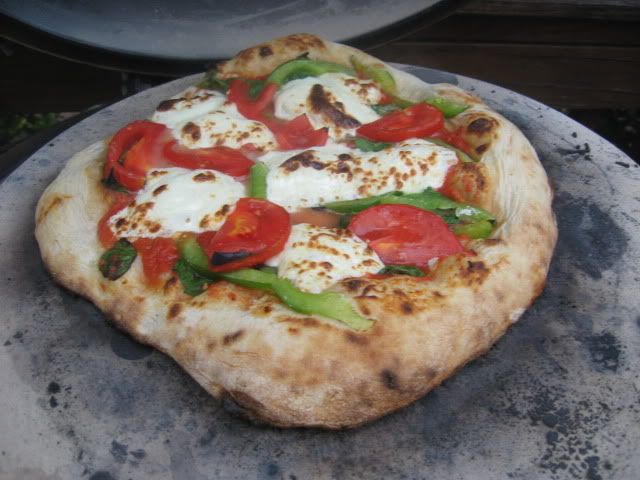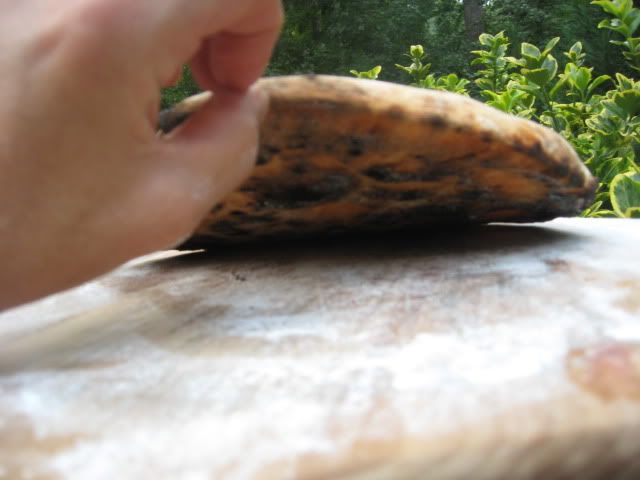 oh noooo! nuclear meltdown! :(
too bad...too as this was my favorite crust rise.
Lessons learned: (1) with "00" flour you can get aggressive, a stone temp of 700* is something worth shooting for. (2) if you're not using "00" flour a stone temp of 500-600 is probably all you need, just be sure to bake 5-10 minutes; (3) if you don't have an IR thermometer, give the stone at least 40-50 minutes to preheat, assume the stone will approximate your dome temp after 50mins if you have the stone raised high enough.