Or is it the Jerk's Ribs?
Hope everyone has a safe and pleasant 4th.
Fidel left his garage open the other night and I helped myself to a couple bags of Ono
Actually, took a trip to my dealer and they just started carrying it...along with Primos? He hooked me up with 2 free BGE bumper stickers.
The larger piece in this pic is 12" long and 4" in diameter. The jerk seasoning is a first also, it's made by Walkerswood. Added EVOO, garlic, onion, and slathered it on 2 slabs of spares the night before, awesome stuff. Spread on a thin dusting of Raichlen's Island Spice rub after the paste.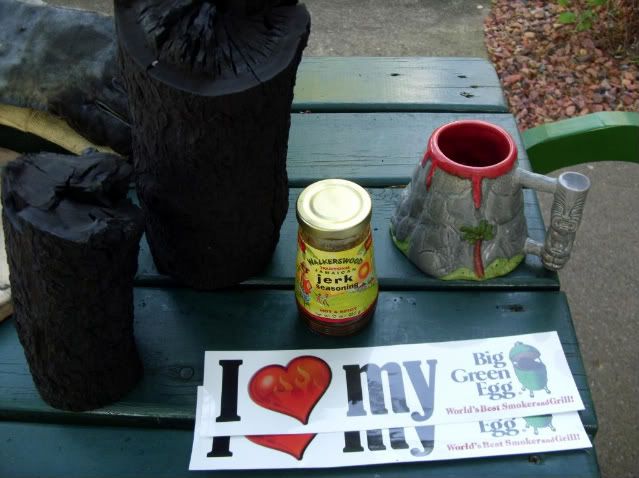 Decided to try something a little different and do Caribbean/Pacific ribs. Whipped up a quick glaze of
Guava Jelly, 1/2 of a Red Stripe, 1/2 of a small can of pineapple juice, 1/2 med onion, 2 large cloves of garlic, brown sugar, Sriracha, Marjoram, Cardamom, White Peppper, and a heaping spoonful of the Walkerswood paste. No smoke wood for this one, and temp is currently 240, AR and Spider is setup. Using the rest of the Red Stripe and pineapple juice as a spray about every hour or so. More pics to come later. All this accomplished and the boy is still sound asleep. Thanks
Brandon

Quad Cities
"We say grace, and we say ma'am. If you ain't into that, we don't give a damn." Bocephus