I made pulled pork for my sister's graduation yesterday and, inspired by my Daisy May's trip Monday, ended up doing Adam Perry Lang's version out of his
Serious Barbecue
book.
I got two butts, both around 8 pounds and put them on the Egg Friday evening with a grate temp of 230. As far as the butts, I first injected them with a mixture of apple juice, water, light brown sugar, salt, Worcestershire, and soy sauce in a grid-like pattern.
Once these were injected, he calls for a 'mustard moisturizer' which acts as the binder for the spice rub. Worcestershire sauce, apple cider vinegar, and water accompanied the yellow mustard.
The seasoning blend consisted of ancho and chimayo chile powders (which I found at a specialty shop not far from my house), sweet paprika, dark brown sugar, mustard powder, garlic salt, Old Bay, and salt and pepper. Since I had two butts, I doubled the recipe originally but as I started to apply, I ended up using it all one my first butt and made more. On a side note, I finally watched his Jimmy Kimmel appearance from the other night and he mentioned he thought people used too much rub, so maybe the scant portions were by design. I personally like a lot of bark and the doubled recipe certainly didn't take away anything.
The cook was standard to begin with, but he calls for wrapping the butts at 160 with a mixture of butter, honey, light brown sugar, mustard and water. He also says to pull at 193, wrap for an hour, then put back on the grill and sauce.
I ended up making his sauce, then added apple jelly, a green apple, and apple cider vinegar to make it 'appley', and it was AWESOME!! A lot of spice from the original sauce recipe, but the sweetness from the apples balanced things out very nicely. I sauced the pork at around his 193 number, let stand uncovered on the Egg for about 30-40 minutes to help tighten up, then foiled until it was time to pull. After pulling, I added the rest of the sauce.
The result: One of my best pulled pork cooks ever. Everyone at the graduation party said it was the best pulled pork they ever had, and I started to get a bit shy from all the praise. It felt good though, and I was glad I got to help my dad and sister out on her special day.
I didn't get a lot of action pics because I had my hands full, but here are the sauced butts about to take a nap in foil before being pulled: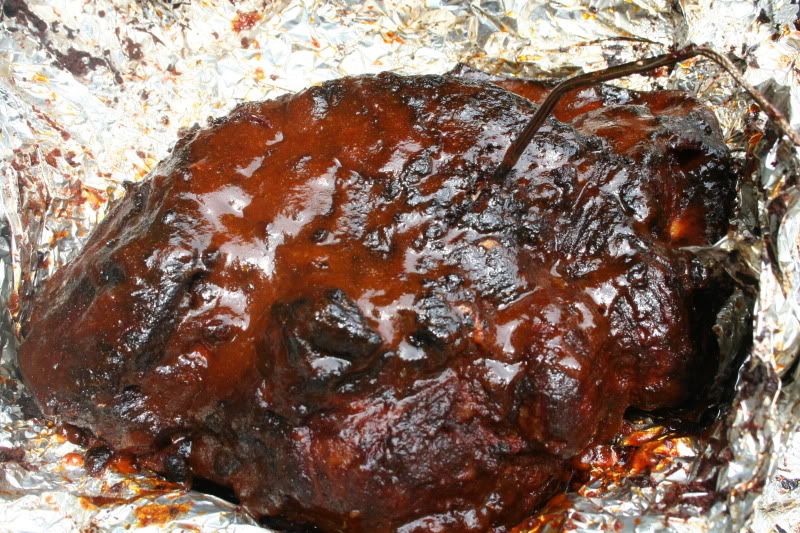 Thanks for looking!