Here is my first attempt at fatties.
The fattie in the top of all the photos is savory and is:
2# Maple flavored bacon (woven)
2# Jimmy Dean Regular Sausage
1# Linguica skinned and cut into cubes
2 t ground sage
1 t sea salt
1 t pepper
The fattie in the bottom of all the photos is a sweeter maple flavored:
2# Maple flavored bacon (woven)
2# Jimmy Dean Maple Sausage
2# Maple flavored bacon cut up and cooked till golden
3 T Maple Syrup
2 T Dark Brown Sugar
1/8 t cinnamon
1 pinch ground cloves
1 medium nut meg fresh ground
1 t sea salt
1 t pepper
1 t whole anise seeds ground fresh
plus more brown sugar
A few of the raws . . .
Medium egg is set up raised and indirect. Smoke wood was pecan. 325º dome.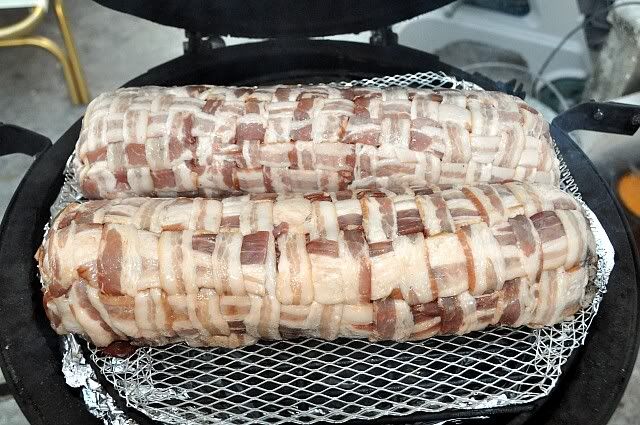 One hour in . . .
Two hours in . . .
I was curious what the internal was after 2 hours, they were both at 165º. I gave them another 15 minutes and pulled them, 170º on the dot. I was wondering what they weighed so I got out the scales. They are in a recycled styrofoam meat tray covered in foil that weighed 2.10 oz.
My 8" chef's knife for scale . . .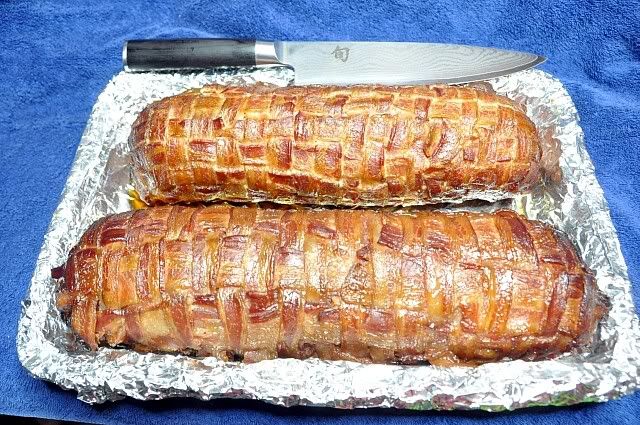 I covered them with foil and let them rest for an hour while I had dinner.
By the time I got to sample them I was so full from dinner I didn't have much interest in fatties. The sweet Maple flavored one I had rubbed the inside of the woven bacon with additional brown sugar and set them both in the frig to see if they would firm up a little and make them easier to handle. The sugar I think acted like salt and was drawing moisture from the fattie and it was leaking juices. Fortunately I discovered this before any harm was done. Next time it will go directly on to the grill. Both fatties are good, the linguica is very mild and almost gets lost in the sausage. It could also use more sage. The anise in the Maple one is almost to strong and could be cut in half probably, I think it went very well with the maple. I will be interested to see how they taste after resting in the frig over night.
Speaking of night, I had a beautiful moon smiling down on me before I was done.
Gator