I went out after lunch to find some steaks. I finally found some select ones, and they were only $3.99 a pound. BOO YA!!! I got 2 tee-bones one for me and one for mom, and I got my buddy Jim a rib eye steak because it was smaller in the package and he doesn't eat as much as me.
Here is Jim's steak in the bag with some butter and some of the spices i used on the ribs the other day.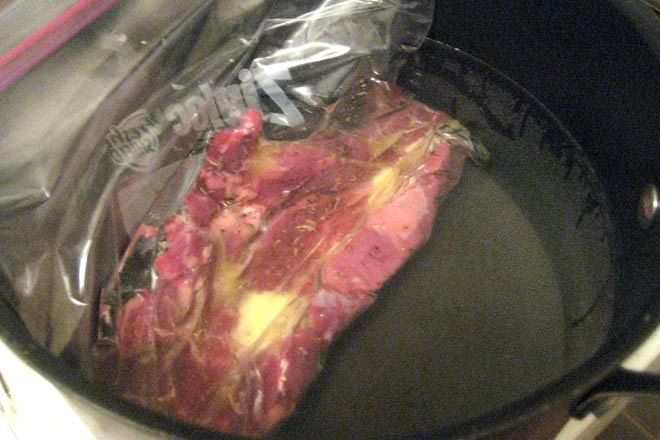 I took this picture and then he asked why I was taking pictures so I stopped taking pictures. :woohoo: :woohoo:
I put them in and the water was really hot but it cooled off after an hour. I added more.
The egg was at 550 and I put them on and cooked until they looked done. I don't know how to tell but they were great. Mom like's hers well done.
Here is mom's tray before I brought it to her. I don't eat beans. I like them, but I stink up our bedroom like crazy. :woohoo: She doesn't like sweet potatoe.
Mom ate hers watching Reba but Jim and me ate ours in the kitchen. Here is mine. I took one more picture and Jim said I was being really weird taking pictures of food. Here is my steak a little eaten but I couldn't wait. I took the picture when Jim went in to say hi to mom for a while. Jim and me each had a sweet potato wehich is from the community garden in the park this summer. Those were the last ones.
I don't under stand what the pan of water has to do with steaks but they were good.