so, first the story. . .you all know sydney and i are big tony bourdain fans. .. back at thanksgiving we were watching his episode where he visits his wife's family on Sardinia and they are all sitting around a big table casually feasting on a big steaming bowl of snails in a simple tomato sauce, picking the snails out of the sauce, and pulling the snails out of the shells with toothpics. . .we've been eating snails for years (in my case since i first lived in europe back in 1966). .. but we always ate them the french way in garlic butter. . .these looked fabulous, cooked in the basic tomato sauce, over a wood fire, eaten with big loaves of french bread.. ..so we knew we had to try them this way. ..
the second part of the story was that also over thanksgiving, we were watching re-runs of top-chef, and one of the episodes was a thanksgiving episode where tony bourdain was the guest judge, and the 'mission' was for teams to do thanksgiving dinners "outside the box"...and this one team comes before the judges, and tony really liked this one young punk chef, and the kid is in front of tony, and this team had really bombed with their stuff, and the kid says "i really wanted to make a turduckhen lasagna but my team vetoed me". . .and tony's eyes go wide opened, and he says "you should have made it, it would have been fantastic!!!. .. .and sydney and I looked at each other and did the old 'slap on the forehead' and said to each other "TURDUCKHEN LASAGNA"!!! "we can do that!!!" . . .and right then and there we started planning for this epic dinner for winter break, which we did tonight. .. .
first, the snails. ...actually, the wifey made the tomato sauce. ..diced tomatoes, sugar, italian seasoning, lots of basil, olive oil, sauted onion. . .let it simmer for about 4 hours on the stove. .. .then poured it over the snails in my le creuset pan, then onto an egg set up at 375 degrees indirect with a pizza stone with a chunk of cherry for about an hour . . then served with some great french bread from a little parisian cafe down the street. . .these were absolutely fantastic!!!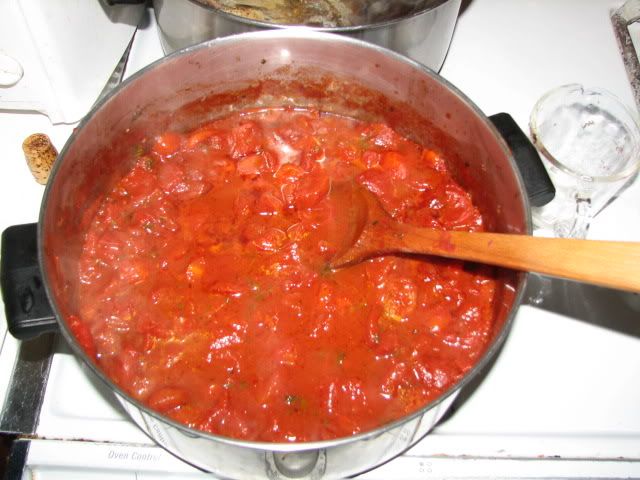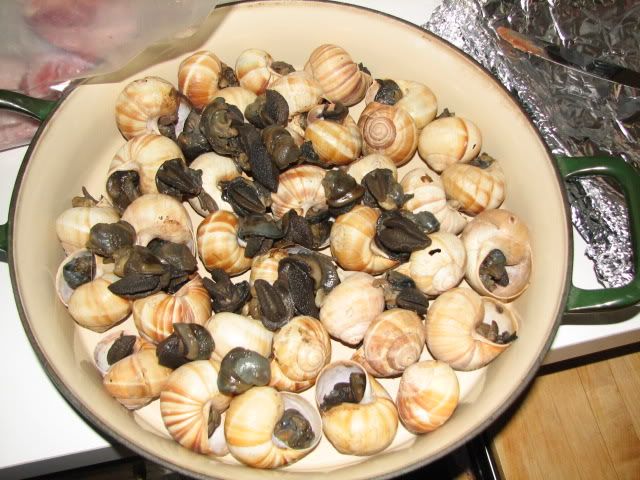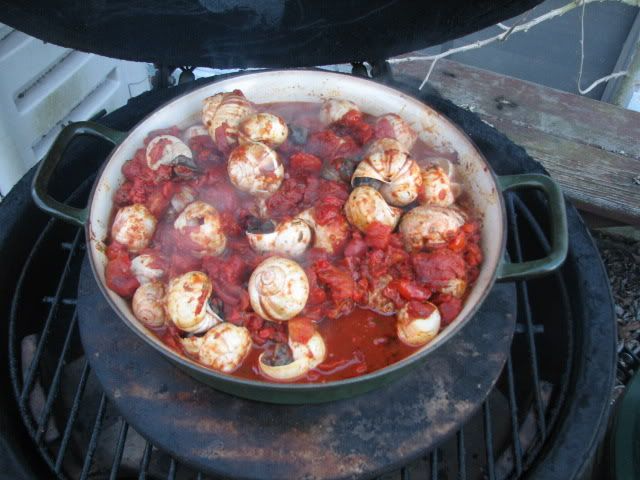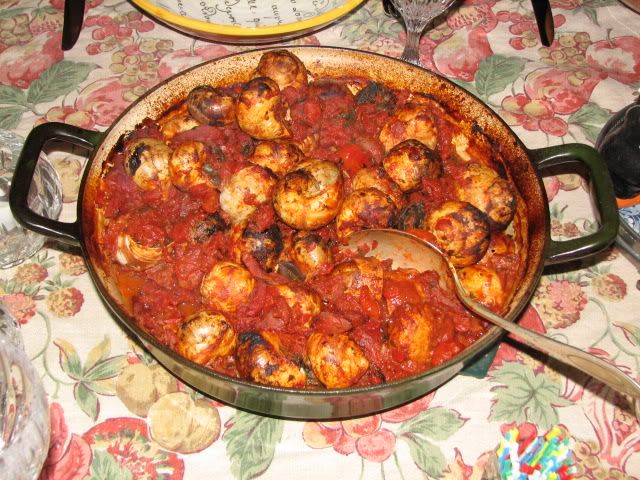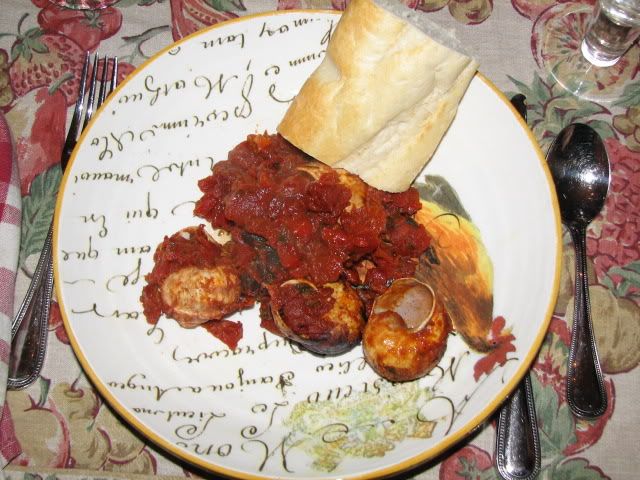 and now the turduckhen lasagna!!
when sydney and i started talking about this we realized a couple of things. .first, the key element that really gives a turduckhen its flavor is the duck. ...so instead of making the turkey the top layer, we decided to make the duck the top layer. ... second, we decided to go with skinless chicken thighs and skinless turkey thighs as the inside layers so that there wouldn't be a bunch of rubbery, fatty skin in the middle, but still get the most flavor out of the chicken and turkey parts. ...second thing we thought about was, even though we wanted the flavor from the duck fat dripping down through the 'lasagna', all that fat gathering down in the bottom of the pan would leave a big old greasy pool on the bottom layers! (in fact, we ended up with almost 4 cups of collected fat at the end of the cook). ..so what we did was use a couple of different size throw-away pans. ... the first pan, that we made the lasagna in, we punched a bunch of holes in, that way the duck fat would run through and baste everything, and then drip on through into and a larger, ribbed pan that sat underneith it!!. ..it was a very elegent solution that really worked well, and also served as a perfect heat barrier inside the egg. . ..i also basted the top every 30 minutes or so with a butter paste. ..
and so here are the pics. .
the pan with holes cut in it:
first layer. ..6 turkey thighs seasoned with emeril's essence and smokingguitarplayer's dixieland dust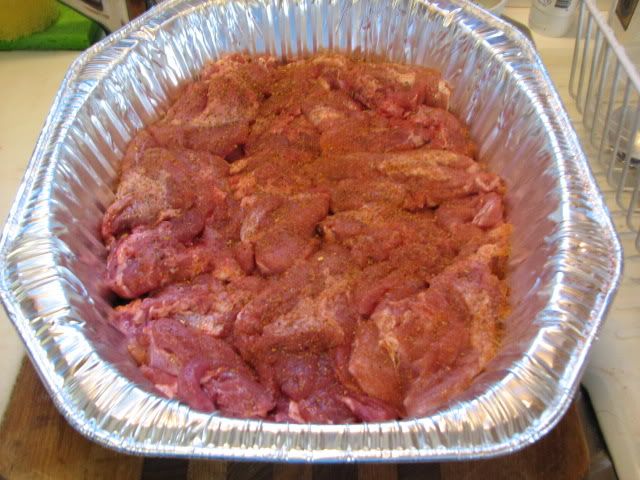 second layer. ..sage stuffing with anduie sausage
third layer, 12 chicken thighs with more of the seasoning. .
fourth layer, cornbread stuffing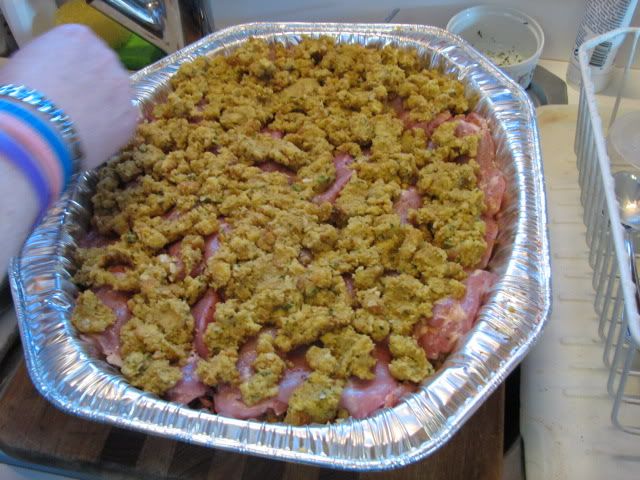 and finally, the de-boned ducks. . .i left the drumsticks in for show! and did a butter paste with the same seasonings. ...i also poked a bunch of holes in the skin with a sharp knife to allow for the fat to render easier. . .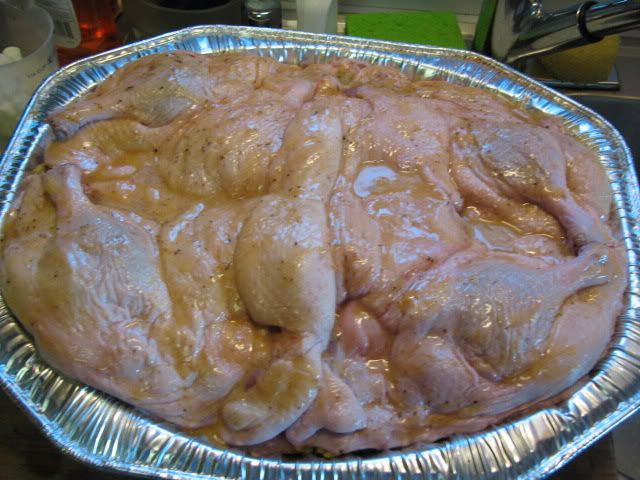 into the egg indirect at 350 degrees with a chunk of cherry in the double pan set-up as described. ..took about 3 1/2 hours. ..made sure everything was around 180 degrees. ... when i pulled it and sliced it, it came out beautifully. . .as you can see, i was able to get great "squares" out of the pan. . .you can also see that the duck skin really shrank, but like i said, it gave up almost four cups of fat, so that was ok, the flavor was unbelievable. ...i had a couple of quarts of turkey stock in the freezer left over form thanksgiving, added one of the duck carcasses to it, and some of the duck fat drippings. .. made for some great gravey!! (a special thanks to the spawn on this one tonight!! - the gravy was tasty a bit flat, she added a bit of the duck fat, some of fred's turkey seasoning, and it came great!!! THANKS SPAWN!!!!. . .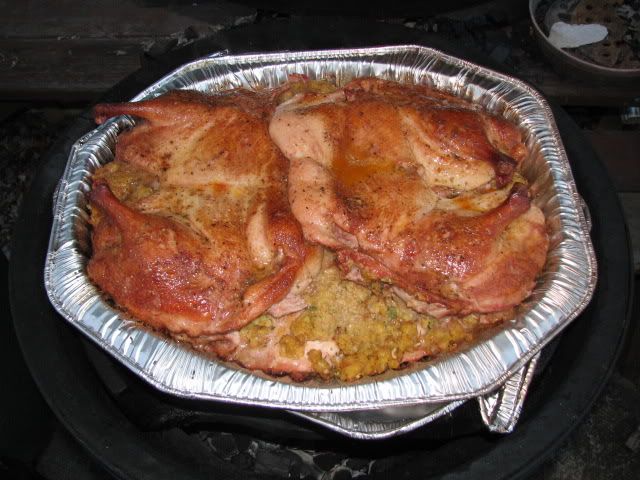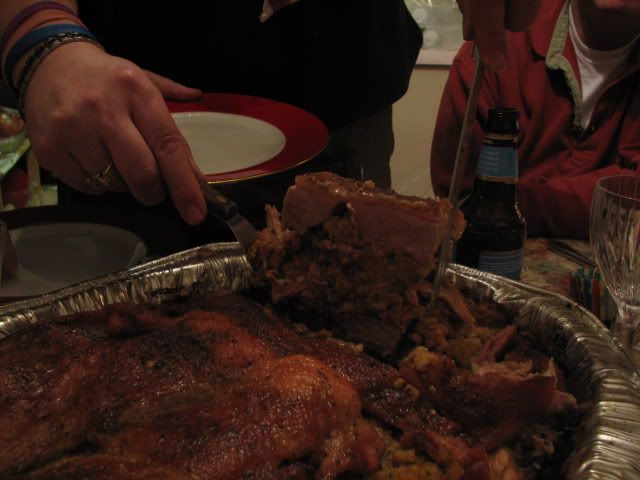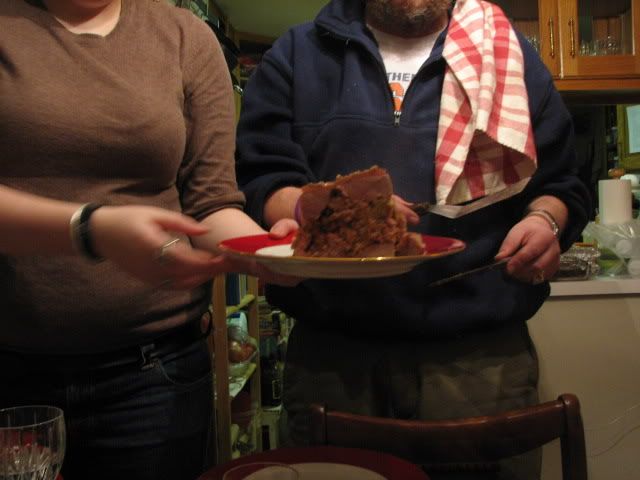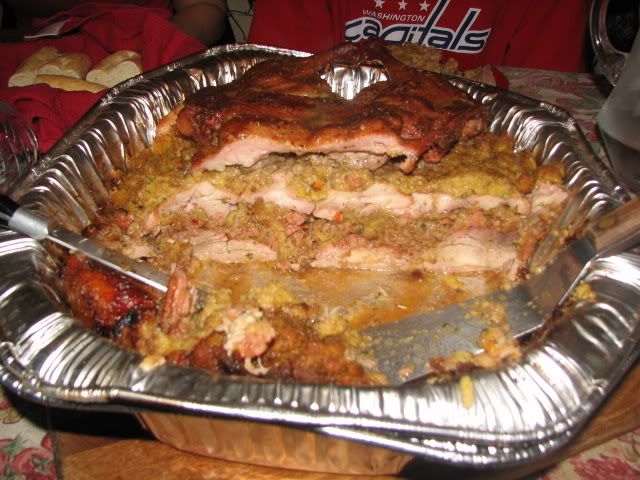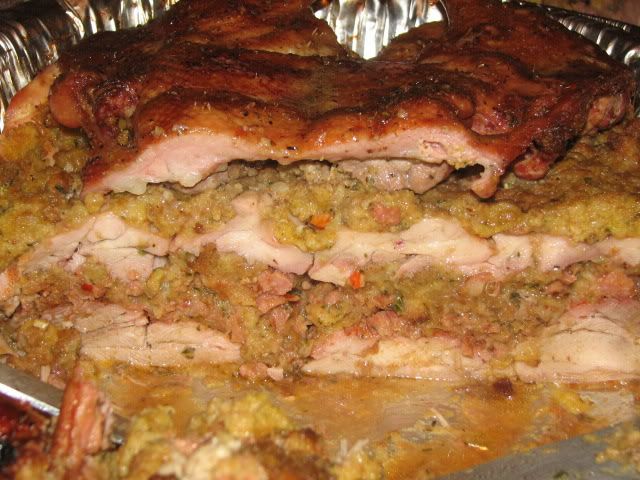 and finally, to top it all off. ..when we are at the beach over christmas break, we ate at cracker barrel a couple of times and they had this outrageous chocolate coca cola cake. ..sydney found the recipe for it and made it tonight. .. . she did it 'spot-on'!!!!. ... sorry, forgot to take a pic of the cake. . .
all in all, as said before, this was an EPIC meal . . .may have been one our best ever. .. and doing the turduckhen this way is just fantastic. ..and has a big WOW factor. ..