I got tired of seeing the McDonald's commercial on TV for Swiss Mushroom Cheeseburgers and decided to take matters into my own hands. A trip to Sam's produced 5#'s of ground chuck and a couple boxes of the nicest mushrooms I have seen in a while.
Melting butter is a good start for anything . . .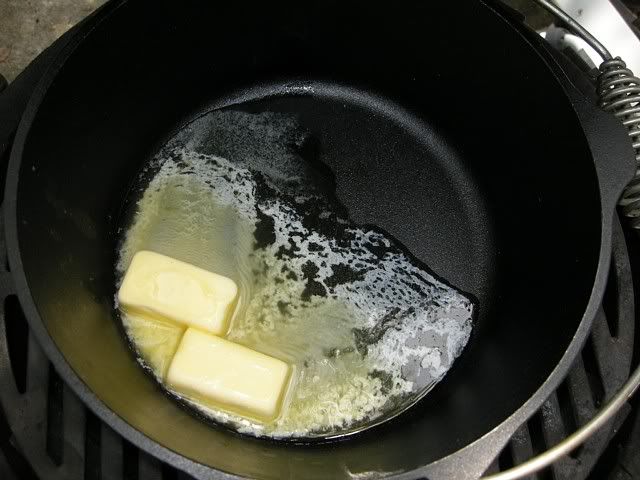 Diced about 3#'s of onions and added to the butter . . .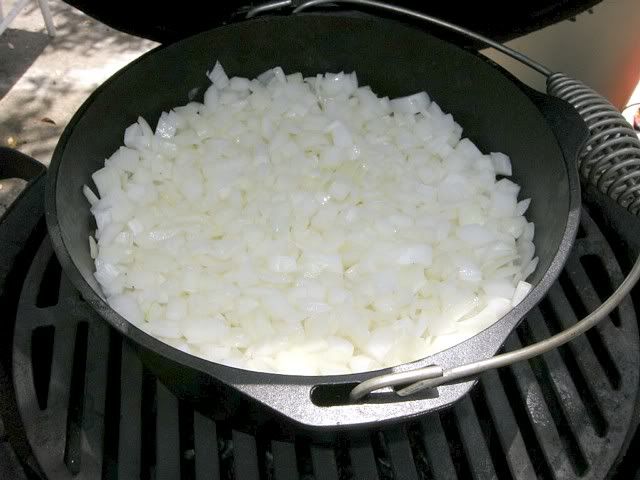 With the egg at about 500º and vigilant stirring they
were soon caramelized to a beautiful color . . .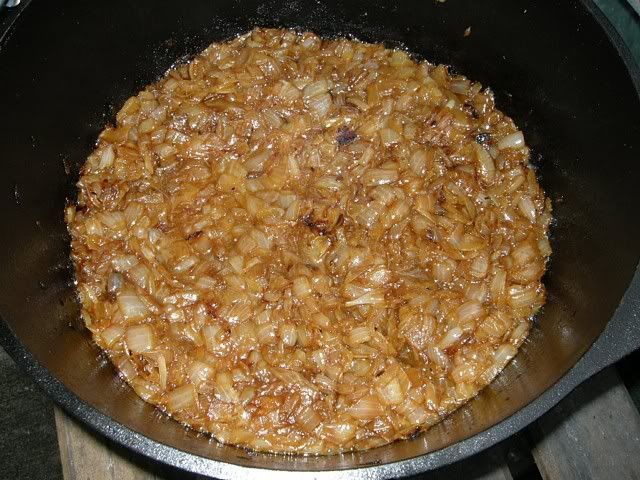 I did the same to 3#'s of beautiful mushrooms that I had quartered, leaving in large pieces. When cooled I add the onions and mushrooms to my ground chuck. To that I added (not measuring) 2 different garlic powders. Two tablespoons McCormick's California Style that is granular and has great flavor and about 2 teaspoons of a finely ground garlic powder and a teaspoon or two of onion powder. A teaspoon or two of sea salt, a teaspoon of black pepper and a tablespoon or so of Gravy Master (adds great flavor). Because it was taking a lot of mixing to get everything well incorporated I added about a cup and a half of dried, diced (1/4") sourdough bread to try and keep the ground chuck from getting to compacted (over handled) (it seams to have worked).
When all was well mixed I shaped it into a dozen nice big burgers. I got out the FoodSaver and packaged them 2 up (raw) in 11" wide bags. I placed a piece of waxed paper on top of the bagged burgers and put a couple slices of swiss cheese on top of each one.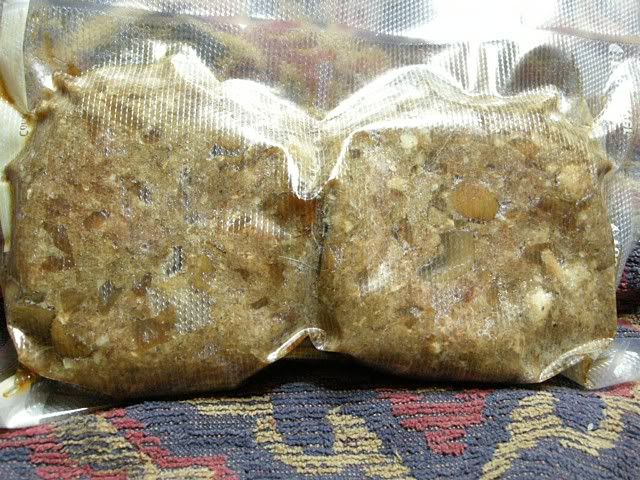 With the cast iron grid flipped flat side up and the egg at about 350º I gave each side about 4 minutes or so, until internal temp was about 125º-130º and add the swiss cheese and gave them about a minute more.
I had a few cooked onions and mushrooms I had held out and served them on top. Sorry no plated photo, I think hunger took over and my picture taking ability went out the window.
The burgers came out great! Much better than anything McDonald's has and for a lot less money. These came out very tasty, juicy and full of caramelized onions and mushrooms. A good supply are always welcome in the old freezer.

Gator