First off would like to thank all my BGE friends who shared some kind wishes. There were some condolences wished also due to the fact that I now have Medicare.
Had a great weekend and we are headed to Tampa for lunch tomorrow and then who knows where for the weekend. Thinking of Berns Steakhouse or Chalet Suzanne in Lake Wales. Had my B-Day dinner last night and thought I would share. Have a safe summer to all.
Venison, Roast, Richard Fl.
Recently was given a South Carolina corn fed venison hind quarter. Friends son had gathered it last December. What to do with it? With the kind help from Panhandle Smoker, Thirdeye and Rusty Rooster, the finest piece of venison roast emerged for my belated birthday dinner. OK it was just yesterday.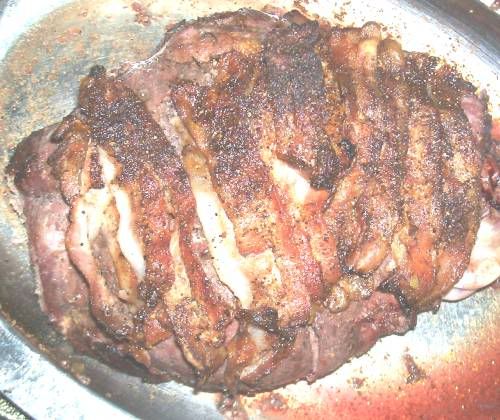 INGREDIENTS:
1 8 lLbs Venison, Roast, Bone-in
Marinade:
4 Tbs Minced Garlic
2 Cups Red Wine
1 Cup Italian Salad Dressing
1 Cup Red Wine Vinegar
1 Cup Apple Cider Vinegar
4 Tbs Indian River Rainbow Pepper
2 Tbs Pickling Spices
****************
3/4 Lb Bacon, Fattier the better
6-8 Tbs Kona Coffee Rainbow Rub
Procedure:
1 Took this lovely piece of venison and removed most of the silver. Was going to de-bone before marinating and after checking with our friend Thirdeye, decided to leave it in. He said that the bone might make the roast more gamey, but would be easier to cut out after the cook.
2 Poked many little holes in the meat and liberally rubbed with minced garlic.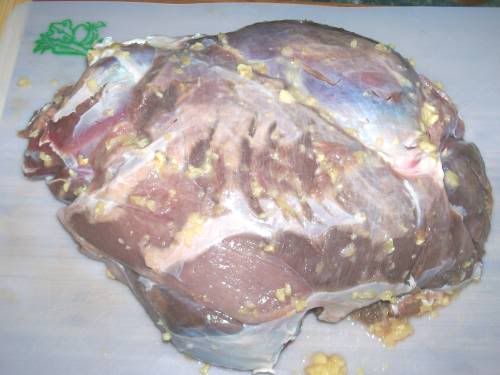 3 Placed in a 2 gallon Ziploc bag with the marinade and placed in the refrigerator 24 hours before the cook. Rotated a few times.
4 Removed from the refrigerator and let sit on the counter for an hour. Temperature rose from 42°F to 47°F.
5 Placed in the spa for 1 hour. The spa was at 102°F and the meat rose to 80°F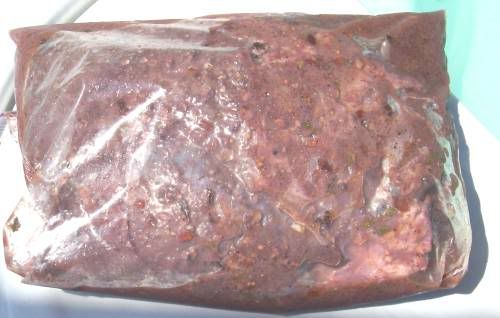 6 Removed from spa and got it ready for the BGE, temperature rose 3 degrees while getting ready about 15 minutes prep time. Liberally coated with Al's Kona Coast Rainbow rub and lots of bacon.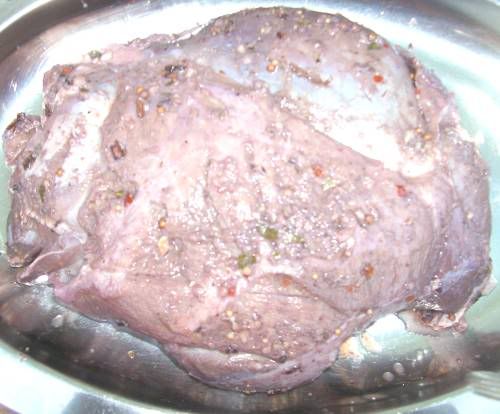 7 Had the Large BGE loaded with Wicked Good and maple wood. Set up indirect, 350°F and had placed 4 copper elbows on the plate setter to hold the drip pan. Added the marinade to some water in the drip pan for flavor. Too much vinegar to make a gravy with.
8 Meat went on and the temperature dropped to 250°F. To be eggpected.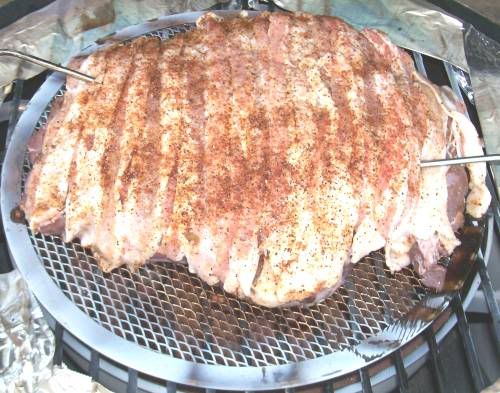 9 Pulled 1 hour and 15 minutes later and the temperature of the roast was 145°F to 150°F. Depending where I checked it.
10 Since the guests were enjoying the Pomegranate Martinis, the roast waited 1 1/2 hours covered in foil. Rose about 4° and never got close to drying out.
11 For salad had fresh spinach, avocado and raspberry vinegarette dressing. Corn kernals, tomatoes and okra like a succotash and mashed potatoes w/brown gravy with onions and mushrooms.
12 For dessert had some peanut butter pie and a latin tres leches cake. OOPS forgot some of the pictures.
Servings: 8
Recipe Type
Main Dish, Meat
Recipe Source
Source: BGE Forum, Richard Fl, 2009/05/26