Beef, Brisket, First Communion, Ala FlaPoolMan, Richard Fl
This recipe was given to FlaPoolMan, Pat, by his BGE salesman at Pinch-A-Penny here in Melbourne, Fl. I was recently asked by a friend to cook some BGE food for his daughter's First Communion, next Sunday. So I borrowed Pat's recipe after having enjoyed it several times over the last few years. Pat's recipe, my pictures.Thanks Pat!!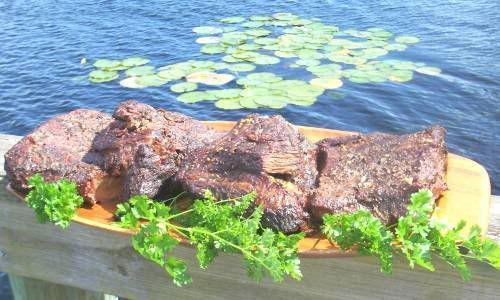 INGREDIENTS:
1 Whole Brisket
Mix
1 12 Ozs Beer
12 oz Water
1/2 cup Brown sugar
10 Shakes Worcestershire Sauce
4 Cloves Garlic, Minced
1 Tbs Cayenne pepper
5 Shakes Tabasco, to taste
2 Tsp Onion powder,
2 Tsp Dry mustard.
S&P to taste
Heat and Serve:
2 Pkgs Au Jus, Mix as per package instructions.
TEMPERATURE, Internal:
42°F Just out of refrigerator
104°F 1:00 Hrs, 300°, Dome, Direct, Turned after hour
167°F 2:00 Hrs, 275°F Dome
Placed in pans and added liquid, set up indirect
161°F 3:08 Hrs. 300°F Dome
167°F 3:52 Hrs 300°F Dome
180°F 4:42 Hrs 300°F Dome
190°F 5:12 Hrs 300°F Dome
198°F 5:38 Hrs 300°F Dome
202°F 5:57 Hrs 300°F Dome
Procedure:
1 I did Pat's recipe, just doubled everything with a total of 20 Lbs brisket after trimming off the excess fat.
2 Rub the night before with your favorite steak rub, Pat used Montreal Steak Seasoning. (I rubbed with Montreal seasoning and Worcheshire flavored black pepper and placed in the refrigerator over night. Two whole briskets with fat trimmed then cut in half (to fit in steamer trays later---8 X 10 which are 1/2 commercial tray size).
3 Place both pieces on the egg at 250-275 direct for 1 1/2 hrs each side. ( I did mine at 275°F-300°F for an hour on each side. Had the heavy pieces for the 2 on the bottom and the flats on the top grid).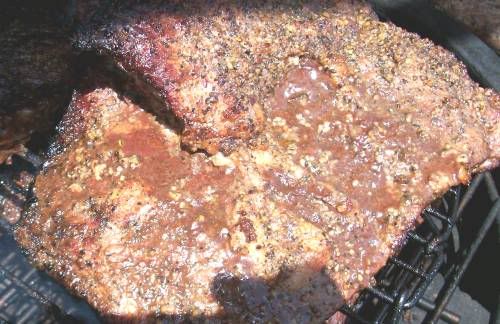 4 Remove brisket pieces and put in steamer trays, 8 X 10 inches, dividing the liquid. mix and cover tightly with foil. Return to egg at 250 indirect (they can be stacked on top of each other) and leave for 4 to 5 hours. ( Due to the mass of the meat, 20#, got dome to 300°F and pulled mine after 4 hours in covered pans when internal reached 202°F).
The original HDAF Mushroom!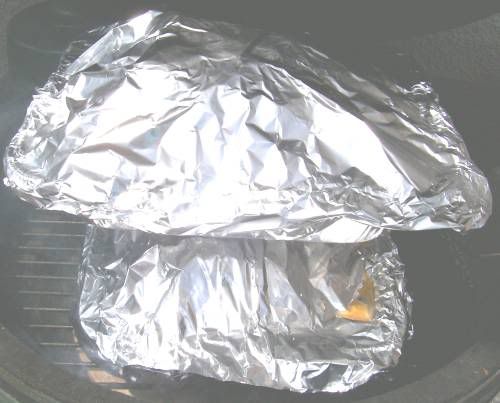 5 Done: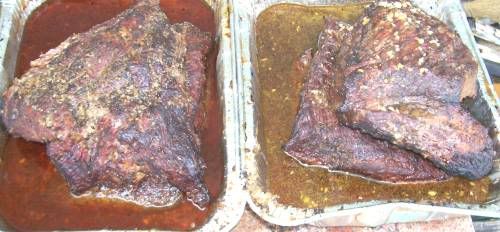 6 Ready to serve: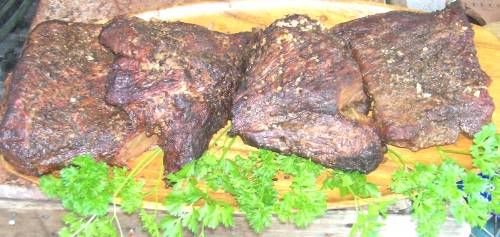 7 If precooking for the next day wait until you are ready to reheat to add the au jus.
8 Not the conventional way to make a brisket but it is really easy and the taste is great.!
Recipe Type
Beef, Main Dish
Recipe Source
Source: BGE Forum, Richard Fl, 2009/04/26