across the Red River into Oklahoma.....
And serve them at the Oklahoma Eggfest.
Not much cooking from one portion of the Texas contingent this year...We left it to the wimmen folk. And, boy was she (Molly) happy (see pic). Spring Chicken and Spring Hen got set up early, and therefore partnered with some surly Arizona and Georgia questionables.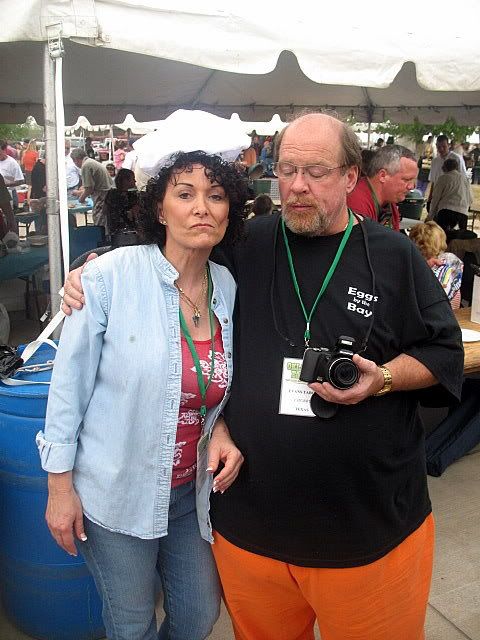 The remainder of the good guys; Chubby (the handsome one behind the Texas flag), tjv, Lawn Ranger, Sky Rider, and Newbie Kerry devoted our efforts to just spreading joy and good cheer amongst Eggers.
We made up about 2 gallons of Bloody Marys and about 200 marinated shrimp to create "Shrimp Shooters". From all indications, they were favorably accepted. We even got a few "Regulars" to choke one down. The lady in blue got the last one. Here is the killer marinade for the shrimp. It really is very good.
http://find.myrecipes.com/recipes/recipefinder.dyn?action=displayRecipe&recipe_id=1624455
We simply put a shrimp in each cup of bloody mary, added some diced celery, a littly Tsunami Spin, and it was done.
Making Eggers Happy,....One Cup At A Time.
This is a Great Fest!