Life smiled on me . . . I ran out of Pulled Pork and I had a great excuse to fire up the egg.
I gave the egg a good cleaning out and layered the lump with generous amounts of Char-Broils Whiskey Wood chips and fired her up.
I had not done low and slow since I had re-calibrated everything, previously I had about a 65ºF difference between my dome thermometer and the DigiQ. :S
This was with the pit probe clipped to the top of the food probe in a 6.24# Boston Butt. Close enough!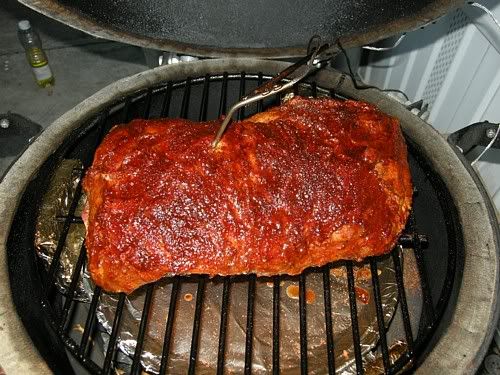 LOL, That's not the butt that ate Boston, I have a medium egg and the butt looks huge. I oiled the butt and rubbed generously with my homemade rub, wrapped in plastic wrap and let marinade for 6 hours in frig. When the fire was ready I got the butt out and slathered it generously with Gulden's Spicy Brown Mustard and hit it with plenty of rub and sent the butt to it's fate.
That was 7:00PM Saturday. This butt was hitting plateaus like a Maserati GranTurismo hits speed bumps! :pinch: Eighteen hours later internal temp was 185ºF so I bumped the pit temp up to 250ºF. At 19.75 hours internal finally hit 195º at 2:45PM on Sunday. The butt was so tender I had trouble lifting it from the egg, it was falling apart on me.
I wrapped it well in foil and let rest for an hour before pulling. This is the naked butt before dressing.
By now it's 4:30PM and I am due at my sister and brother in laws for dinner. They are eggheads and gave me my egg for Christmas (very nice people) so I put a large handful in a 1 qt. bag and dressed it with some of Sonny's Sweet BBQ Sauce for a sample. Sonny's is a chain of BBQ restaurants in the S.E. that has been around for many years. They recently started marketing their Sweet BBQ Sauce in the stores. The Pulled Pork got rave reviews.
My homemade rub is and probably always will be in the developmental stage.
The recipe for my rub is:
1/2 C paprika
1/4 C fine Sea salt
1 C Drk. Brown Sugar
2 T Dry Mustard
1/4 C Chilli powder
1/4 C Cumin
2 T Blk. Pepper
2 T Garlic powder
1 T Onion powder
1 T Cayenne pepper
1 T Nutmeg
1 T Cinnamon
Have a great day,
Gator