I thought it was time to try burgers on the egg. So with faithful lump in one hand and trusty hickory chunks in the other I assaulted 6.5 pounds of ground chuck.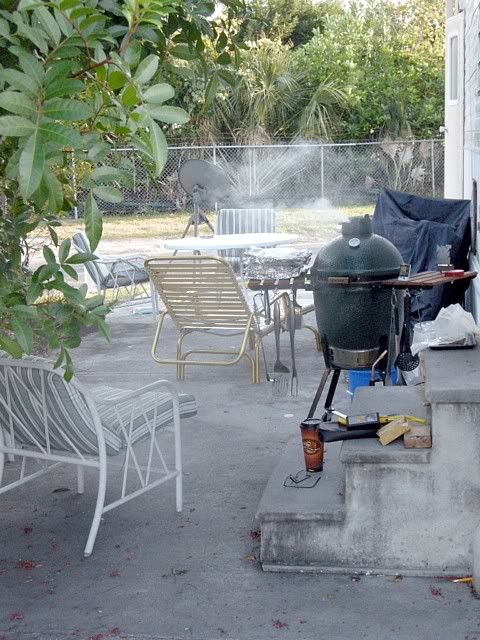 added to chuck:
3 very large sweet white onions,
2 pounds fresh button mushrooms
1.5 pounds Cabot Seriously Sharp Cheddar Cheese
1T Thyme
1T Oregano
2t sea salt
2t pepper, coarse grind
1/4C wine, White Zinfandel
3T Worcestershire Sauce
2t garlic powder
2t onion powder
canola oil
I course diced the onions and caramelized them in a little canola oil. Then cut mushrooms into fair sized chunks and did the same to them. The cheese I cubed to about 3/8" cubes. After onions and mushrooms had cooled everything got mixed in a large bowl and shaped into 4" round, 1 1/4" thick burgers. I measured them with a slightly rounded 1 cup measure to keep size uniform. Made 14 large burgers. As I shaped them I tried to cover the cheese with hamburg in hopes it would not melt and escape. It worked!
Grilled them at 475-500* for 6 minutes a side with hickory chunks for smoke.
For my first burgers I am very happy, they came out medium (I would prefer med-rare but not a big deal), juicy, tender and with great flavor. Just enough char to give them a little extra flavor. Best burgers I've had in a long time.
Gator