Before I begin, I know the value of 3-1-1 ribs, and I know how much they are loved on The Forum. That being said, here is my method of cooking ribs. It took me a year to perfect it (pre-egg, on Weber Kettle), and it is a no-glitz, easy, and fast way to cook the ribs. There are never any complaints; they are predictable, and take only 1.5 to 2 hours of cooking time from start to finish....For purists, I understand these ribs do not have a smoke ring and probably could not be served in a BBQ competition, but DARN they are good, and everyone always states they are the best ribs they have ever had. EASY, EASY to make!!! Here we go...
De-membrained and coated a slab of babybacks with JH Pecan. Put it in the fridge for a couple of hours (fridge optional).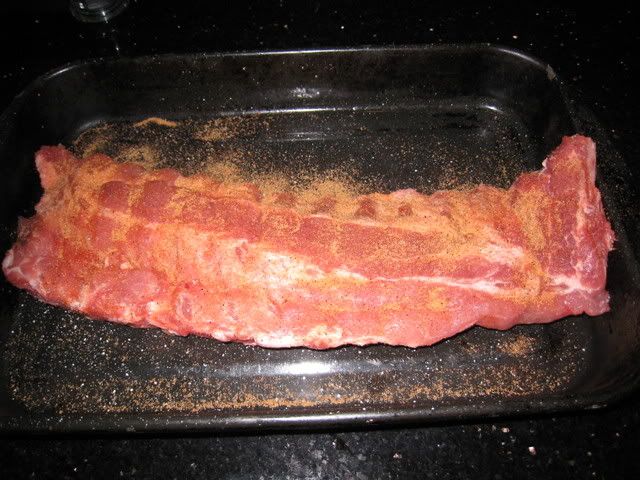 Next step is to take half a can of beer or so, and combine it with some more rub. My 5 year old was my trusty assistant:
Next step is to sear both sides....just carmelize to your liking...I don't worry about the bone side too much--just a couple of mins on that side.
Now, I pull the ribs off of the grill and foil them with the beer as a steam bath...
And onto a 300 degree direct-heat egg....
Hour and 15 minutes later, off it goes for a bath in Bones and Beans BBQ sauce over now indirect heat...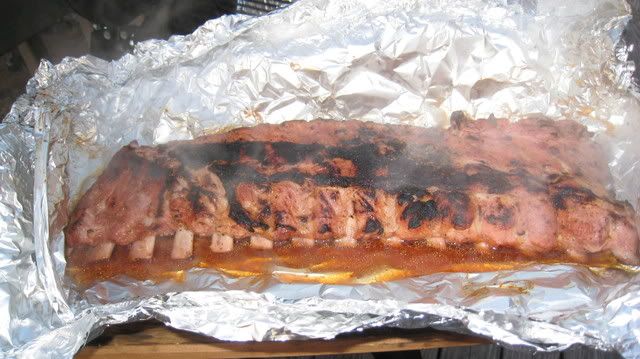 15 minutes at 225 indirect (can go longer if you need to or want to add more sauce).
Results...happy eggin'!