I got quite a few inquiries on the Egg concrete counter. Here are the remaining pictures for those interested.
I call this the Egg Setter, designed to allow air flow under Egg and a hole to drop ash through. I used a piece of flexible molding I had for that curve: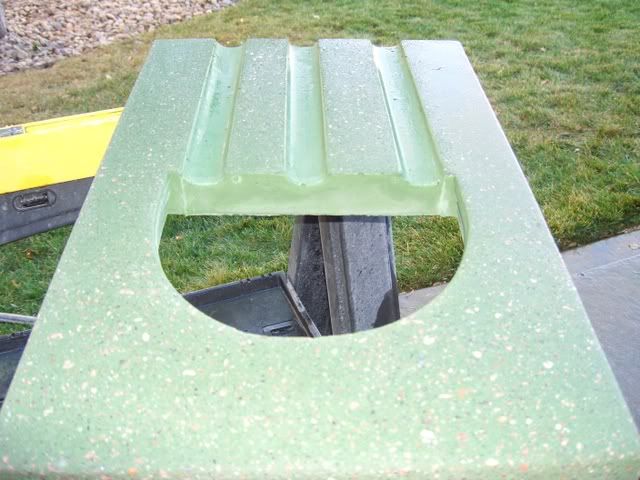 Form for top and Egg Setter. Notice the slot for the Egg hinge, this is not needed if you like your egg sitting high, I like mine lower so the grill grate is flush with table surface. I don't have pics of when the reinforcement went in (remesh and rebar):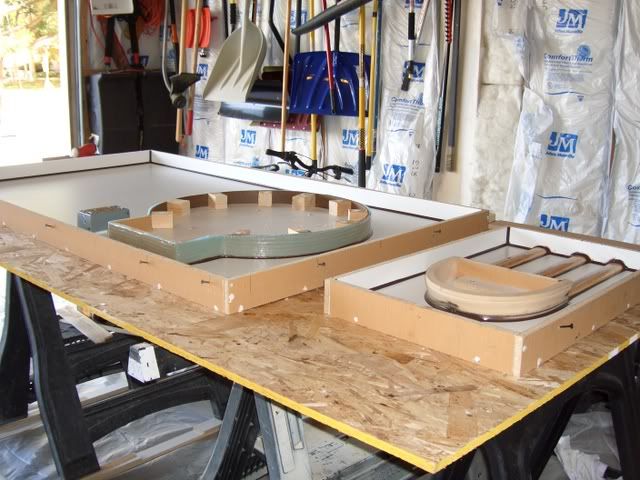 After pour, I let it set up for about 5 days. My concrete was Quikrete's Countertop Mix. Quikcrete told me no need for placticizer or fiberglass as it contained the former and was configured not to need the latter...we'll see:
It came out perfect out of form. You can sand with 120 then 220 grit paper at this point then buff in beeswax or carnuba wax. This gives you a solid color look. I chose to grind to reveal aggragate:
I let it set for about 2 weeks prior to grinding and polishing. Cheng says to grind at about 2 weeks or so, the concrete is still somewhat soft and it's less work this way. He suggested polishing at the 4 week point when concrete is fully cured, but winter was coming quick and I was impatient. I would suggest doing this project in late spring or early fall. You need the right temps and humidity levels to pull this off in a garage or outside.
All done, I didn't polish Egg Setter, I was too exhausted and it's covered with ash all the time anywhoo: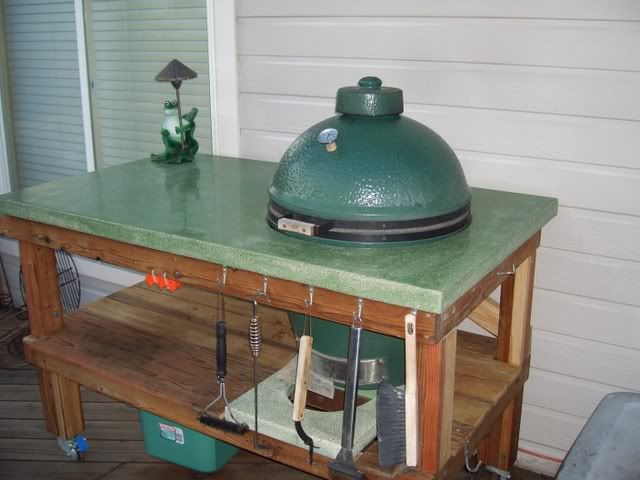 Final finish. As mentioned earlier I had microbubbles that I tried to fill with slurry, it came out just okay. You need to vibrate really really good to avoid these. My slurry wasn't that good. Next time I'll use unsanded grout, of same color, or accent with another color. I sealed with a high quality stone sealer and I went with carnuba wax for the polish, though not food grade safe I'm not dealing with direct food prep and wanted something that would withstand the elements and Colorado sun. Rub in then polish with your car buffer. I'll do this once a year to maintain.
I hope this helps those interested. Cheng's book and the Internet are great resources. Look up that Rock Solid show on the net and watch their episode on Concrete Counters. I referred to that one as well.
Enjoy,
CC